10 Top Charlotte Halloween Events for 2018
Posted by Benjamin Ehinger on Tuesday, October 23, 2018 at 10:00 AM
By Benjamin Ehinger / October 23, 2018
Comment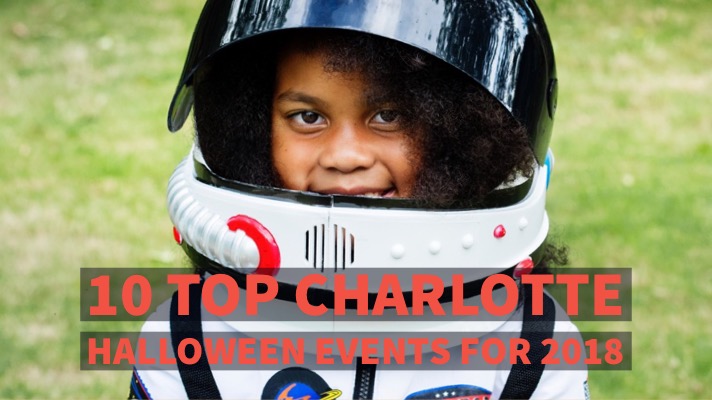 Charlotte has plenty going on for Halloween and it's right around the corner. In fact, some of it has already started, but it's not too late to join in the fun. Here's a look at the top 10 Charlotte Halloween events for 2018.
The Great Pumpkin Festival and SCarowinds
Held at Carowinds every Friday, Saturday, and Sunday through October 28th, this event provides plenty of fun for the entire family. It's very family-friendly and includes:
A Costume Parade
A Foam Zone
Mazes
And More!
When 7pm rolls around, SCarowinds begins and it gets a bit spookier in the park. If you want to enjoy one of the best Halloween events in Charlotte, The Great Pumpkin Fest at Carowinds is the right choice.
The 13th Acre
Held in Monroe, NC, The 13th Acre is another great event for Halloween. It's a fun event with a redesigned trail filled with characters ready to frighten you. This isn't an event for everybody and you should probably leave the little kids out of this one. However, if you love a good haunted trail, The 13th Acre is the place for you.
This Halloween event will be held on Fridays and Saturdays through October 27th at 3718 Plyler Mill Road in Monroe, NC.
Scarrigan Farms
Every year in October, Carrigan Farms transforms into Scarrigan Farms with a trail filled with haunts and horrors. This is one of the most frightening trails you will find this Halloween and it's not for the faint of heart. Leave the little ones with the babysitter and come out to Scarrigan Farms on Fridays, Saturdays, and Sundays in October.
Creepy Crawly Critter-ween
Reedy Creek Park and Nature Center has the perfect family-friendly Halloween event for you to enjoy. It will be held on Friday, October 26th from 5pm to 8:30pm with plenty of fun to enjoy. Your entire family can enjoy hayrides, marshmallow roasting, a night hike and live animal encounters at this event.
Halloween Spooktacular - Charlotte Symphony
Held at the Knight Theater on October 27th at 11am, the Halloween Spooktacular will include plenty of fun. You can come dressed in your best costume and enjoy Halloween-themed music from films, such as Jaws and Harry Potter. The event will include plenty of recognizable tunes and plenty of fun.
The Glow: A Jack O'Lantern Experience
Held at the Charlotte Motorspeedway's Carolina Rebellion Campground through October 28th, The Glow provides one of the most incredible pumpkin patches you will find. A total of 5,000 hand-carved jack o'lanterns will be illuminating the campground for all to enjoy. This is a family-friendly event with plenty to enjoy.
You can come face-to-face with a massive dinosaur in the Pre-Historic Park or enjoy the pumpkin pirates, skeletons and 30-foot-long pirate ship with Captain Jack. There's a path open on Thursday, Friday, Saturday and Sunday with master carvers showing off their skills, as well.
GUTS Pumpkin Carving Contest
Held at BB&T Ballpark on Saturday, October 27th at 1:30pm, this will mark the 10th year for the GUTS competition. This pumpkin carving competition helps to raise money for the Make-a-Wish foundation and provides plenty of spooky and cool pumpkins for all to enjoy.
Belmont Boo Festival
Held at Stowe Park on Saturday, October 27th at 3pm, the Belmont Boo Festival will awake the sleepy town of Belmont. It's perfect for the entire family with costume contests, carnival rides, fun activities and plenty of treats.
When the Boo Fest wraps up, the Nightmare on Main Street event starts with plenty of adult-friendly beverages, music, and fun.
Not-Too-Spooky Haunted Hall
The NASCAR Hall of Fame will hold the Not-Too-Spooky Haunted Hall on Saturday, October 27th at 6pm. This event will include plenty of fun with Champ the Cheetah on hand and a full Halloween bash ready for all to enjoy. There will be some characters ready for fun and games and you can come in costume to enjoy this fun event.
Halloween Daze & Spooky Knights
Held on October 27th and 28th, the Carolina Renaissance Festival will hold the Halloween Daze & Spooky Knights event with jousting and so much more. This is a family-friendly event everybody will enjoy and you can come dressed in your favorite costume. There will be a treasure hunt and plenty of activities for everybody to enjoy.
If you're looking for plenty of great events this Halloween in Charlotte, this list will keep you plenty busy. There are choices for adults, for older kids, and for the entire family. Choose the events you like best and go have plenty of fun this Halloween!