10 Top Small Towns to Visit Throughout North Carolina
Posted by Benjamin Ehinger on Tuesday, July 3, 2018 at 8:35 AM
By Benjamin Ehinger / July 3, 2018
Comment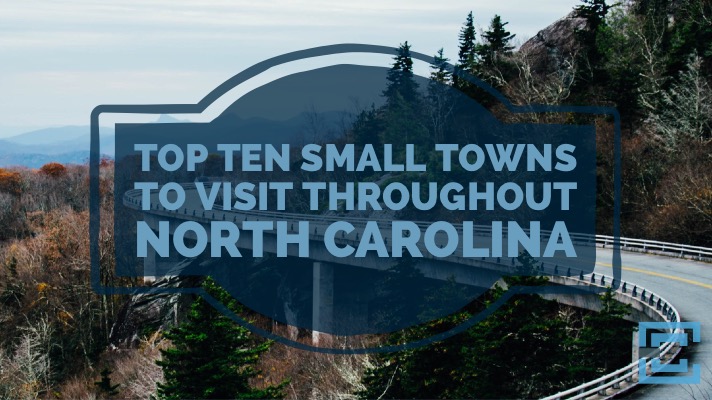 Charlotte is an excellent city, but sometimes you want to explore the rest of North Carolina. When you have that itch to get out and explore, you don't want to overlook the small towns throughout North Carolina.
Many quaint, small towns offers natural beauty, history and a relaxing place to visit. You can escape the noise, traffic, and fast-pace of Charlotte by heading to any of the following top small towns in North Carolina.
Salisbury
Found just 45 miles from Charlotte, Salisbury offers several history museums, art and culture sites and a great downtown area. It's home to Cheerwine, which is a very popular cherry-flavored soda dating back to 1917. You will also find plenty of other things to do here with Dan Nicholas Park offering paddleboats, gem mining, mini golf, a carousel and so much more.
Eagle Point Preserve is another very popular area in Salisbury offering canoeing, fishing, hiking and more. Of course, you can enjoy the Cheerwine exhibit at the Rowan Museum or head to Dunn's Mountain Park.
Bath
If you're looking for more of a coastal town, Bath offers a great choice. This small town was incorporated in 1705 and provides a location on the Pamlico River. It's found near the Pamlico Sound and Bath is a National Historic Landmark.
This scenic town offers wonderful views of the natural area, along with plenty of history to enjoy. It was a very popular spot for Edward Teach, also known as Blackbeard the pirate. You'll want to check out St. Thomas Episcopal Church, which was built in 1734 and the Teach's Point while you're here.
Ocracoke
A very popular small town for families and those looking to get outside, the island of Ocracoke can be accessed by ferry or plane. It's one of the best small towns on the list as there are no traffic lights, movie theaters or chain restaurants. It's simple and unique with plenty of great scenic things to enjoy.
The village offers plenty of fun outside with Springer's Point Nature Preserve. This was known as one of the popular haunts of Blackbeard the pirate. In addition, you can enjoy kayaking, fishing and plenty of water activities here.
Blowing Rock
A beautiful town with a wonderful Main Street, Blowing Rock should be high on your list. It's about a 15-minute drive from Boone, NC and offers one of the best spots in the Blue Ridge to visit. The town is named for a huge cliff found above the Johns River Gorge. You can enjoy Moses Cone Memorial Park, which offers fishing, hiking and so much more.
In addition, Blowing Rock is found near Julian Price Memorial Park, Linville Falls, Linville Caverns and Grandfather Mountain. You'll want to come for one of the many great annual events, too.
Bryson City
Another great small town in the mountains, Bryson City is a historic area with the Great Smoky Mountains Railroad depot. You can take scenic rail excursions from here and explore the museum, as well.
Along with the railroad, Bryson City offers great hiking in the Great Smoky Mountains National Park. You can also enjoy kayaking or rafting on the Nantahala River and visit the Nantahala Outdoor Center. Free concerts are held at Riverfront Park in the summer with plenty of other great events throughout the year.
Hillsborough
A place with unique shops, more than 100 buildings from the late 18th and 19th century and plenty of fun, Hillsborough is the small town with big history. It's a central location in North Carolina offering Southern charm and a top tourist destination.
You can take a tour of the historic downtown area or head over to the Occoneechee Mountain State Natural Area for hiking, fishing and more. They also offer amazing events all throughout the year with plenty of attractions nearby for the entire family.
Beaufort
Dating back to 1709, Beaufort offers a ton of history as the third oldest town in North Carolina. It's found in the southern area of the Outer Banks and offers beautiful ocean views, a wonderful downtown, plenty of shopping and great dining options.
You can visit the Maritime Museum in Beaufort, which is the place for artifacts from Blackbeard's ship, the Queen Anne's Revenge. In addition, Beaufort offers plenty of historic buildings throughout and it's part of the Cape Lookout National Seashore. You may even see wild horses on Shackelford Banks here.
You can take the ferry to Rachel Carson Reserve, which is where the wild horses are found most of the summer. In addition, you can head to Shackelford Banks by ferry for even more horses. A bike tour from Hungry Town Tours is a great way to see the history and enjoy the food of Beaufort.
New Bern
A historic and very Southern town, New Bern offers the place for those looking for beauty. It's known for Tryon Palace and it's also home to the Neuse and Trent rivers. New Bern was also the birthplace for Pepsi-Cola and offers a very lively downtown with restaurants, shops, and riverfront attractions.
Tryon Palace was the first state capital of North Carolina and offers plenty of history. You can also enjoy the New Bern Firemen's Museum and the Pepsi Store here.
If you're looking for fun outdoors, the Croatan National Forest is nearby with camping, canoeing, hiking, swimming, picnicking and more. You can enjoy Union Point Park, as well with a gazebo, boat launches, playground and fishing pier.
Saluda
A small town found on the National Register of Historic Places, Saluda offers a place to enjoy the foothills and the Blue Ridge Mountains. It's a beautiful place filled with outdoor activities, such as mountain biking, hiking, tubing, fishing and so much more. Enjoy the Green River for all your water activities and the many other areas for hiking and other outdoor activities.
Saluda is also home to the annual Coon Dog Day Festival and the Saluda Arts Festival. Both of these events are well-known and draw many people from all over the state.
If you want to enjoy Saluda at the right time of year, come in the fall. It's only 30 minutes from Asheville and offers some of the best foliage in October.
Pinehurst
A very popular spot for golfers, the Village of Pinehurst offers some of the finest courses in the state. In addition, the entire family can enjoy the many walking trails, an in-line hockey rink, disc-golf course, bocce ball and so much more. The parks and greenways here are simply amazing and the Pinehurst Resort is one of the best in the state.
Downtown Pinehurst offers great dining and shopping with plenty of family-friendly options. You can also come for one of the many great events, such as Oktoberfest or the Holly Arts and Crafts Festival.
North Carolina is filled with great small towns with Southern charm. If you need a weekend away from the city, choose one of these top small towns to visit in North Carolina and hit the road!