12 Excellent Music Festivals within Driving Distance of Charlotte
Posted by Benjamin Ehinger on Thursday, July 12, 2018 at 10:00 AM
By Benjamin Ehinger / July 12, 2018
Comment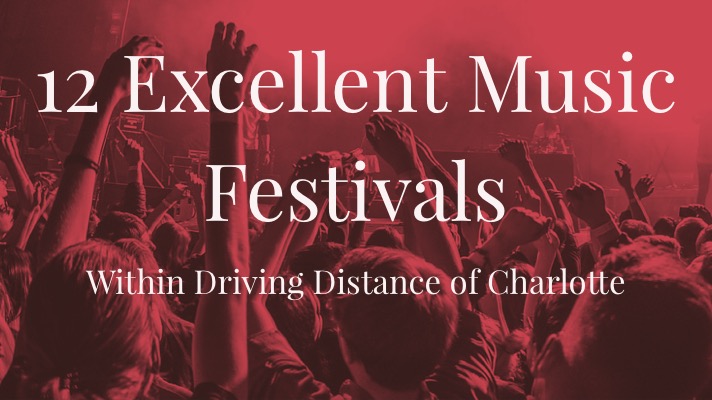 Music festivals are a ton of fun and the summer is filled with great music festivals. While Charlotte holds plenty of great events, sometimes, you just need to get out of the city to find a great music festival. Here's a look at 12 of the very best music festivals coming up less than 100 miles from Charlotte.
Chickweed
Held in Salisbury about 42 miles from Charlotte, Chickweed will be on July 21st. It will be held in The F&M Trolley Barn with a cost of $15 in advance or $20 at the gate.
It's an annual indoor-outdoor music festival with plenty of art involved. All musicians are women and the proceeds benefit women and children victims of violence. Performers include Daisy clover, Laura Vella, Rebecca Stinson, The Shana Blake Band and more.
Barnstock BYOB Music Fest
On July 21st, you can enjoy Barnstock in Huntersville, NC. This will be the 10th year for this festival, which is a BYOB festival. The cost of admission is $20 and parking is also $20. This is a 21 and older event only with performances from FamJam, White Collar Funk, Atlas Road Crew, Glen Shepherd and many others.
Reevestock
Held at the Reeves Theater in Elkin on Friday and at Elkin's Hidden Amphitheater in Elkin on Saturday, this music festival is about 76 miles from Charlotte. Tickets range from $23 to $40, depending on how many days you will attend and whether you buy in advance or at the door.
Reevestock will include plenty of fun with Time Sawyer taking the stage and Todd Snider, as well. Friday night will also include a performance from BraveWorldTrio at Angry Troll Brewing as a part of the free aftershow.
Saturday is the main event and a family-friendly choice with the Eric Krasno Band, Caleb Caudle, Dane Page and more.
Rockabilly Resurrection
An incredible choice on August 18th, Rockabilly Resurrection will be held in Kannapolis. It's about 32 miles from Charlotte and the best part, this music festival is free.
The festival will include plenty of Rockabilly bands, a car show, vintage vendors, food trucks, a pin-up contest and swing dancing. You can enjoy bands, such as Slippery Jake, Bad Brakes, Jem Crossland & the Hypertonics and Mystery Hillbillies.
Yeah Fest
Another great music festival on August 18th, Yeah Fest will be held in Charlotte at Petra's. This music festival isn't free, but it's just $10 for preshow tickets with under 21 tickets at $12 preshow. The day of the show, the price will be $13 and $15.
Yeah Fest is a fundraiser for OurBridge and includes plenty of excellent performers, such as Wild Trees, Gardeners, Futurists, Patois Counselors, Hectorina and more.
The John Coltrane International Jazz & Blues Festival
Held in High Point on September 1st and 2nd, this music festival is about 87 miles from Charlotte. One day admission is $70 and two-day admission is $120. Students get in for $25 for one day and $50 for two days.
If you want to enjoy great jazz and blues music from performers, such as Jazzmeia Horn, Pete Escovedo, Ravi Coltrane and the Coltrane Allstar Band, this is the event for you.
North Carolina Folk Festival
A Greensboro annual event about 92 miles from Charlotte, the North Carolina Folk Festival is a huge event. It features regional, national and international performers, such as the John Jorgenson Quintet, The Embers featuring Craig Woolard, The Fitzgeralds, Kristyn Harris and many others. This is a free event for all to enjoy.
Festival in the Park
Held in Charlotte on September 21st to 23rd, this music festival is the oldest festival in the city. This will mark the 54th year for the Festival in the Park and admission is free. Enjoy five stages of entertainment with Jade Moore, Pam Taylor, Jeremy's 10, Tiffany Ashton and many others.
Carolina Jubilee
Held on September 28th and 29th, the Carolina Jubilee will be at VanHoy Farms in Harmony about 57 miles from Charlotte. A one-day pass is $35 and a weekend pass is $55. The event will include plenty of food and music and proceeds will be used to support the Carolina Farm Trust's mission to protect farmland.
Performances from Big Daddy Love, Moses Jones, The Way Down Wanderers, Lea Shaw, Paper Crowns and more will a part of the event.
Jam Room Music Festival
Held in Columbia, about 92 miles from Charlotte, this event will be on September 29th. It's a one-day event with two stages and 12 bands. The lineup has yet to be announced and the event will be free.
York County Blues and Jazz Festival
Held in York County, South Carolina, this event will happen on October 3rd and 4th. Details have yet to be announced.
BLA/AT Free Music Festival
The Black Alternative Free Music Festival will happen at Camp North End in Charlotte on October 20th. It's the first BLA/ALT Music Festival and it will be the second year for the festival. The lineup has yet to be announced.
If you're looking to enjoy an incredible music festival you now have a dozen choices. These will keep you busy throughout the rest of the summer and fall with plenty to see, hear and enjoy.