17 Excellent Ways to Celebrate the Holidays in Charlotte
Posted by Benjamin Ehinger on Thursday, November 1, 2018 at 10:00 AM
By Benjamin Ehinger / November 1, 2018
Comment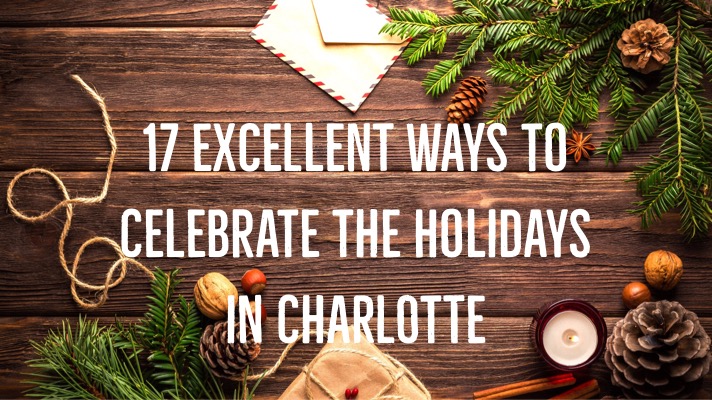 It's a wonderful time of the year in Charlotte with the holiday season right around the corner. Halloween is nearly here and once it's over, it won't be long before Christmas lights are found everywhere and the cheer of the season is in the air.
When the holiday season rolls around, several annual events also come to town. If you want to know some of the best ways to celebrate the holidays in Charlotte, here are 17 to choose from.
Get your holiday season started early from November 8th to 18th with the Southern Christmas Show. This is the place to enjoy freshly decorated trees, plenty of gift shopping and more. It will be held at The Park Expo & Conference Center.
On November 17th, you can enjoy the Vintage Charlotte Winter Market with more than 60 vendors on hand with all kinds of items. Find the perfect gifts at The Fillmore during this event.
You don't have to be a race fan to enjoy the Charlotte Motor Speedway from November 18th to December 31st. It will be filled with light displays you can drive through and enjoy with classic holiday movies playing and plenty more.
Starting on November 23rd and running through December 23rd, this is one of the best holiday events of the year. It will be held at the McColl Family Theater at ImaginOn. The Children's Theatre will put on the performance with plenty of incredible music and whimsical fun.
Held from November 23rd to December 24th at Romare Bearden Park, this Christmas Village is one of the best you will find. It's inspired by the German tradition and offers plenty of vendors selling all kinds of gifts, food items and more. Enjoy a German beer or a mug of mulled wine while you shop for the perfect gifts.
Daniel Stowe Botanical Garden offers a beautiful winter wonderland every year with their Holidays at the Garden display. It will be held from November 23rd to January 6th this year with plenty of lights throughout, ornate decorations and more. The orchid tree is one of the most amazing you will see and there will also be plenty of fun, such as visits from Santa, holiday shopping and marshmallow roasts.
Held at the Historic Latta Plantation on November 23rd and 24th, this event offers a great alternative to the chaos of Black Friday shopping. Enjoy a look at how the holidays have changed over the years at this 18th-century cotton plantation. Plenty of demonstrations and re-enactments will be a part of this event.
For just a few days, November 29tht o December 1st, you can enjoy one of the best Christmas events of the year. Downtown Davidson will be lit up with plenty of fun including shopping for gifts, arts and crafts, pictures with Santa, live entertainment and so much more.
The Billy Graham Library will include a live nativity scene along with plenty more to enjoy from November 29th to December 22nd. It's a popular choice with horse-drawn carriage rides and plenty for the kids to do.
Found in McAdenville from November 30th to December 26th, Christmas Town USA is one of the most popular spots close to Charlotte for the holidays. Homeowners decorate their homes and yards and this has been a tradition since the 1950s. Enjoy a route of about 1.3 miles in length filled with lights and so much more.
The Ballantyne Hotel & Lodge will hold the Gingerbread Lane event from December 6th to 26th. This is a competition and you can vote on your favorite gingerbread house.
The tree lighting in Matthews will happen on December 1st this year. The event will include the special tree lighting in front of Town Hall, along with plenty more to enjoy.
Held on December 1st at Reed Gold Mine, this event offers a candlelight tour of the mine with plenty to enjoy.
Held on December 8th and 9th, The Annual Singing Christmas Tree is found at Knight Theater at the Levine Center for the Arts. It's a tradition dating back more than six decades with the Carolina Voices presenting the event.
The Charlotte Ballet will perform The Nutcracker from December 7th to 23rd this year. It will be performed at the Belk Theater at Blumenthal Performing Arts Center.
Held at The Olde Mecklenburg Brewery, this event will be on December 14th and 15th. IT will include plenty of great baked goods, craft beer and local products you can shop for. Find the perfect gift or just enjoy some snacks and beer.
The dates have not been announced yet, but this is one of the most popular self-guided tours of the year. Enjoy many of the historic homes found in Historic Fourth Ward including Victorian Homes and modern condos. They will be decorated for the holidays and you can even enjoy food, wine, beer, and horse-drawn carriages as a part of this event.
There are plenty of great ways to celebrate the holiday season throughout Charlotte. Choose a few events from the list above and you're sure to have a wonderful holiday this year.