20 Fun Summer Things to Do in Charlotte
Posted by Benjamin Ehinger on Tuesday, June 26, 2018 at 10:00 AM
By Benjamin Ehinger / June 26, 2018
Comment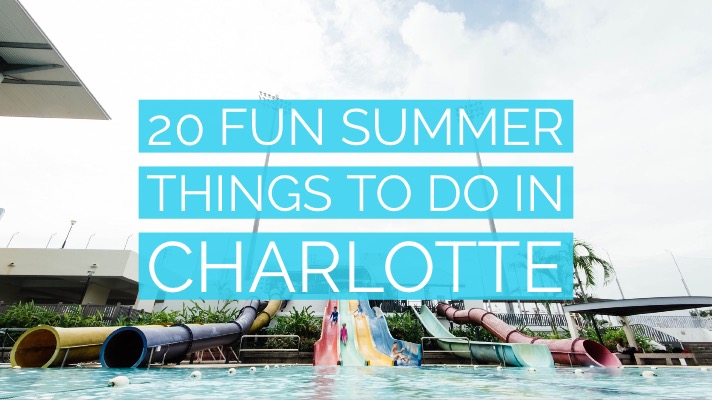 When summer rolls around in Charlotte, there are several incredible things to do. The Queen City is filled with amazing nature, places to explore, excellent dining options and so much more. If you're looking for fun summer things to do in Charlotte, here are 20 you'll want to add to your list.
Attend Taste of Charlotte
A huge food festival offering three days of fun, every foodie will want to check out the Taste of Charlotte. You'll get to sample dishes from some of the best restaurants in the city. In addition, the event includes live music, entertainment, family-friendly activities, street performances and plenty of shopping.
Enjoy a Dinner Cruise
The summer is the perfect season to be out on the water and there's no better way to spark romance than with a dinner cruise. Queen's Landing Sightseeing & Dinner Cruises offers the perfect choice on Lake Norman. You'll board the Catawba Queen Mississippi riverboat or, if you choose, the Lady of the Lake luxury yacht for an incredible cruise filled with fun, food, and romance.
Ride the Trails
The Charlotte B-cycle offers a great opportunity to hit the many bike trails throughout Charlotte. Choose the Rail Trail and enjoy Uptown all the way to South End or choose one of the other trails throughout Charlotte. No matter the trail, you can enjoy the sun on a bike even if you don't own one.
Uncover Charlotte's Secret Gardens
While they may be called "secret gardens" they aren't that secret if you're from Charlotte. You can enjoy walking through one of the many secret gardens found in the Queen City, such as the Wing Haven Gardens & Bird Sanctuary, McGill Rose Garden in NoDa or The Duke Mansion gardens. All three are breathtaking and provide the perfect summer activity to enjoy.
Drink Wine & Relax
Charlotte offers several areas wineries with six found less than five miles from each other. The Vineyards of Swan Creek is a very popular choice and so is the Treehouse Vineyards in Monroe. Both offer a fun experience and so do several other wineries in the Charlotte area.
Hit the Water
Whether you prefer a boat, kayak, stand-up paddle-board or Jet Ski, Lake Norman and Lake Wylie are calling your name. You can find several places to rent your gear and enjoy plenty of time on the water this summer. Even if you just prefer a charter, there are several boats waiting to take you out to enjoy a day on the water.
Hit the Speedway
The Charlotte Motor Speedway will be filled with action all summer long. The Summer Shootout Series will be held weekly with plenty to enjoy. You can also take in the school bus races, legends car races, and so many other races all summer long.
Hit the Links
Of course, the summer season is one of the best for golfers. You can take lessons to improve your game or enjoy one of the more than 40 courses in the area. Whether you prefer a public, semi-private or private course, there are several excellent choices throughout the Charlotte area.
Take the Children to the Spraygrounds
While the spraygrounds are perfect for cooling off in the summer, they can be fun even when it's not 100 degrees. Whether you're a kid at heart or you have children, the spraygrounds at The Green, Veterans Park, and Cordelia Park will provide hours of enjoyment.
Hit the Water Park
Ray's Splash Planet offers a more intense experience than just a sprayground. It's filled with all types of great attractions. This indoor water park offers water squirters, tumble buckets, a lazy river and plenty of water slides. If you need to get out of the heat, head to the water park this summer.
Take in Queen Feast
Another great event for foodies, Queen Feast is the Charlotte Restaurant Week. It's held in July and January every year with plenty of the best restaurants offering top appetizers, entrees, and desserts at an affordable price. If you love food, this is another event you won't want to miss.
Enjoy a Ride on a Roller Coaster
Carowinds offers new and old roller coasters, along with plenty of other fun things to enjoy. This awesome park offers plenty of fun with the Camp Snoopy expansion, roller coasters, thrill rides, kid's rides and more. You can even enjoy getting out of the heat at the waterpark with slides and other attractions.
Hit the Panthers' Fan Fest
The Carolina Panthers will be holding their annual Fan Fest at Bank of American Stadium again this summer. You will want to attend if you're a football fan and take in all the fun.
Sample Local Ice Cream
Charlotte is home to many amazing choices when it comes to ice cream. The summer is the time to cool off with a treat. La Michoacana and Elizabeth Creamery are two of the top choices and you can also hit the very popular Mr. K's Soft Ice Cream.
Enjoy an Outdoor Movie
Symphony Park and the Charlotte Premium Outlets hold outdoor movies in the summer. There are several family-friendly films ready for your viewing at both of these spots this summer.
Enjoy a Summer Concert
The U.S. National Whitewater Center will hold the River Jam Concert series this summer with plenty of great acts taking the stage. You can enjoy plenty of excellent live music all summer long. In addition, there will be several outdoor concerts at the PNC Music Pavilion and Charlotte Metro Credit Union Amphitheatre.
Experience the City by Horse
There are several opportunities for carriage rides around Charlotte. You can also enjoy a tour on horseback from one of the area's equestrian centers.
Take in the Art
Friday evening art gallery crawls offer a wonderful way to enjoy the summer. The will be held in both the NoDa and South End neighborhoods with plenty of live music and refreshments on hand.
Enjoy a Picnic
Freedom Park and Park Road Park are two of the best spots for picnics in Charlotte. Pack your basket, gather the family and don't forget to bring some bread for the ducks.
Head out for Great Nightlife
Charlotte is a city filled with incredible nightlife. When the sun goes down in the summer, you can head out to one of the many great bars, clubs or other hot spots all throughout the city.
Charlotte is filled with great things to do all summer long. You can enjoy all 20 things on this list and you'll likely find even more fun along the way.