5 Things to Know Before Buying a Historic Home in Charlotte
Posted by Benjamin Ehinger on Thursday, August 16, 2018 at 10:00 AM
By Benjamin Ehinger / August 16, 2018
Comment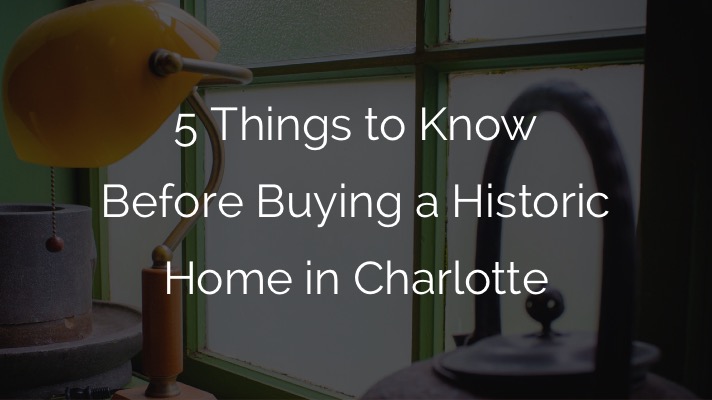 Even though the United States is a pretty young country, North Carolina is home to some of the oldest places found in the country. Charlotte offers several historic attractions and historic homes all throughout. Some may see these as just old houses, but others see them as the perfect dream home.
If you love the idea of living in one of the historic homes in Charlotte, you should know what you're getting into first. There are several things to understand from historical designations to local laws to preservation regulations. Here's a look at five of the things you should know before you buy a historic home in Charlotte.
Understanding the National Register of Historic Places
The National Register of Historic Places will become something you get very familiar with if you're searching for a historic home in Charlotte. Whether you're looking in Myer's Park, Dilworth or Plaza Midwood, you will need to understand how the NRHP works.
The NRHP works with the local government in Charlotte to designate and help regulate buildings, historic districts, and landmarks. They make recommendations and the local government will make the final decision about how to control and protect historic areas throughout the city.
In Charlotte, most of the historical sites have already been names as historic landmarks. However, the city can ask the NRHP to make a district, building or landmark a historical place, but it's not the easiest process in the world.
As an owner of a historical property in Charlotte, it's important to understand whether your home is protected as a landmark or not. If it's not protected, but lies within a Historic District, you may be able to do as you please with the interior, but you may have specific regulations with the exterior. Often, homeowners in historic districts may run into issues when they want to update the windows, add a garage or paint their home a specific color.
If your home is within a historic district, you may need to get permission to make specific changes from the Charlotte-Mecklenburg Historic Landmarks Commission. The changes will likely need to be within the historical character of the home or you will likely struggle to get your request approved.
Some Renovations Don't Need Approval
While it may seem like a bit of a hassle to own a historic home in Charlotte, not all renovations require approval. When a renovation is essential to fix what is broken, it doesn't need approval. In other words, if it's broken, you can fix it without the need for approval.
No Changes to the Neighborhood
Owning a historic home comes with several things you have to deal with, but one you won't have to deal with, changes to the neighborhood. Since historical districts are well regulated, you won't have to worry about your neighborhood changing munch in the future. There won't be a new road installed through your front yard or a neighbor painting their home a horrible color.
Possible Tax Credits & Mortgage Advantages
There are specific tax credits designed to help restore historic homes and districts. When you decide to own a historic home in Charlotte, you may be eligible for tax credits on your property taxes. In addition, many lenders have special programs allowing you to finance the home, along with enough money to repair/renovate it properly. They may even have a specific program designed for helping you restore a historic home in Charlotte.
Slow Approval Process for Changes
Another thing you should be aware of if you want to purchase a historic home is the slow approval process for changes. The Charlotte-Mecklenburg Historic Landmarks Commission only meets once per month to review applications for renovations and changes to properties. While minor changes, such as a gutter replacement or fence repair may be approved in just five business days, larger projects may take longer. If you want to update the garage door or add on to the home, it may take a month or lounge to get your Certificate of Appropriateness from the commission.
Finding the Right Historic Home in Charlotte
After learning about the ins and outs of owning a historic home, if you're ready to find the right one for you, it's important to know where to look. This list from the Charlotte-Mecklenburg Historic Landmark Commission will help you understand the historic districts and areas of Charlotte. It's best to hire a real estate agent with experience helping others find historic homes, as well.