5 Top Labor Day Festivals in Charlotte for Free
Posted by Benjamin Ehinger on Tuesday, August 21, 2018 at 10:00 AM
By Benjamin Ehinger / August 21, 2018
Comment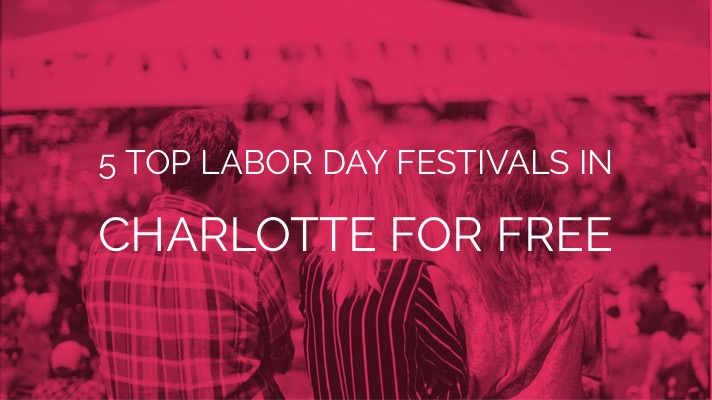 When Labor Day arrives it's a good idea to take some time away from work, catch up with family and enjoy some relaxation. Charlotte also offers several great Labor Day Festivals and many don't charge admission. If you want to enjoy a fun event, but you don't want to break the bank to get in, here are five top festivals in Charlotte you can attend for free over Labor Day Weekend.
U.S. National Whitewater Center's Labor Day Celebration
While this is an annual event and it's free, you will need to pay $6 for parking and they do charge for other activities and races. However, if you carpool or arrive without a vehicle, you can get in for free and enjoy the event for free.
Enjoy plenty of fun with Dr. Dog and Great Peacock providing live music. There will also be trail races, fireworks and plenty more for all to enjoy.
This fun festival will be held on Sunday, September 2nd from 9am to 10pm at the U.S. National White Water Center, located at 5000 Whitewater Center Parkway. You can also come out on September 1st for plenty of other competitions.
On September 1st, The Dry Tri - Paddle, Bike, Run will be held, along with the Aqua Rock - Deep Water Solo competition.
Fifth Annual Charlotte Kosher BBQ Championship
If you love BBQ, this is the event for you. On Monday, September 3rd (Labor Day) you can enjoy this competition from 11am to 3pm with plenty of things to do and fun to enjoy. It's a free event, but they do charge for food.
Come out and enjoy plenty of live music, a mechanical bull, kids' activities and more. You can purchase tasting tickets or you can enjoy lunch at the event.
The Kosher BBQ Championship will be held at the Levine Jewish Community Center, which is found at 5007 Providence Road.
19th Annual Charlotte Labor Day Parade
One of the best free events to enjoy on Labor Day is the parade. It's a well-known event with plenty of fun and who doesn't love a good parade?
The Charlotte Labor Day Parade will be held in the Uptown neighborhood on Monday, September 3rd (Labor Day). It will begin at 11am at the Hal Marshall Center, located at 701 North Tryon Street.
From there, the parade will proceed down Tryon Street and turn left at 3rd Street. It will end at College and 3rd Street. Enjoy the many floats, marchers, stepping groups, bands, car clubs and so much more at this free event for Labor Day.
Bearden Birthday Bash
An annual birthday bash held at Romare Bearden Park, located at 300 South Church Street, this event is completely free. It will be held on Saturday, September 1st from 7pm to 10pm.
Enjoy live music with saxophonist Shableek and violinist Ken Ford this year, along with plenty of food trucks on hand.
Matthews Alive Festival
An annual festival held at Stumptown Park in Matthews, this festival is free. However, there is a charge to go on the rides. The event will be held from August 31st to September 3rd with plenty of fun for all ages.
The Matthews Alive Festival includes a parade, plenty of kids' activities, games, crafts, music and more. Admission is free, but you will need to purchase tickets for the rides and games.
Friday will feature $15 All-You-Can-Ride Wristbands, a shag dance and so much more. Saturday is the day for the parade beginning at 10:30am and the Arts & Crafts Pavilion will open. Sunday offers even more fun with country music, a Jazz Jam and plenty of festival food to enjoy. While the festival will end on Monday (Labor Day) it will end with plenty of fun including music until 5pm, plenty of rides and all kinds of shopping.
There will be several great festivals all throughout Charlotte for Labor Day. If you're looking for one with free admission, these five are the best you will find.