8 Common Home Buying Expenses First-Time Home Buyers Don't Anticipate
Posted by Benjamin Ehinger on Saturday, October 13, 2018 at 10:00 AM
By Benjamin Ehinger / October 13, 2018
Comment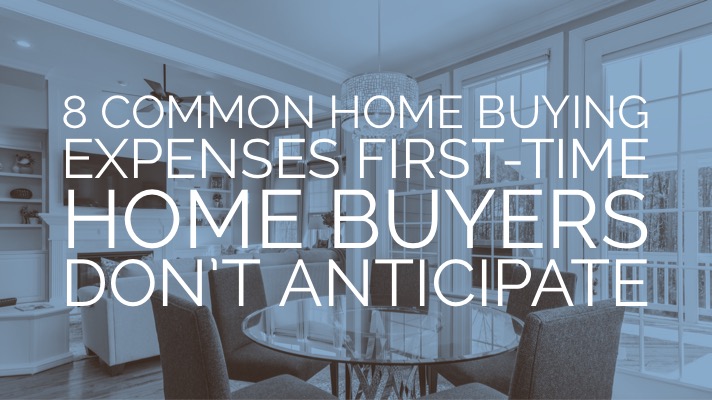 As a first-time home buyer, there's a ton of information you will have thrown your way. You have to think about the budget but remain excited about getting a new home. It's a balancing act you've never done before and it can become very overwhelming.
Hiring a great buyer's agent is the first step to making this balancing act easier. Your agent can help to ensure you're protected during the process and help you find the right home for you. However, there's more to the equation than just hiring the right agent.
A big part of the stress for first-time home buyers is the unexpected expenses. You've never been through the process, so how are you supposed to anticipate every expense? Here's a look at eight of the common home expenses most first-time buyers don't anticipate.
Moving Expenses
Moving, even just down the road, can get expensive. Before you decide to relocate to Charlotte, make sure your account for how much you will need for the moving costs. These costs can vary and can run thousands of dollars if you hire a professional mover. Even if you just rent a truck, it can get expensive if you're moving from out of town.
Closing Costs
You may have heard of closing costs, but you may not know how much the costs will be. Typically, the closing costs will cover all types of feeds from the loan origination fee to the attorney fee and more. This cost can range from 2% to 5% of the purchase price of the home. Sometimes, the seller will pay the closing costs or a percentage of the closing costs, but not always.
Due Diligence Money
Do you even know what a due diligence fee is? If not, you need to read this entire paragraph. The due diligence fee isn't found in every home market, but in Charlotte, it's a pretty big deal. It's an amount you will negotiate with the seller to pay to the seller and it can range from a couple hundred dollars to a few thousand dollars.
This payment will be refunded back to you as long as you buy the home. It's used to cover the time the home remains off the market, as you go through the due diligence process.
Home Maintenance
Maintenance is a new expense for first-time home buyers. No longer can you just call the landlord and let them deal with it. Instead, you have to fix it yourself or hire someone to fix it.
You may have some upfront maintenance with a home purchase and you will certainly have ongoing maintenance expenses. Don't assume maintenance will be minimal, as you never know when something may need fixes. It's best to budget 3% to 5% of your monthly budget for home maintenance, depending on the age of the property.
Homeowner's Insurance
You probably paid a very low fee for renter's insurance over the years, but now you're stepping into a different world with homeowner's insurance. This expensive will be higher if you don't put 20% down, as you will be paying private mortgage insurance, as well. You will also be required to have homeowner's insurance at closing.
Home Inspection
As a first-time home buyer, you may not be aware that a home inspection will be necessary to get your mortgage. This inspection will run between $300 and $600 and you won't get the cash back, regardless of what happens during the transaction. If you hire a good Charlotte real estate agent to represent you, they will be able to recommend a good home inspector.
Furniture
Do you think you're current furniture from your 1,000 square foot apartment will be enough in a 2,000 square foot home? Often, first-time home buyers end up trying to just get by with old furniture until they can buy something new. It can be rather sad to attend a housewarming party four months after the home was moved into and find the same old couch and chair from the person's old apartment.
Often, new homeowners want to buy new furniture, even if they have nicer stuff when they move in. It's a new house and trying to piece together furniture that wasn't picked out specifically for it can be difficult. It's best to set aside a few thousand dollars per room for furniture.
Property Taxes
Of course, the government has to get their piece of the pie. As a new homeowner, you will need to pay property taxes. You didn't have to do this as a renter and the expense can range from a few thousand dollars to more than ten thousands dollar per year.
As a first-time home buyer, more goes into buying a home than just saving for the down payment. Make sure you consider all the expenses and account for everything in your budget. These are just a few of the common expenses first-time home buyers forget about. Talk to your Charlotte real estate agent to ensure you're prepared to buy before you start shopping.