A Closer Look at the 7th Street Public Market
Posted by Benjamin Ehinger on Saturday, August 18, 2018 at 10:00 AM
By Benjamin Ehinger / August 18, 2018
Comment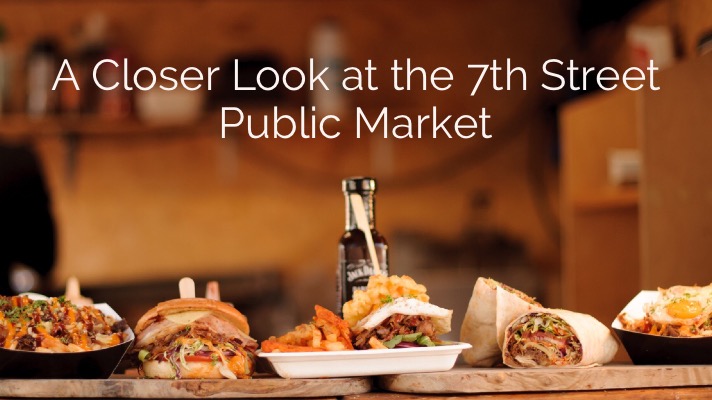 A unique shopping experience in Charlotte with plenty to offer, the 7th Street Public Market is open to everybody. It's filled with great food and drink, plenty of vendors and so much more. If you love artisanal local products, this is the place for you.
Every trip to the market is a bit different with new vendors and new products. In addition, plenty of great events come through the 7th Street Market every month making for a great experience. Here's a closer look at the market man
Vendors
Several local companies sell their good at the 7th Street Public Market. Some of the vendors you will find here include:
Tank's Tap
Rico's Acai
Orrman's Cheese Shop
Bonsai Fusion Sushi
Not Just Coffee
Pure Pizza
Local Loaf
Viva Raw
Assorted Table Wine Shoppe
And More!
New vendors are added regularly, as well.
Events at the 7th Street Public Market
Several events are held regularly at the Market including Tuesday Night Wine, Raclette Night on Thursdays and Live Music on Fridays. In addition, Fridays often include Craft Night and Wednesdays are known for events, such as Wine & Cheese Pairings and Potions & Pixels Board Game Night.
While the regular weekly events are a blast, the Market is also home to several other events including:
The Annual Cookie Crumble
Crafternoon
Firefighters Pancake Breakfast
Shop Pop-ups
Jazz Brunches
Savor 7
And More!
There's always something new going on at the 7th Street Public Market.
About the Market
The 7th Street Public Market is found in the very popular Center City area of Charlotte. It's an urban food market promoting regional and local farmers, entrepreneurs and artisans. You'll find plenty of great products here including fresh, high-quality food and locally created or sources products.
The location in Center City is found in the Uptown Charlotte area at the base of the 7th Street Station parking deck. The Lynx Blue Line's 7th Street stop is nearby and for the first 90 minutes, parking is validated if you make a purchase from any business within the market.
The 7th Street Public Market is open from 7am to 8pm, Monday through Thursday, from 7am to 9pm on Friday, from 8:30am to 9pm on Saturday and from 8:30am to 5pm on Sunday.
The incredible 7th Street Public Market is sponsored by Atrium Health and BlueCross BlueShield.
Getting to the Market
You can get to the market in several different ways. If you come by car, you will get 90 minutes of free parking with a purchase, but you will have to pay the posted garage rate if you go over 90 minutes. Several parking lots are available for those coming by car.
You can skip the parking fees and come by rail on the LYNX Light Rail's Blue Line. Another option is to take the CityLYNX Gold Line streetcar, which is free to ride and stops about two blocks from the Market.
Those living close enough can walk the Charlotte Rail Trail to the market. If you're not quite close enough to walk, you can use one of the 24 Charlotte B-cycle bike share stations to arrive. One of these stations is found right outside the Market for added convenience. Of course, you can ride your own bike to the market, too.
The Charlotte Area Transit System or CATS also offers a bus stop near the market at 6th Street and College Street. There's another stop about a block to the west and you can arrive at the market taking the 40x, 46x, 52x, 64x, 65x, 74x, 11, 13 or 22 lines.
No matter how you arrive at the 7th Street Public Market, you're sure to find something delicious you can enjoy!