A Quick Guide to Moving to Charlotte, NC
Posted by Benjamin Ehinger on Saturday, November 10, 2018 at 10:00 AM
By Benjamin Ehinger / November 10, 2018
Comment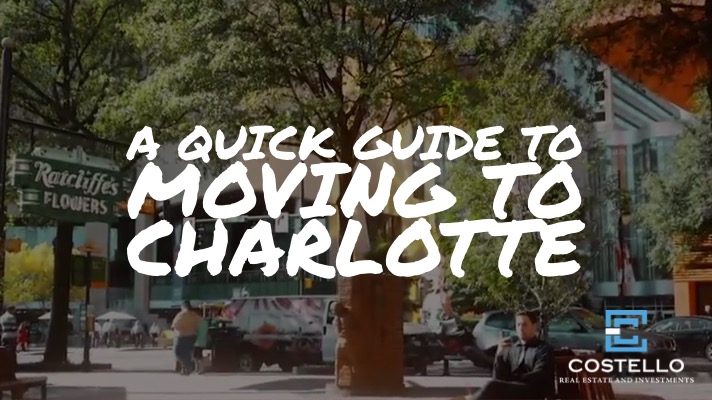 You've finally made the decision to move to Charlotte. With the city growing so fast and so many great things to do, you're in for a wonderful adventure. Charlotte offers plenty of professional sports, incredible outdoor recreation and all kinds of new businesses opening all the time.
Whether you've already found a new place to call home or you're searching for the right neighborhood, this guide is for you. Below, you will find our quick guide to moving to Charlotte packed with helpful information.
#1 - Where Will You Live?
The first thing you need to do when you plan to move to Charlotte is figuring out where you will live. You may want to rent for a few months while you search for a home or maybe you'd prefer to buy before you move. Either way, finding the right neighborhood is key.
Choosing a neighborhood isn't always easy and with so many great choices in Charlotte, it can be very difficult. You can choose one of the infill neighborhoods, such as Myers Park, Uptown or Dilworth. You can also consider one of the suburbs, such as Davidson, Mooresville or Ballantyne. These are just a few of the many top neighborhoods found in Charlotte.
#2 - Hire a Real Estate Agent
If you plan to buy a home before you move, you need a skilled, local real estate agent to help. With the right real estate agent on your side, you'll be able to find the perfect home in the right Charlotte neighborhood before your move. Make sure you give your agent a needs and wants list to help them understand what you're looking for exactly.
#3 - Create a Moving Checklist
When you move from one city to another, there are plenty of things you must do. The list gets even longer if you're coming from another state. Some of the things you should add to your moving checklist include:
Utilities - Make sure you turn off your old utilities and turn on your new ones. The power company in Charlotte is Duke Energy and the gas company is Piedmont Natural Gas. You will want to contact the necessary utilities and make sure they are turned on before you arrive.
Water/Sewer - Most Charlotte homes are on the city sewer and water and you just need to contact the water department to get it switched into your name.
Internet/Phone/TV - You may not need a phone as you may just use mobile phones, but you probably want internet and cable or satellite TV ready to go. Charlotte offers plenty of options including Time Warner Cable, Google Fiber, AT&T and more. It may take a few days to get it all set up, so you may want to call before moving day.
Change of Address - When you move, you want to have your mail forwarded by the US Postal Service. Make sure you file your change of address early so that you can arrive and start receiving mail quickly instead of waiting.
New Driver's License - Even if you're moving from somewhere in North Carolina, you will need to update the address on your driver's license. You don't have to do this before you move, but it should be handled shortly after you move.
Along with these items, you may also need to get your children enrolled in school and take care of a few other odds and ends. Make sure you have a full moving checklist with the dates things need to be done by so that you can move into a Charlotte home with all the utilities on and everything you need.
#4 - Hire Movers and Move
Now it's time to make the big move and the right moving company can certainly make a difference. Choose a company ready to help you move efficiently. Check the online reviews and find a moving company with glowing reviews from other companies.
Once you've hired a moving company, you can start packing and getting things ready to go. Then, you can move to Charlotte and start enjoying your new home.
#5 - Settle in and Plan Your New Life
Charlotte is a fun city with plenty to offer. From the massive park system to the many annual events to the professional sports teams, there's really something here for everybody. Take the time to plan out some activities for you and your family so that you can get acquainted with your new city.
It can also be helpful to do a dry run of your commute to work or for dropping the kids off at school. Check out your neighborhood and become familiar with the location of the grocery store, the amenities and anything else you will use frequently.
Now, it's time to enjoy your new home and welcome to Charlotte!