Ask the Right Questions Before Buying in a Charlotte Golf Course Community
Posted by Benjamin Ehinger on Saturday, August 11, 2018 at 10:00 AM
By Benjamin Ehinger / August 11, 2018
Comment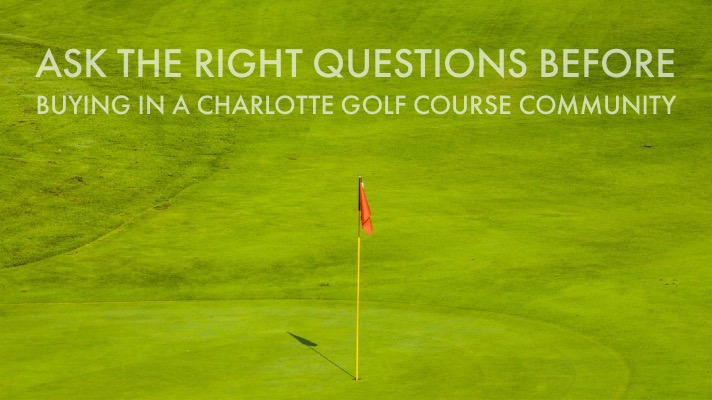 When you're considering buying a home in a Charlotte golf course community, there are some things you need to know first. Golf is a very popular sport with more than 25 million people in the United States playing every year. Even those that don't play golf may prefer to live on a golf course.
When you start considering homes for sale in golf course communities, you need to know what to look for. It's obvious that you will want to be on a good course, but there are other things to consider, as well. Here are some of the top questions you should ask if you want to live on a Charlotte golf course.
How's the Course Funded?
You may not think about this right from the get-go, but it's an important question. Often, private courses are funded by country club dues, but a public course may depend on foot traffic from golfers to survive. It's important to know the financial situation for the course, as a course struggling to survive could have a negative impact on your property values if it shuts down.
Is there a Home Owners Association?
An HOA means you will have to pay dues, which isn't that big of a deal, but something you should consider. Most golf course communities will have higher dues than other neighborhoods to cover amenities, such as the on-site restaurant, course, and clubhouse. They could also be used to help cover infrastructure and other neighborhood necessities.
Is the Community Still Under Construction?
It's not that big of a deal if a community isn't finished yet, but it's still something you should know. You should understand the phases they will be building in and consider the construction in your decision.
How Old is the Community?
Golf courses and golf course communities have changed quite a bit over the past few decades. Older courses have narrower fairways, which puts your home at a higher risk of getting hit with an errant shot. If you live on a course with wider fairways, there's more room for error on the course and you're less likely to find golf balls flying through your windows.
Will you Receive Discounted Golf?
Golf course communities rarely offer free golf. There are a few that might, but most don't give residents free golf. However, most of the courses in Charlotte with homes on the course will offer a discount for residents of the neighborhood. Some will even give you first choice for tee times and give you discounts in the pro shop. You will likely need a membership, but it will come with plenty of perks.
Are you Okay with People in Your Yard?
It's inevitable, if you live on a golf course and someone hits their ball into your yard, they will come traipsing through looking for it. If you're not comfortable with this, you may need to add a fence or choose a home not on the course, but close to the course.
Will you need to get Golf Course Insurance?
You don't need any special type of insurance when you live in a Charlotte golf course community. Your homeowner's insurance should cover you against damage from golf balls and just about anything else. Make sure you check with your provider for specifics, however.
Before you choose a home on a golf course, make sure you ask the right questions. Hiring a Charlotte real estate agent with experience with golf course communities will be a huge help. They will be able to ensure your needs and wants are met, along with keeping the surprises to a minimum.