Best 10 Free & Cheap Things to do with Kids in Charlotte This Summer
Posted by Benjamin Ehinger on Tuesday, July 24, 2018 at 5:15 PM
By Benjamin Ehinger / July 24, 2018
Comment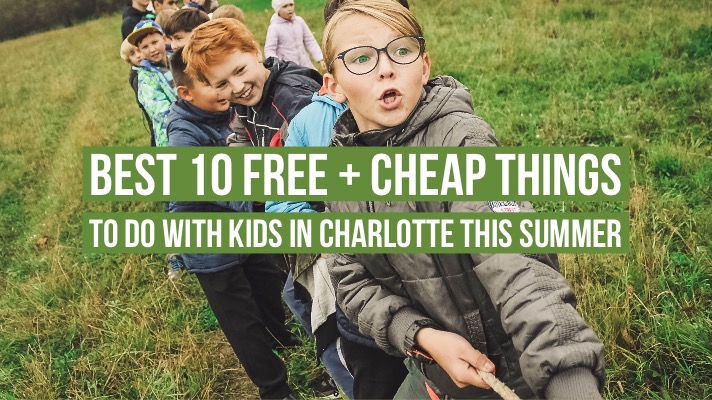 The summer is in full swing and your budget may be feeling it. Getting the kids involved in sports, summer camps and other activities can add up fast. You don't have to pull them out of activities or tell them no simply because your wallet has taken a hit.
There are several very cheap or free things you can do with kids in Charlotte this summer. If your wallet is feeling a bit light these days, check out these 10 options for your kids this summer in Charlotte.
Free Swim Lessons & Cheap Swimming
A skill everybody should learn when they are a kid, you can enroll your child in free swim lessons. The Cordelia Pool (2100 North Davidson Street) and the Double Oaks Pool (1200 Newland Road) are both offering free swim lessons throughout the summer. These swim lessons are open to children ages 3 to 12. You must register on Saturday for the following week's lessons starting at 11am. These lessons are first-come, first-serve, as well.
Along with the free lessons, you can enjoy two neighborhood pools in Charlotte for just $1 per visit. Both Cordelia Pool and Double Oaks Pool will let you come and swim for just $1 per person per visit. They will be open through September 2nd with weekday hours through August 24th.
Free Outdoor Movies
Enjoying a movie as a family is a great way to get out and enjoy the summer weather in Charlotte. You can bring your chairs, blanket, snacks and more to enjoy a relaxing night with plenty of fun. Several locations are offering free summer movies throughout Charlotte including:
Harrisburg's Movies in the Park - Harrisburg Park
City of Belmont Movies in the Park - Stowe Park
Music and Movies on the Green - Promenade on Providence
And More!
Enjoy even more movies with Weekday Morning Movies for $4 or less at many of the Charlotte area movie theaters. Most of the movies will be $1 or less with some at $4 or less.
Roller Skating
A national program offering the opportunity for children to skate for free this summer, Skate For Free is a great way to get out and enjoy some free fun. Kate's Skating Rinks in Indian Trail and Gastonia are participating in this program in the Charlotte area. This offer is limited to children 10 and under and your child must be accompanied by a staying adult. You do have to pay a one-time $4 administration fee, but this will get your child in for weekly passes for this program.
Head to the Beach
You don't have to drive to the coast to enjoy time on the beach as a family. Ramsey Creek Park offers a public beach on Lake Norman you can enjoy. You can even park at the park 'n' ride and take the free shuttle to the beach. There's no admission charge, so you can pack a picnic, stay all day and play.
The kids can enjoy swimming, playing on the beach and so much more. If you don't use the park 'n' ride option, it's $5 per vehicle for County residents and $10 for non-county residents per vehicle on the weekdays. Weekends (Friday through Sunday) it's $5 more per vehicle. You can also purchase a season pass if you plan to visit often, but the free way to go to the beach is by using the beach shuttle and the park 'n' ride.
Enjoy an Outdoor Concert
Several outdoor concerts are held all throughout Charlotte during the summer. You can take the kids and enjoy plenty of great music outside throughout the city. Some of the options include:
Bearden Music Series at Romare Bearden Park
Party in the Park at Romare Bearden Park
Live on the Green at First Ward Park
Music Box Lunch Series at Bearden Park
Charlotte Alive After Five at The EpiCentre
Sounds in the Square held Outside Spirit Square
Whitewater River Jam at the U.S. National Whitewater Center
Freedom Summer Jazz Series at Freedom Park
Friday Nights at Camp North End
Thursdays Live at the Embrace Sculpture
Matthews Food Truck Fridays at Stumptown Park
Rockin' the Burg at Harrison Park
And More!
There are several great concert options this summer and most are 100% free. Some do charge a small fee for parking and you may need a little cash if you want to enjoy food from the Food Trucks at some of them, as well.
ImaginOn
A project between the Children's Theatre of Charlotte and the Mecklenburg Library, ImginOn offers great shows for children of all ages. It's always free, but you will need to get a ticket to come to the events. This program allows younger children to play dress-up and enjoy stage impromptu performances, while teenagers can create movies.
The program also includes the Storyland: A Trip Through Childhood Favorites exhibit, which is free to visit. It will be open through September 9th.
Visit the Libraries
While a regular visit to the library is always free and fun, many of the area libraries hold regular events. You will want to make sure the event you want to attend fits the age range of your child. Every library is a bit different, but you will likely find story times, performances, crafts and many other events at the many Charlotte public libraries.
Visit the Nature Centers
Charlotte Mecklenburg Parks and Recreation includes three nature centers you can visit for free. These include McDowell, Latta Plantation, and Reedy Creek. Along with a visit, you can enjoy plenty of activities and events free of charge for kids every single month. Events include animal encounters, hikes, fishing and other activities perfect for kids to enjoy this summer.
Go Bowling
A family favorite, bowling can be done in Charlotte through a program called Kids Bowl free. All summer long, kids can bowl free when you join this program. You will need to pay for shoe rental, however.
Along with this program, you can join the AMF Bowling Centers summer program for $25. This program allows your children to bowl up to three games per day and shoe rental is included.
Pan for Gold
If you're willing to make a short drive to Midland, you can visit Reed Gold Mine for plenty of cheap fun. Tour the mine for free and if you want to pan for gold, you can do so for just $3 per person. This is a cheap and fun activity everybody can enjoy.
There are several great things you can do with your children this summer for free or very cheap. You don't have to continue to break the bank with expensive activities. Use this list and look for even more free things to do all throughout the Charlotte area.