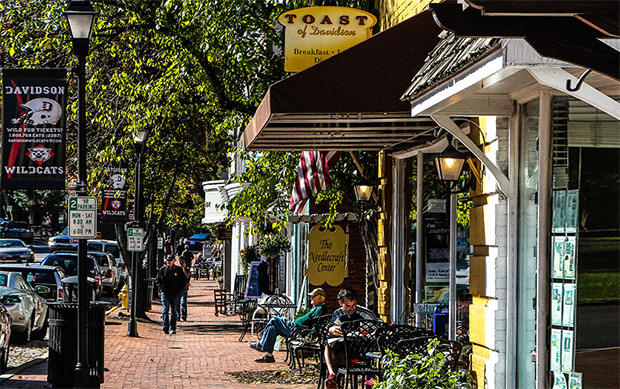 A pedestrian-friendly spot to enjoy all kinds of fun, Downtown Davidson is the favorite destination of many. In fact, several homebuyers moving to the Charlotte area choose to live in Davidson because of the charm of the downtown area.
The northern section of Downtown Davidson is known as "restaurant row" due to the many dining options, many of which are nationally acclaimed with Kindred leading the way. In addition to dining, downtown offers plenty of shopping, art, and so much more.
Downtown Davidson Dining
Some of the best restaurants in the area are found in Downtown Davidson. If you're considering relocating to Davidson, here are a few of the dining options you'll get to enjoy.
Kindred
The very best restaurant in all of Davidson, Kindred offers the #7 rated restaurant from Bon Appetit's list in 2015. This is a family-owned restaurant with seasonal menus and a fine dining atmosphere. They use local farmers for ingredients and offer some of the finest dishes you will find in the area.
Pickled Peach
Another great dining option, the Pickled Peach is a bit more casual. They offer salads, soups, and sandwiches with plenty of options for gluten-free diners and vegetarians. The patio seating is a great choice and they also offer several excellent desserts.
Summit Coffee Company
The right choice for a cup of coffee and breakfast, the Summit Coffee Company offers plenty of great options. They provide the best coffee in Davidson and have been open since 1998. You will also find live music here a few nights a week.
Famous Toastery
This is a brunch...