Charlotte Listed at One of the Best Cities for Real Estate Investment 2018
Posted by Benjamin Ehinger on Wednesday, May 23, 2018 at 2:25 PM
By Benjamin Ehinger / May 23, 2018
Comment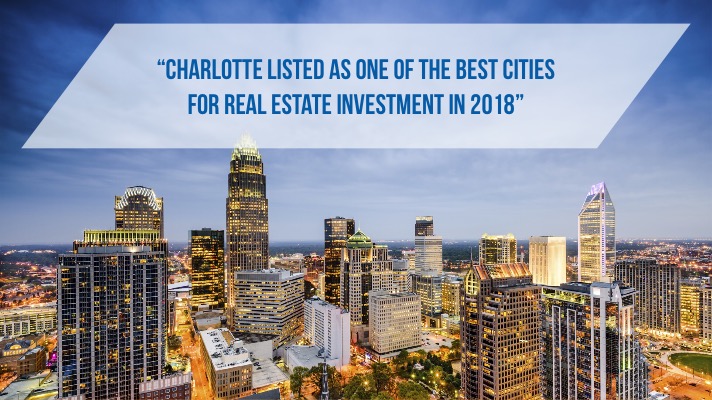 In November 2017, Renoviso.com released a study naming Charlotte as one of the "Top 10 Cities for Real Estate Investment in 2018". The study looked closely at the affordability and growth of many cities across the United States. Whether you're looking to buy as a real estate investment or put down roots, Charlotte is one of the best places you can live right now.
Renoviso looked at several specific factors in this study including:
Capitalization Rate
Job Growth Ranking
Single-Family Home Price
Population Growth Percentage
These factors were used to rank the best cities for real estate investment in 2018 and Charlotte was found in the fourth spot on the list.
Why is Charlotte Ranked 4th?
Called, "a city on the rise," by Renoviso, Charlotte took the fourth spot due to many new attractions and restaurants bringing in visitors and new residents to the area. In addition, the CAP rates are about 6.8%, which is due to the fast-growing population and the many job opportunities found throughout the city.
Single-family homes are also rather affordable with an average price of $234,400. This makes it a profitable place to invest and a great place to buy, even if you're not planning to invest.
Charlotte also scores points for the unique feel of the city with plenty to offer those relocating from other parts of the country.
Raleigh, NC Comes in 2nd
Along with Charlotte, Raleigh, NC made the list at the second spot. This makes North Carolina one of only three states with multiple cities on the list.
Even though Raleigh took the second spot, it had a lower CAP rate at 5.6% and a higher median home price at $278,300. The thriving job market and high growth rate are the reasons why it was listed so high. In fact, Raleigh was the leader with the highest job growth ranking in the study.
Other cities found on the list released by Renoviso include:
Jacksonville, Florida at #1
Columbus, Ohio at #3
Minneapolis-St. Paul, Minnesota at #5
Atlanta, Georgia at #6
Orlando, Florida at #7
Oklahoma City, Oklahoma at #8
Cincinnati, Ohio at #9
Indianapolis, Indiana at #10
The study looked at the top 100 most populated cities in the country and ranked all the cities according to:
Job Growth Ranking
Population Growth Percentage
CAP Rate
Single-Family Home Price
Each category was assigned points and the overall score created the top 10 found above.
In addition to the ten cities above, Five others were given an honorable mention including:
Tampa, Florida
Nashville, Tennessee
Louisville, Kentucky
Austin, Texas
Seattle, Washington
This study shows how great the opportunity for real estate investment in Charlotte is right now. It's a growing city with plenty of job opportunities and a great place to call home.