Charlotte Named as A Top City for Starting a Business
Posted by Benjamin Ehinger on Thursday, August 23, 2018 at 8:30 AM
By Benjamin Ehinger / August 23, 2018
Comment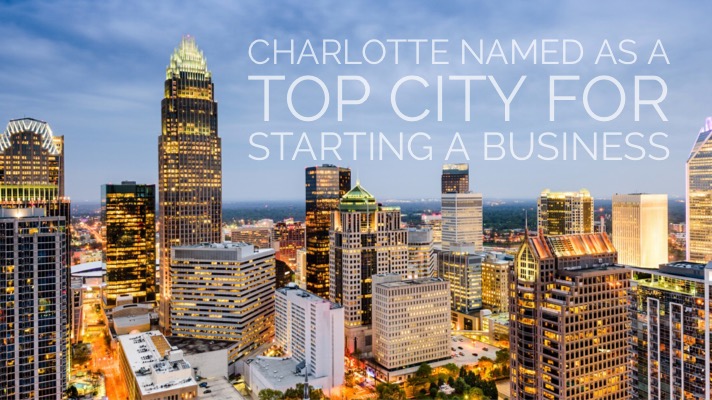 If you're an entrepreneur, relocating to Charlotte may just be the right move. It was recently named by WalletHub as one of the best large cities to start a business. After surveying 180 U.S. Cities WalletHub came to the conclusion that Charlotte belonged high on this list.
The list was compiled based on 19 different key metrics. The metrics even included the five-year survival rate for businesses and the affordability of office space. Here's why Charlotte made it onto this list from WalletHub.
Charlotte 9th Best Large City for Starting a Business
Charlotte landed in the 9th spot, which was better every other city in North Carolina, except Durham. The city was ranked as the 23rd best Business Environment, 43rd for Access to Resources and 56th for Business Costs.
Some of the major cities Charlotte beat out include:
Denver, CO
Miami, FL
Orlando, FL
Atlanta, GA
Houston, TX
Dallas, TX
Jacksonville, FL
Nashville, TN
Greensboro, NC
Las Vegas, NV
San Jose, CA
And many more!
Charlotte was tied for first place for the Highest Average growth for Small businesses. It tied with the following cities:
Grand Rapids, MI
Austin, TX
Winston-Salem, NC
Gulfport, MS
How WalletHub Came to This Conclusion
The methodology used by WalletHub compared a total of 182 cities in the United States. This included the 150 most populated cities with at least two of the most populated cities in each state. The key factors considered were the Business Environment, Access to Resources and Business Costs. In addition, the study looked at another 16 relevant metrics including:
Length of Average Work Week
Average Growth in the number of Small Businesses
Startups per Capita
Average Growth of Business Revenues
Five-Year Business Survival Rate
Industry Variety
Entrepreneurship Index
Job Growth
Financial Accessibility
Venture Investment amount per Capita
Prevalence of Investors
Human-Capital Availability
Higher-Education Assets
Share of College-Educated Population
Working-Age Population Growth
Office-Space Affordability
Labor Costs
Corporate Taxes
Cost of Living
After looking at all of these factors a score from 1 to 100 was assigned to each city. Charlotte scored a 59.07 on this scale, which was not far behind the top city. Here's a look at the eight cities beating Charlotte and their scores.
Oklahoma City, OK - 62.24
Austin, TX - 61.35
Sioux Falls, SD - 61.12
Missoula, MT - 60.52
Durham, NC - 59.72
Bismarck, ND - 59.60
Cheyenne, WY - 59.22
Billings, MT - 59.16
It's easy to see how Charlotte was just behind these other cities as it scored just 3.08 below the top city on the list.
With over 15 million people in the United States working for themselves, it's a good idea to choose the right city for your business. Charlotte may be the perfect choice as it's highly ranked for opening a small business If you want to work for yourself or you're looking to expand your business into a new location, maybe it's time to relocate to Charlotte.