Charlotte's Best Water Activities for the Summer
Posted by Benjamin Ehinger on Saturday, July 14, 2018 at 10:00 AM
By Benjamin Ehinger / July 14, 2018
Comment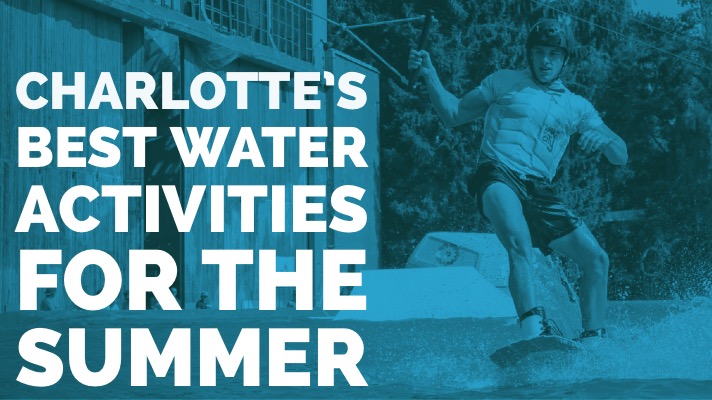 The summer gets hot in Charlotte and cooling down is as easy as hitting the closest place with water. Whether you want to take a trip to the lake or enjoy a water park, there are plenty of choices near Charlotte. Here's a look at some of the very best water activities to enjoy this summer in Charlotte.
Queen's Landing
Great sightseeing and dinner cruises are offered on Lake Norman from Queen's Landing. this company offers the Catawba Queen, which is a Mississippi riverboat or the Lady of the Lake, which is a luxury yacht. You can choose a meal including a four-course plated option or a buffet-style option. They even hold special events for holidays throughout the year.
Carolina Harbor at Carowinds
The Carowinds amusement park is a great spot to enjoy and after a few coasters, you can beat the heat at Carolina Harbor. Enjoy the Myrtle Turtle Beach and Kitty Hawk Cove, which are both kid-friendly and perfect for the family. They also have a six-story slide called Blackbeard's Revenge and plenty of other fun options for all ages. If you want to really enjoy the water park, get a season pass and go multiple times.
U.S. National Whitewater Center
Those looking for some serious action on the water will want to head to the U.S. National Whitewater Center. this spot offers a variety of watersports including Family Rafting, Adventure Rafting, Rodeo Rafting and so much more. Enjoy stand-up paddleboarding, kayaking and plenty of other flat-water activities here, too.
Several events are held here throughout the year including camps, live music, and festivals. You can enjoy an event or just come out to enjoy the Catawba River and plenty of water fun.
Lake Norman State Park
Enjoy 13 miles of shoreline on Lake Norman at the state park with plenty of water activities to choose from. You can simply visit the 125-yard-long beach and enjoy swimming or you can go fishing, boating, canoeing or rent a pedal boat. You can fish right off the pier for yellow perch, bass, crappie, and bluegill or take out a boat to enjoy even more fishing options here.
Charlotte's Spraygrounds
If you have younger children, Charlotte's spraygrounds are perfect for the summer. Enjoy spraygrounds at several different locations with unique sprays, spouts, and nozzles. Some will even let you get in and cool off with the kids.
Spraygrounds can be found at:
Cordelia Park
Latta Park
Nevin Park
Veterans Park
The West Charlotte Recreation Center
Fish Fountains on The Green
Most of the spraygrounds will be open from about 10am to 8pm throughout the summer and there's no cost to enjoy them.
Great Wolf Lodge
Get away for a little bit of a vacation by staying at the Great Wolf Lodge about 20 minutes from Charlotte. It's found in Concord and offers an indoor water park for plenty of fun. They have a four-story and a six-story waterslide with plenty of other options. The little children will enjoy the mini slides and splash pools, along with the wilderness theme.
Adults can even relax and enjoy the spa or hit the links. There's something for everybody here and it's just a short drive from home.
Catawba River Expeditions
If you want to get out on the river and enjoy tubing, kayaking or canoeing, this is the tour company for you. They are based out of Rock Hill, South Carolina, about 30 minutes from Charlotte. You can choose the level of challenge you want for your trip or take the entire family tubing. There's plenty of scenery to enjoy with the Landsford Canal State Park as a part of the tour and the Rocky Shoals spider lilies. They do require a reservation to be made 24 hours in advance.
My Aloha Paddle and Surf
If you want to learn how to enjoy stand-up paddleboarding or you want to rent a kayak or paddleboard, this is the place for you. They specialize in paddleboard lessons offering both group and private options. You'll learn about safety, paddling, turning and more. You can even take a SUP yoga class or a nighttime tour.
Ray's Splash Planet
An affordable water park perfect for those with younger children, Ray's Splash Planet is found at the Irwin Academic Center. It's an indoor water park with plenty to offer including a three-story slide, splash features, and a lazy river.
Aquaventure Watercraft Rentals and Boat Club
Another good choice for those seeking action is Aquaventure Watercraft Rentals and Boat Club. You can rent Jet Skis and ski boats here for an hour or a full week or weekend. They offer yachts, kayaks, paddleboards and so much more. You can even get your ski vests, wakeboards, kneed boards, towlines, tubes and water skis from them. If you join the club, you'll have even more benefits and the ability to have even more fun on the water.
There are plenty of great water activities to enjoy all throughout Charlotte this summer. It's time to get the family out and enjoy some time on the water before the seasons change and you have to wait until next summer.