Charlotte's Coziest Indoor Hangouts
Posted by Benjamin Ehinger on Tuesday, December 11, 2018 at 9:00 AM
By Benjamin Ehinger / December 11, 2018
Comment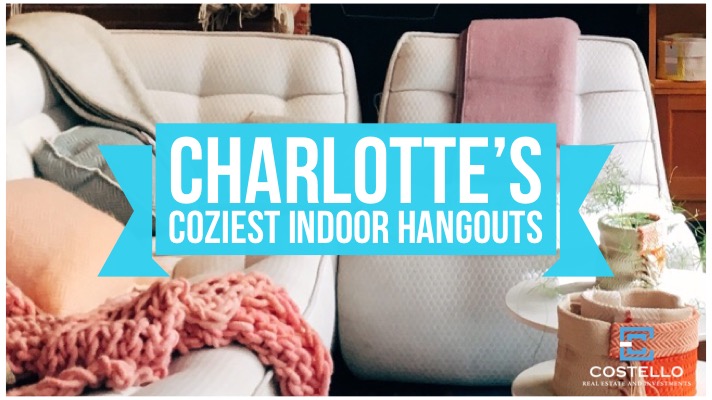 Even in Charlotte, it gets a bit cold in the winter. When the cold rolls in, you may feel like finding the perfect cozy indoor spot in Charlotte is necessary. Here's a look at some of the coziest indoor hangouts all throughout Charlotte.
Trade & Lore and Salud Cerveceria
A coffeehouse and a brewery in a shared space, Trade & Lore and Salud Cerveceria are great choices for a cozy hangout in Charlotte. You can grab a cup of coffee during the day and get some work done on your laptop. Then, when the evening rolls around, you can enjoy an exciting place with some good adult beverages.
You'll want to get a beer or a glass of wine and curl up in one of the booths. Of course, you may also want to enjoy the DJ on the first of every month, along with other specialty shows here.
Trade & Lore is open from 8am to 4pm Sunday through Thursday and from 8am to 5pm on Friday and Saturday. Salud Cerveceria is open from 11am to 10pm Tuesday through Thursday, from 11am to 12am on Friday and Saturday and from 11am to 7pm on Sunday. They are closed on Mondays.
Both are found at 3306 North Davidson Street in the NoDa neighborhood of Charlotte.
Dilworth Tasting Room
Those that love wine will love heading to the Dilworth Tasting Room. It's an excellent place to get a bit cozy with a bottle of wine, someone special, or just with some friends. You can enjoy the indoor areas with a modern art installation behind the bar. When it's nicer out, they also have a patio to enjoy with a secret garden.
Along with the great wine, the tasting room offers some snacks, such as deconstructed charcuterie boards and more. They also offer chicken and dumplings and a few other hearty dishes here.
The Dilworth Tasting Room is open from 4pm to 10pm Monday through Thursday, from 4pm to 11pm on Friday, from 1pm to 11pm on Saturday and from 1pm to 8pm on Sunday. They are located at 300 East Tremont Street in the Dilworth neighborhood of Charlotte.
Soul Gastrolounge
Locals love the Soul Gastrolounge in the Plaza Midwood neighborhood. It's filled with great warmth as you enjoy some time inside with excellent tapas and plenty of drinks. They don't take reservations, but you can use the No Wait app to ensure you get at able pretty quickly.
Soul Gastrolounge offers a hot spot for dining, but they also have DJs on Friday and Saturday nights, along with plenty of other fun. The Ramen bowl is a great choice for those looking to get cozy and there are plenty of other choices on the menu.
The Soul Gastrolounge is open every day of the week from 5pm to 2am. They are located at 1500 Central Avenue in the Plaza Midwood neighborhood of Charlotte.
Crave Dessert Bar
An Uptown favorite offering a great spot for a date or just for dessert, the Crave Dessert Bar is an incredible choice to get cozy in Charlotte. They offer all types of desserts with plenty of sundaes and some very unique options. S'mores is always a good choice and you can even step it up with a Tiramisu Dream cocktail.
Crave is open from 5pm to 2am, Tuesday through Sunday and closed on Mondays. They are located at 500 West 5th Street #120 in the Uptown neighborhood of Charlotte.
ROOTS Cafe
Another cozy spot in Charlotte, ROOTS Cafe offers some incredible menu options and a great atmosphere. The brunch menu is one of the best in the city and the cafe serves plenty of local coffee, too. They also hold wine tastings and other great drink specials often. If you want to try good comfort food, the latkes are an excellent choice here.
ROOTS Cafe is open from 7am to 9pm Monday through Friday and from 8am to 3pm on Saturday and Sunday. They are located at 2135 Southend Drive in the South End neighborhood of Charlotte.
Charlotte offers plenty of spots to get cozy during the winter. These are just a few of the places with the right atmosphere and the perfect menus for enjoying a bit of warmth when the air becomes a bit chilly.