A Closer Look At Downtown Davidson
Posted by Benjamin Ehinger on Tuesday, May 7, 2019 at 10:00 AM
By Benjamin Ehinger / May 7, 2019
Comment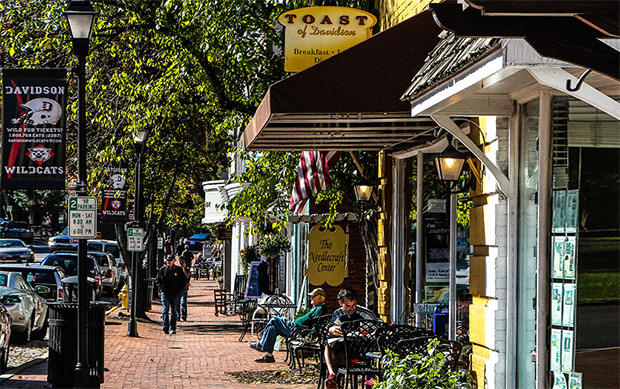 A pedestrian-friendly spot to enjoy all kinds of fun, Downtown Davidson is the favorite destination of many. In fact, several homebuyers moving to the Charlotte area choose to live in Davidson because of the charm of the downtown area.
The northern section of Downtown Davidson is known as "restaurant row" due to the many dining options, many of which are nationally acclaimed with Kindred leading the way. In addition to dining, downtown offers plenty of shopping, art, and so much more.
Downtown Davidson Dining
Some of the best restaurants in the area are found in Downtown Davidson. If you're considering relocating to Davidson, here are a few of the dining options you'll get to enjoy.
Kindred
The very best restaurant in all of Davidson, Kindred offers the #7 rated restaurant from Bon Appetit's list in 2015. This is a family-owned restaurant with seasonal menus and a fine dining atmosphere. They use local farmers for ingredients and offer some of the finest dishes you will find in the area.
Pickled Peach
Another great dining option, the Pickled Peach is a bit more casual. They offer salads, soups, and sandwiches with plenty of options for gluten-free diners and vegetarians. The patio seating is a great choice and they also offer several excellent desserts.
Summit Coffee Company
The right choice for a cup of coffee and breakfast, the Summit Coffee Company offers plenty of great options. They provide the best coffee in Davidson and have been open since 1998. You will also find live music here a few nights a week.
Famous Toastery
This is a brunch hot spot and a great spot to enjoy plenty of great menu items. They offer some of the best dining in Davidson and all residents should give Famous Toastery a try.
Downtown Davidson Shopping
There are plenty of great shopping options in Downtown Davidson. Many are locally-owned boutique type of shops. Some of the best options include:
Wooden Stone Gallery - A great place for wood, metal, glass, and pottery items. Everything is handmade in North America and many unique items are found here.
Main Street Books - A great little bookstore, this spot offers both new and used books. They also have several book signings from authors in the store, along with book club meetings, and story times.
Moxie Mercantile - A lifestyle boutique with two locations, one of the locations is found in Downtown Davidson, Moxie Mercantile offers plenty of natural goods and handmade products.
The Spirited Cyclist - A bicycle shop offering repairs, the latest bikes, and accessories, The Spirited Cyclist is a great choice for bicyclists in Davidson.
Downtown Davidson Events
Plenty of events are held in Downtown Davidson throughout the year. Whether you're looking for a festival or an art event, you'll find all kinds of options. Here are just a few of the many events hosted by the Downtown Davidson area every year.
Gallery Crawls
Held throughout the year, the Gallery Crawl events offer a way to see plenty of art from local businesses. Many of the historic Main Street businesses display art from local artists within their business. These events help to give you a closer look at the great art found throughout Downtown Davidson.
Concerts on the Green
A family-friendly series of events held every first and third Sunday starting in April and running through September, Concerts on the Green offers all kinds of music. Enjoy gospel, jazz, rock, country, and more. Food and drinks are available for purchase at every event.
Davidson Farmers' Market
One of the best farmers' markets in the area, the Davidson Farmers' Market is held in downtown on Saturday mornings. This is a year-round event with dozens of vendors and plenty of live music from local artists.
Town Day
An annual event held in May, Town Day offers a chance for everybody to have some fun. It's all about riding a bike and walking to the Town Green for plenty of food, drink, and fun.
4th of July Celebration
While Davidson doesn't have any fireworks, the downtown area is filled with a great parade and a concert on the green for the 4th of July Celebration. It's a fun event everybody can enjoy.
Downtown Davidson Fall Art Festival
One of the bigger events of the year, the Fall Art Festival usually happens in September. It's filled with artists and offers plenty of fun for everybody to enjoy.
Halloween March
Another holiday event filled with fun, the Halloween March happens along Main Street. Families line up and become a parade, which includes treats from the area organizations and merchants.
Christmas in Davidson
One of the biggest Downtown Davidson events of the year, Christmas in Davidson offers all kinds of fun. From Santa to crafts to delicious treats, this event has it all.
Downtown Davidson Entertainment
Along with the many events, Downtown Davison also offers other entertainment options including:
Our Town Cinemas Cafe & Taphouse - A great place for adults to enjoy a movie and a beverage, this cinema offers four screens with table seating. The menu includes hamburgers, pizza, beer, wine, and much more.
Davidson Beverage Company - Offering more than 300 craft beers, the Davidson Beverage Company is a great place for entertainment. They have an excellent patio and host regular events.
Ghost Walks - Held regularly on weekends, the Ghost Walk of Davidson offers a two-hour tour with some of the best creepy tails from the town. It's a fun way to enjoy the downtown area.
Plenty of other entertainment options are found all throughout the Downtown Davidson area.
If you're considering moving to the Davidson or Charlotte area, the downtown area of this wonderful town may be what puts you over the top. It's a true Main Street with plenty of shopping, dining, and entertainment to enjoy.