Enjoy Professional Sports in Charlotte Year-Round
Posted by Benjamin Ehinger on Tuesday, May 29, 2018 at 2:30 AM
By Benjamin Ehinger / May 29, 2018
Comment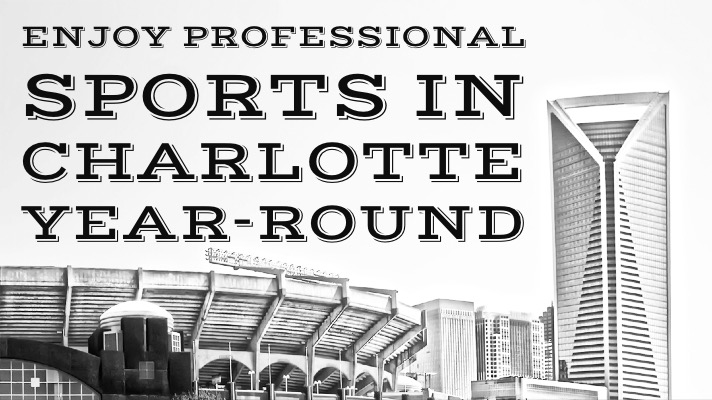 Moving to Charlotte means you can enjoy professional sports all year. The city is home to several professional sports teams providing hours of entertainment every single year. Here's a look at the professional sports teams you can enjoy in Charlotte.
Charlotte Hornets
The professional NBA team known as the Charlotte Hornets made its' home in Buzz City in 2014. They are a member of the Eastern Conference in the Southeast Division. Michael Jordan one of the owners and has the controlling interest.
The Charlotte Hornets play their home games at Time Warner Cable Arena found in Charlotte Center City. If you love basketball, season tickets may be the right choice when you move to Charlotte, North Carolina.
Carolina Panthers
The NFL team found in Charlotte is the Carolina Panthers. The team trains at Wofford College in Spartanburg, South Carolina, but they play their games in Charlotte. The Panthers have had great success in the NFC South division.
As an expansion team in 1995, it only took the Panthers 9 years to make it to a Super Bowl. They play their home games at Bank of America Stadium. If you're moving to or already live in the Third Ward neighborhood, or another Uptown neighborhood, you will likely be able to walk to the home games.
Charlotte Checkers
If you love hockey, you're in luck. The Charlotte Checkers is a minor league professional hockey team. They play in the Midwest Davison of the Western Conference in the AHL or American Hockey League. They are an affiliate of the Carolina Hurricanes from the NHL. All Checkers home games are played at Time Warner Cable Arena.
Charlotte Hounds
While the NBA and the NFL teams may be the most well-known, Charlotte is home to several other professional sports teams. The Charlotte Hounds is one of those teams. The Hounds are a member of Major League Lacrosse and began playing in 2012. They play their home games at American Legion Memorial Stadium.
Charlotte Independence
Another sports team in the city is the Charlotte Independence. This team is a soccer team and a member of the United Soccer League. They began to play in 2014 and they are based out of Matthews, North Carolina, which is very close to Charlotte.
Charlotte Knights
Baseball fans are not without a team to root for in Charlotte. The Knights are a member of the International League of Minor League Baseball. They are the Triple-A affiliate team for the Chicago White Sox.
The Charlotte Knights relocated to BB&T Ballpark in Charlotte Center City in 2014. Now, they play all of their home games at the ballpark.
Along with the many professional sports teams, Charlotte is home to several college sports teams to enjoy. If you're planning to move to Charlotte and you love sports, you will have plenty to keep you entertained year-round.