Enjoying a Romantic Staycation in Charlotte
Posted by Benjamin Ehinger on Saturday, February 9, 2019 at 10:00 AM
By Benjamin Ehinger / February 9, 2019
Comment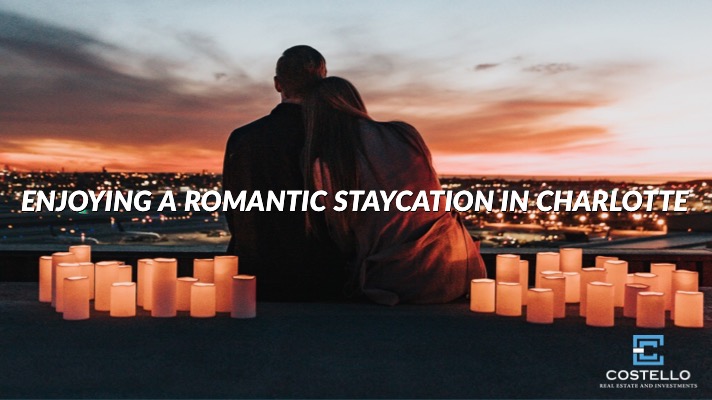 Valentine's Day always sparks a bit of romance, but you don't have to wait for a specific day of the year to spark romance in your relationship. If things have gotten a bit stale or you just want to connect with your partner on a deeper level, a Charlotte staycation may be just what you need.
The Queen City is filled with wonderful options for a romantic staycation for Valentine's Day, an anniversary or just for a random weekend away from ordinary life. Here are a few of the best ways to enjoy a romantic staycation in Charlotte.
Romantic Bed and Breakfast Options
If you want to enjoy a cozy spot with plenty of history and plenty to do nearby, the Morehead Inn is the right choice. This B&B offers history in the Dilworth neighborhood and plenty of things to do nearby. It was built in 1917 and offers an elegant choice with plenty of luxuries found throughout.
The breakfast is offered every morning and includes plenty of Southern favorites. You can also add a romance package with fresh flowers, chocolate covered strawberries, and Champagne.
The Morehead Inn is located close to some of the best choices for a romantic dinner, too. Enjoy a night out at 300 East, The Fig Tree Restaurant or Cajun Queen. You can also enjoy a relaxing day at the Re Salon and Med Spa. Those looking for even more romance will love the Dilworth Tasting Room, Petit Philippe, and Foxcroft Wine Co., all found nearby.
Luxurious Get-Away
If you want to get away from life and enjoy a luxurious retreat, The Ballantyne Hotel is the place to go. It's one of the most luxurious spots in the entire city with plush bedding, marble bathrooms and so much more. The hotel offers a romantic turndown service with roses, candles, rose petals, and soft music.
When you stay at The Ballantyne Hotel, you'll gain easy access to the Gallery Restaurant and The Spa at Ballantyne. You can also enjoy even more romance by visiting Arooji's Wine Room or The Secret Chocolatier.
An Active Staycation
Maybe you prefer to stay active when you get away from ordinary life. Booking a lake rental on Airbnb or VRBO may be a perfect choice. You can find plenty of options on Lake Norman and get away from it all while enjoying downtown Davidson and shopping at the Birkdale Village. This area also offers plenty of ways to get outside and enjoy staying active together.
Whether you choose the Lake Norman area, Downtown Davidson, or even Mooresville for an active getaway, you'll be close to some excellent places to dine. You can even choose to do one of the Queens Landing Sightseeing & Dinner Cruises or head to the North Harbor Club. Charlotte offers plenty of options for those couple looking to stay active on their staycation.
A Southern Retreat
If you love the idea of old-world comfort, The Duke Mansion may be the perfect choice for you. It was built in 1915 and offers a beautiful example of Colonial Revival architecture. Enjoy the front port with rocking chairs and the intimate atmosphere of this bed and breakfast as you spark romance in your relationship. The Duke Mansion includes just 20 guest rooms and provides an on-site executive chef to ensure you enjoy plenty of Southern hospitality.
While staying at this B&B, you can enjoy a movie at the Manor Twin Theatre or a night out at Napa on Providence. There are several other attractions and dining options nearby, as well.
An Uptown Trip
The Dunhill Hotel is one of the best choices for a romantic staycation in Charlotte. It's found in the Uptown neighborhood and offers easy access to some of the very best attractions, dining options, and things to do. The hotel offers nightly turn-down service with chocolates, as well.
While you're staying here, you can enjoy a Charlotte Center City Carriage Tour or head to Theatre Charlotte. Of course, dining at McNinch House Restaurant has to be on the list if you're looking for romance.
Charlotte offers several great options for those looking to spark romance on a staycation. These are just a few of the very best options you can choose from when you want to get away from ordinary life and connect on a deeper level.