Finding the Perfect Home for Your Lifestyle in Charlotte
Posted by Benjamin Ehinger on Saturday, July 21, 2018 at 10:00 AM
By Benjamin Ehinger / July 21, 2018
Comment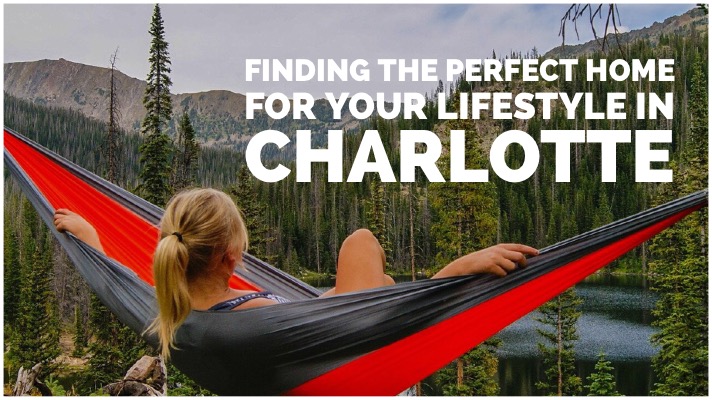 Finding the right home for your lifestyle and your family isn't always easy. It can take some time to narrow down what you really want, and then find the home that matches.
Most homeowners will live in their current home for about 9 years or longer before moving. This means, you have become very used to your surroundings and what you like and don't like about where you live. One of the keys to finding the perfect home to match your lifestyle in Charlotte is translating what you do and don't like about your current home and neighborhood into a needs and wants list.
What's Your Family Dynamic?
The needs and wants list starts with a closer look at your family dynamic. Before you start shopping for a Charlotte home for sale, you need to understand your family. If you're single, it's much different compared to a family of six or even a retired couple. Everybody is in a bit of a different situation and you need to know your situation before creating a needs and wants list.
Maybe you're single, but you own three dogs and you really want a big backyard for the dogs. Maybe you have three children under the age of five and you really prefer a place with great schools. The dynamic of your family will become a major driver in finding the right home in Charlotte for your lifestyle.
Location Matters
We all know when it comes to real estate, location matters. However, it's not just about buying a home somewhere that will be easier to sell later on. It's also about matching the neighborhood and location to your specific lifestyle.
Maybe you're sick of commuting an hour to work each day or you want to make sure you're in a great school district. Figure out the type of location you prefer, how close to work you want to be and how close you want to be to other amenities and attractions will make a difference.
You'll likely look at 10 or more different homes before you buy. However, you have to look at more than just the home. Make sure your needs and wants list includes the type of neighborhood, amenities, and access you want, as well.
Your Budget Matters, Too
Of course, if you cannot afford a home, it's really not worth looking at. When you start looking at the most important things on your needs and wants list, you'll start to get a sense of what will fit into your budget and what want. You may have to make some concessions to make sure the home you find is affordable for you.
Make sure you get pre-approved for a mortgage so that you know what you can actually afford, according to the lender. Then, look at your actual budget and decide on the top amount you are willing to spend on your new home in Charlotte, NC.
Proximity to Family and Friends
Another very important consideration is how close you will be to family and friends. Maybe you are very close with your sister or brother and you'd love to be within walking distance. If this important to you, make sure it's on your needs and wants list.
This may be more important for those with children, as your children will likely have friends, as well. Plus, if you're close to family, you may have a babysitter whenever you need one since family will likely pitch in when asked.
Finalizing your Needs and Wants List
After taking plenty of time to consider your specific situation, it's time to create your full needs and wants list. This should include what you need and want in a home, along with the location and neighborhood.
Start by looking at the things you simply cannot live without. For example, if you cook most of your meals at home, a well-designed kitchen with plenty of storage space may be on your needs list. If you have four children, you may need a home with at least four bedrooms to ensure there's enough space for everybody.
Once you've created your list of needs, go back through it and make sure cannot live without something on your list. These are your non-negotiable, not your "wishing I could have" items.
After your needs list is created, it's time to create a list of wants. You will likely have to give up some of the wants on your list when you start home searching, but you want this list, anyway. It should include anything you are hoping to have in your new Charlotte home and should be listed in order from most important to least important.
This list may include items, such as:
A swimming pool
A deck area
Fenced in yard
Large driveway
Three-car garage
Neighborhood Park
Neighborhood sports courts
Within walking distance of specific attractions
And more!
Your wants list should include only things you can live without as you will likely not find every single item on your list. However, some items can be added to the right home, such as a swimming pool or deck. In addition, if you find the perfect home and it's missing one or two of the items on your wants list, you don't want to turn it down simply because it's not 100% perfect.
Now that you have your needs and wants list, it's time to contact a highly qualified Charlotte real estate agent to help you match the right home to your lifestyle. They will know the right neighborhoods for your needs and what to expect when you start searching for the perfect home.