How do You Know You Chose a Great Charlotte Listing Agent?
Posted by Benjamin Ehinger on Tuesday, October 16, 2018 at 10:00 AM
By Benjamin Ehinger / October 16, 2018
Comment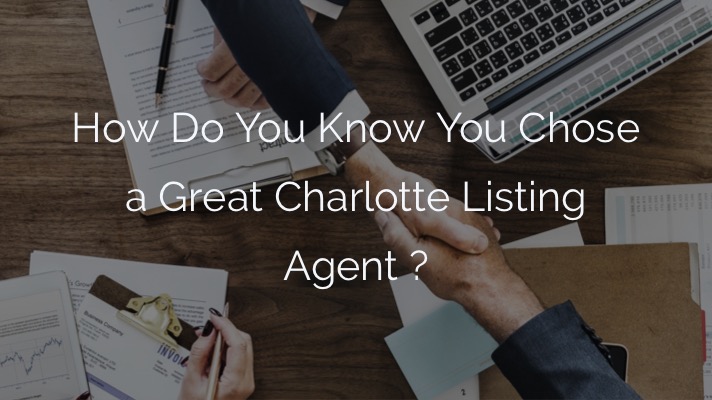 The right agent makes a huge difference. Some Charlotte listing agents have a specific way of marketing your home and making sure it gets sold. If you choose wisely, it can lead to a faster, more profitable sale of your home.
However, choose the wrong agent and you may be in for a ride you simply won't be thrilled to take. A good agent knows how to cut through the fluff and get your home listed properly and sold fast. Here are a few of the most common signs to look for when you want to choose the right Charlotte listing agent for your home sale.
Honesty
A good real estate agent will be honest with you, even if they know it's not something you want to hear. The truth can hurt a bit, especially when you're emotionally attached to your home. A good agent won't sugar coat things or keep the truth from you as it can be dangerous to get your home sold.
You may have an unrealistic perceived value of your home or you may think it's in better condition than it really is. Your agent should be willing to tell you these things without worrying about hurting your feelings.
They Use Stagers
A good listing agent will have a professional stager or two they can recommend to you. Staging goes a very long way to getting your home sold, especially in the age of technology. Since most potential buyers will first see your home online, staging matters. It will show up in ever listing picture and every showing.
They're Very Likable
Good listing agents are always very likable. If you like your agent, there is a good chance potential buyers will also like your agent. This is something you simply cannot go without as it makes a difference throughout the entire process.
They Know the Numbers
A good Charlotte listing agent knows the data and numbers when it comes to the homes in your neighborhood. They know exactly how to price your home to get you the most potential buyers and the highest price while selling the home quickly. A good agent won't agree to list your home at too high of a price just to get the listing, either.
Professional Marketing Materials
When it comes to the website, logo, brochures, business cards and other marketing materials, a great Charlotte listing agent will stand above the rest. Top-notch marketing materials make a difference as they show the agent cares about what they do.
They Hire Professional Photographers
Having a professional take your listing pictures make a big difference. They will know exactly how to create a story with the picture and show off the home in the best possible way online. An agent using a professional photographer for listing picture is above those deciding to take them on their own.
Their Home Listings Sell Quickly
The number of days a home is on the market is a vital indicator of how good the listing agent is or isn't. If the listings are selling faster than other agents, you've likely chosen a good one.
They are Readily Available
The last thing you need is a Charlotte listing agent you cannot get a hold of. Good agents are available and even when you can't reach them immediately; they get back to you very quickly. This is also how they will work with potential buyers, which is very important. You should feel like a priority with the agent you hire.
They Avoid the Fluff
You don't need a sales pitch or some scripted speech from a listing agent. You need to know they can get your home prepared, listed and sold quickly for the right price. Good agents won't give you some rehearsed pitch. Instead, they will tell you what they can do how they will do it and show you proof they've done it in the past.
When you're looking to hire a good Charlotte listing agent, make sure you look for these signs unless you prefer an average or below-average agent in charge of the sale of your Charlotte home.