How To Stay Festive This Fall: A Fall Guide For the Charlotte Metro Area
Posted by Aaron Bradshaw on Wednesday, October 7, 2020 at 1:30 PM
By Aaron Bradshaw / October 7, 2020
Comment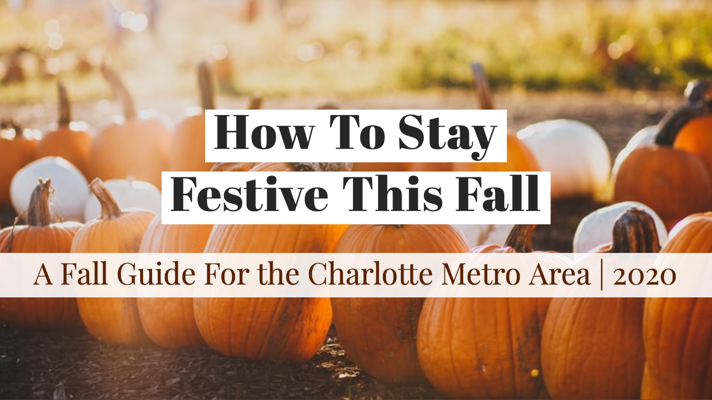 This year, fall festivities are running a bit differently. Many of the usual gathering spots are adjusting to social distancing guidelines by requiring reservations ahead of time, while others have canceled seasonal events altogether. Charlotte, NC, and surrounding areas are no different.

Still, there are plenty of ways to satisfy the need for crisp autumn air so you won't have to feel like you've missed out on the season! Here are a few of the activities in close proximity to the Charlotte and some that are farther, but still close enough for a fun day trip.


Uptown Charlotte

Truist Field Pumpkin Patch
Residents of Uptown Charlotte don't need to make a long trek to join in the fun. Truist Field, home of the Charlotte Knights minor league baseball team, is transforming the outfield into a pumpkin patch on Saturday, October 10th.

*Reservations required: You'll need to purchase your pumpkin in advance and choose a time slot to attend.

What: Pumpkin picking, pumpkin decorating stations, fall-themed treats, music
Where: Truist Field, 324 S Mint St, Charlotte, NC
Cost: Pumpkins starting at $10
When: Oct 10, 10 A - 5 P
Flicks At The Field
The Charlotte Knights are also hosting a movie series at Truist field this fall. Movies will be shown on a giant screen, and seating is very limited, so make your reservations as soon as possible.

What: Outdoor movies!
Where: Truist Field, 324 S Mint St, Charlotte, NC
When: Sat, Oct 10 & Friday, Oct 16, 7 P
Cost: Tickets start at $10.
Bonus: Great view of the Charlotte skyline!


Weddington, NC

Hunter Farm

For those hoping to enjoy the authentic countryside, pumpkin patch experience can find it in Weddington at Hunter Farm. Hunter Farm is a short drive for those living in South Charlotte, near the Matthews area.

*Reservations are required for hayrides and can be made on the Hunter Farm website. Those feeling a bit more spontaneous can visit the pumpkin patch without reservations!

What: Tractor pulled wagon rides, pumpkin patch, animal petting barn.
Where: 13624 Providence Rd, Weddington, NC
When: Sept 19th - Nov 21st, Mon - Sat: 9 A - 7 P & Sun: 12 P - 7 P
Cost: $10, Children under 2
Bonus: A breath of country air and a 3 - 5lb Pumpkin included with hayride!


Albemarle, NC

Sunny Oaks Farm

Sunny Oaks provides another outdoor fall experience and is more convenient for residents on the east side of Charlotte, including Mint Hill and the Concord area.
This small and beautifully decorated family farm, located in Albemarle, NC, grows pumpkins, gourds, flowers, and a lot more. They are open every weekend in October and admission is free. No reservations required!

What: Pumpkin and gourd picking, flower sale, storytime, petting zoo
Where: 24522 NC 24 27 HWY, Albemarle, NC 28001
When: Sat 10 A - 4 P, Sun 1 P - 4 P
Cost: $10, Children under 2
Bonus: Lots of photo ops for people and pets, too!


McAdenville, NC
Halloween Light Show
McAdenville has long been known for its intricate Christmas lights display. For 65 years, homeowners and residents of the area have been decking their lawns and rooftops with an impressive array of string lights and high wattage reindeers scenes.

Last year a new tradition started, with one household creating an impressive Halloween light show. The Hammond Family's Halloween tradition continues this year and is a readymade event for social distancing.

Just hop in the car and head for the McAdenville exit. It's only about a 20 minute drive from Charlotte and a quick jump over from Belmont or Hickory. It's free to drive up and watch the show. The Hammonds just ask that you be respectful of the neighbors.

What: Halloween light show
Where: 508 Chamberlain Ct, McAdenville, NC
When: Oct 16th to Oct 29th, 6 - 10 P & Oct 30th - 31st, 6 - 10 P
Bonus: Pack your own candy and keep warm in the car!


Kings Mountain, NC

Story Walk

The City of Kings Mountain teamed up with Mauney Memorial Library to provide a fall experience that is friendly for all ages, and especially youngsters. "It's The Great Pumpkin Charlie Brown" Story Walk runs the entirety of October. King's Mountain is only about a 35 minute drive for Charlotte residents.

The StoryWalk features the Peanuts story of Linus Van Pelt's dream to meet the Great Pumpkin. This is a walk-at-your-own-pace event to help prevent mass gatherings.
What: Children's story walk
Where: Patriot's Park, 400 S Railroad Avenue, Kings Mountain
When: Oct 1st - Oct 31st
Bonus: Festive music and plenty of fun photo ops!

These are just a few of the recommended activities to get your fall season rolling in the right direction and be safe while doing it! Make sure to look for updates at any of the locations you'd like to attend as rules are subject to change.