How To Upgrade Your Curb Appeal Game
Posted by Aaron Bradshaw on Thursday, October 29, 2020 at 9:00 AM
By Aaron Bradshaw / October 29, 2020
Comment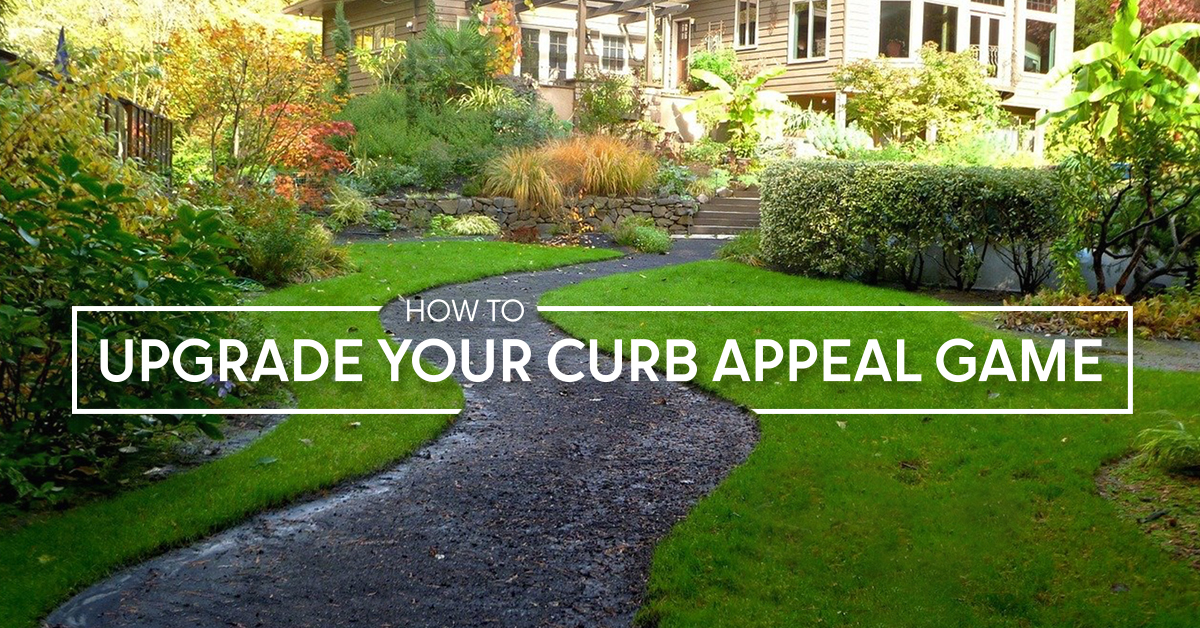 Curb appeal is a crucial step to selling your home. Your home's first impression not only matters when someone arrives for a showing, but also when they're scrolling through online listing pictures.

Whether the listing is seen on social media, online listings, or in person, your home may lose a potential buyer before they've even stepped inside your home to see the magic of all of your updates. Upgrading your curb appeal game will get more eyes on your home and more feet in the door! Here are some quick and easy steps to get you started.
PAINT
If you have the funds, or your home is in need of a fresh coat of paint, doing a full paint job on the exterior will give your home a facelift, but the exterior of your home doesn't need to be completely repainted. A fresh coat of paint on the front door and a few touch-ups here and there can go a very long way.

You can try giving a fresh coat of paint to fences, garage doors, the mailbox, or any other exterior features to give your home a cohesive look.
LANDSCAPING
Mowing the lawn is a start, but planting fresh flowers, trimming bushes, and the right landscaping can truly transform a home. When you're trying to sell your home, landscaping offers one of the most affordable ways to add curb appeal. Find a local plant nursery to help you decide what a great look for the season. Planting the right flowers at the right time will make your home feel fresh and full of life!

If you're stumped about where to begin, think "symmetry." Planting matching plants and bushes on either side of your front walk is one of the best ways to make your home feel balanced while being pleasing to the eye.


FLOWER BOXES

An extra step that goes hand in hand with updating your home's landscape is to consider adding window flower boxes. These are very low commitment, as they can be removed if the buyer ultimately doesn't want them, but they are a great way to draw the color of your garden all the way to the face of your home.

CLEAN
Usually, you'll be asked to clean the interior of the home, but you should also clean the exterior. There may be areas you have neglected for quite some time that a new potential buyer will notice.
Clean the gutters, any flower beds you might have, the exterior of the windows, and all other exterior areas of the home. Dirty windows and gutters are easily noticeable and will take away from the curb appeal. It's easy to get these areas of your home cleaned without breaking the bank.

POWER WASHING: SIDING, WALKWAYS, DRIVEWAY & BRICK EXTERIORS
Cleaning up your walkways is another great way to draw buyers into your home. Rent or borrow a pressure washer and brighten up your concrete walkway and driveway to their original gleam. You will be amazed at how much a good bath can refresh your home's facade. You'll want your home to look as good or better than the day you fell in love with it yourself.


PATCHING WALKWAYS

If you're willing to put in some extra effort, patching up any major cracks in walkways, driveways and paths will send potential buyers a message that you have taken care of and maintained your home, inside and out. Your attention to detail will show through and have a cumulative effect.

REPLACE/ADD LIGHTS
Exterior home lights can easily be replaced without spending much cash and can make a difference. Lighting fixtures can go in and out of style, so choosing something modern that pairs well with your home's exterior will brighten the appeal and bring it up-to-date. You want to consider adding light along walkways, as well. Buyers often like to drive by a home at night to check the surroundings. Imagine the peace of mind they will feel seeing the front yard evenly and lit. It will give them a safe and inviting feeling.

REPLACE YOUR HOUSE NUMBERS

It's a small thing, but it makes a difference. If your house numbers are old, consider taking them down and replacing them. You will be assured that a buyer can see your address clearly and begin imagining these numbers as part of their new address.

SPRUCE UP YOUR FRONT PORCH

Your home's entryway can make a statement, but also send a warm invitation to a potential buyer. Make sure your door's hardware has been cleaned with metal polish. Take it a step further by adding some decorative touches like a door wreath or matching flower pots on either side of the door. Something seasonal on the door can give it that "home sweet home" feeling.
ASK A REALTOR

It goes without saying that making your home look better from the exterior will help get it sold faster. Creating a better curb appeal will show up in the pictures of your home online and will make the best impression on buyers showing up for an open house or a showing appointment.
Make sure you speak with your Realtor® before you start making big changes to the exterior of your home. They will be able to make more recommendations to ensure you don't overdo it or spend money you don't need to spend.