Lake Norman Secrets: What You May Not Know About Lake Norman
Posted by Benjamin Ehinger on Wednesday, March 20, 2019 at 12:00 PM
By Benjamin Ehinger / March 20, 2019
Comment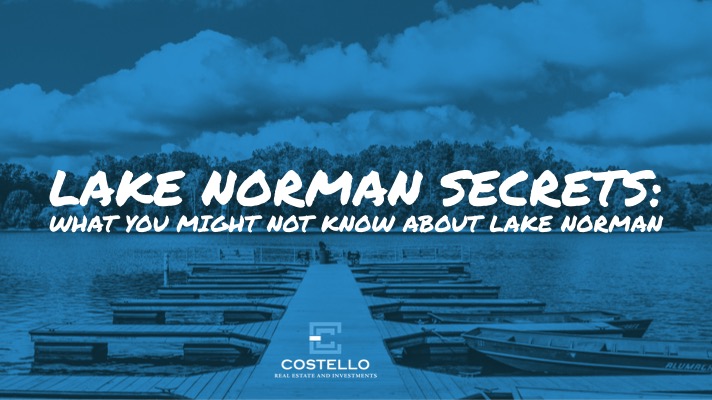 Known by many as the "Inland Sea" Lake Norman is a special place. It was created in the late 1950s and early 1960s as the largest freshwater lake found in the entire state of North Carolina. In fact, most of the power found in Charlotte comes from Lake Norman.
While the size of the lake and the ability to provide power are great, most locals know Lake Norman as the place to go for swimming, boating, and all types of water activities. It's also a very popular spot for home buyers seeking waterfront properties in the greater Charlotte area.
You may be familiar with Lake Norman, but do you know all the secrets of this area? There are several things you may not know about Lake Norman. Let's look at just a few.
Trees Are Planted Yearly
Did you know Duke Power actually has a team of foresters and their job is to plant trees every year? While this isn't their only job, they plant more than 1,400 trees every single year. They also stock the lake with fish and take care of other parts of the lake.
Mosquitoes are Kept in Check
Another thing you may not know about Lake Norman is how the mosquitos are kept in check. Yes, we all know, if you spend time near water and trees, you're bound to end up with mosquito bites, unless you bring a repellent.
The foresters at Lake Norman help you out by using an organic compound to kill those nasty bugs before they ever bite you. This compound is used near shorelines where mosquitos tend to breed and it's not harmful to the environment since it's organic.
Lake Norman is a Four-County Lake
Another little Lake Norman secret, it touches four different counties. You could be at Lake Norman and be in one of four different Charlotte-area counties. The counties Lake Norman touches include:
Catawba
Mecklenburg
Lincoln
Iredell
The Early Days of the Lake
When it all started, getting the lake filled with water took about two years of time. The dam was constructed and the lake started to fill, but it was more than 700 days before the 500 miles of shoreline became shoreline.
In addition, during the early days, you could get a one-acre lot for super cheap. Back in 1965, you could buy a lakefront lot from Duke Power starting at $500 per acre.
Interstate 77 Made Lake Norman Explode
The communities you know of around Lake Norman today were not originally as popular as they have become. When I-77 was created, many communities became popular including Huntersville, Mooresville, Cornelius, and Davidson. Some of these communities doubled in residents, while others saw an even larger gain.
Unnatural Hot "Springs" in the Water
Lake Norman provides a ton of power to the greater Charlotte area and with that power comes many power plants. These power plants use underwater steam vents as a part of the process, which creates unnatural hot "springs" in different areas of the lake.
A Great Scuba Diving Adventure
If you were given the chance to go scuba diving in Lake Norman, you'd discover what would amount to an underwater history museum. Several things from years past are found at the bottom of this huge lake including an old cotton mill, an old airplane, and much more.
Most of us would assume part of the construction of such a large lake would be to remove or at least level old structures. With Lake Norman, this wasn't the case. In fact, the bottom of the lake still includes old cemeteries, schools, churches, homes, and other structures. Some of the other old things found beneath Lake Norman include:
There are many other structures and historic things found at the bottom of the lake, as well.
The Lake Norman Monster
Maybe you've heard the tale or maybe it's new to you. Several have said they have seen the monster known as "Normie" and with any massive lake, there's bound to be a story or two.
The Lane Norman Monster is known to be a serpentine creature with flippers or fins and many witnesses have said they have spotted the monster. The accounts of the creature vary widely and state different colors, sizes, and shapes.
Many believe it's just a massive catfish, while others think it could be a large alligator, salamander or bowfin.
The Surrounding Brewery Scene
While this Lake Norman secret isn't specific to the lake itself, it's known as well-known as it should be. If you love craft beer, you can enjoy four incredible breweries in the Lake Norman area. D9 Brewing Company, Primal Brewery, Ass Clown Brewing Company, and Eleven Lakes Brewing are all found throughout the area.
Lake Norman offers plenty of charm and plenty of fun. From great events to incredible water activities, this area of North Carolina is packed with excitement.
These are just a few of the many Lake Norman secrets you may not be familiar with. Whether you're just visiting the lake or you're looking for a Lake Norman home for sale, it's important to know the area.