Let's get healthy together!
Check out a few healthy eating tips, that gives us a variety of ways that we can incorporate an overall nutritious and balanced lifestyle.
How to Eat Healthy
It's easier than you think to start eating healthy! Take small steps each week to improve your nutrition and move toward a healthier you.
Eight Healthy Eating Goals
Small changes can make a big difference to your health. Try incorporating at least six of the eight goals below into your diet. Commit to incorporating one new healthy eating goal each week over the next six weeks. You can track your progress through PALA+.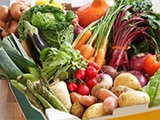 Make half your plate fruits and vegetables: Choose red, orange, and dark-green vegetables like tomatoes, sweet potatoes, and broccoli, along with other vegetables for your meals. Add fruit to meals as part of main or side dishes or as dessert. The more colorful you make your plate, the more likely you are to get the vitamins, minerals, and fiber your body needs to be healthy.