Should You Sell Your Charlotte Home During the Winter?
Posted by Aaron Bradshaw on Monday, November 11, 2019 at 10:00 AM
By Aaron Bradshaw / November 11, 2019
Comment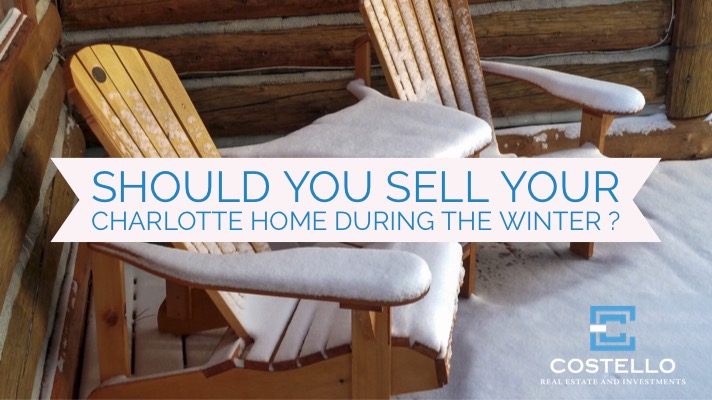 While Charlotte Area winters are mild compared to northern cities, you may still be wondering if you should sell your home during the winter or wait until the spring. Listing your home at the right time matters, but the winter isn't a bad time to list your home for sale. In many ways, it could be a perfect time.
November and December may seem like bad months for selling, but this isn't exactly true. Buyers are still out shopping for a new home and often, there are fewer homes on the market during these months. This might be the good news you were hoping to hear.
You may be thinking about how hectic it can be to work showings and open houses into your already busy holiday plans. However, if you have a home you'd like to sell in Charlotte, there are several advantages to getting it listed now. Here are some of the benefits of selling your Charlotte home during the winter.
The Internet is 24/7/365
In today's day in age, home buyers find you online first 95% of the time. There used to be a time when you couldn't search home listings any day of the week, at any hour of the day. Today's buyers will find you when it's convenient for them and that's good news for sellers in the winter.
With good online listing pictures and a good real estate agent on your side, you'll have a great chance of selling during the winter. The internet is your friend in this situation and as long as buyers can find your home, you'll have plenty of interest, no matter the time of year.
Less Competition
The spring will bring plenty of sellers flooding the market all looking to get their homes sold. However, during the winter, the number of sellers with homes listed on the market is much lower. In fact, you'll see about 15% fewer homes listed during November and December compared to any other time of the year.
This is good news for you if you want to sell your Charlotte home in the winter. You'll be one of a smaller number of listed homes, which means buyers have fewer options to consider and you'll likely see more interest.
Serious Buyers Only
Nobody shops for a home during the holiday season unless they are serious about buying. Maybe they need to find a home because they are moving for a new job or they want to buy and move in before the holiday season is over. Winter buyers are almost always working against a deadline of some sort. It could be a need to relocate, a contract on their current home or an expiring lease. For sellers, this means you'll be dealing with serious buyers ready to make an offer.
Easier to Schedule Showings
You may think the holidays make it harder for buyers to see houses, but it's the opposite. Many people get extra time off during the holidays or use vacation time to take extra time off. This means they are readily available for a showing or open house. With more time off during the holidays, buyers will be ready to browse the online world for your home and can stop by to see it in person much easier.
Ability to Set the Mood
It's a little on the cold side outside and everybody wants to feel cozy and warm. You can set the mood in the winter to make your home feel like home to those coming in to see it. Make t super cozy and keep the decor simple. If you present your home correctly, it may sell faster and for a higher price.
Selling your Charlotte home in the winter has many advantages. You shouldn't shy away from listing your home just because you feel like the prime selling season has passed. Contact a good real estate agent today and find out why you should list your home this winter.
Updated 11-9-19