Take a Fun Ski Trip This Winter Less Than 4 Hours from Charlotte
Posted by Benjamin Ehinger on Thursday, October 18, 2018 at 10:00 AM
By Benjamin Ehinger / October 18, 2018
Comment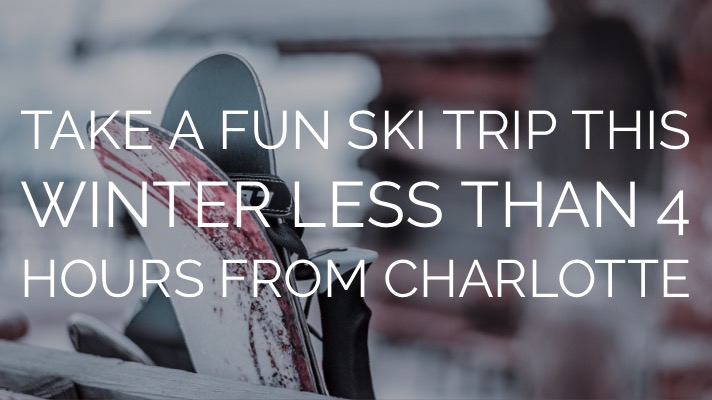 It's not here yet, but winter is coming. Before you know it, you'll be able to enjoy the holiday season, a chill in the air and sweaters, whether cute or ugly.
While the winter certainly brings with it colder temperatures, it's not all bad. With winter rolling in, you can enjoy a fun ski trip and you don't have to go very far. There are a few great skip trips you can take and they are all four hours or less from Charlotte.
Beech Mountain
Maybe the most famous place for skiing near Charlotte, Beech Mountain is only 2.5 hours away. This beautiful area for skiing is close to Banner Elk and Blowing Rock, which are both very popular mountain towns you can enjoy. Of course, the skiing is why you're going, but who doesn't want to enjoy a bit of shopping and great food while they're at it?
Beech Mountain may not be the world-class ski resort you're looking for, but they do offer five to eight slopes with plenty of activities for the younger children, too. With the close proximity to Charlotte and plenty of things to do, you can't get much better than Beech Mountain for your ski trip.
Wintergreen Ski Resort
Found in Virginia, Wintergreen Ski Resort is a great choice, but it is a bit further than Beech Mountain. From Charlotte, it will take a good four hours to arrive in Wintergreen, VA. However, it's worth the drive and if you plan to go for the weekend or even for a mini-vacation, you're sure to have plenty of fun.
Wintergreen Ski Resort is found in Blue Ridge, which is known as one of the most beautiful areas in the country. The drive to get there is quite scenic and you'll certainly enjoy it. The resort gets plenty of its own snow and does make some every year, as well.
With more than 12 slopes to enjoy, you're sure to have plenty of fun skiing. Even if you don't enjoy skiing, there are plenty of wintertime amenities to enjoy. Even when it's not wintertime, you can enjoy mountain biking, zip lining, archery and so much more at Wintergreen Ski Resort.
Sugar Mountain
While it's not the most famous, Sugar Mountain may be the most popular ski resort found near Charlotte. It's the closest to the city, as well, at just over two hours and it's found in North Carolina.
Sugar Mountain offers 21 total ski runs with several different difficulty levels. There's something for everybody here and it's known as the place with the best slopes close to Charlotte. If you don't know how to ski, this ski destination also offers tubing, ice skating and more. You can rent a cabin and enjoy the wintery weather, as well.
Winterplace Ski Resort
Found in Ghent, West Virginia about three hours from Charlotte, Winterplace Ski Resort has plenty to offer. More than 20 ski slopes are found here and make this a special place for anybody that enjoys winter. It's also the largest place for snow tubing in West Virginia with two lifts dedicated to tubers.
While Ghent and the actual resort are a bit small, they are worth the trip. Make sure you book your cabin early and make sure you plan to cook while you're here as there aren't many places for eating out. One of the biggest draws for Winterplace Ski Resort is the price. It's the most affordable choice on the list!
Cataloochee Ski Area
Found just less than 3 hours from Charlotte, the Cataloochee Ski Area is one of the best places for those looking to learn how to ski. If it's your first ski trip, this may be the best spot for you within four hours of Charlotte. Cataloochee also offer a great place for the seasoned skier with plenty of slopes of all different difficultly levels.
Make sure you book your trip early, as this is a very popular spot and the lodging does book up fast. They do offer something for every budget with hotel rooms and cabins available.
Wolf Ridge Ski Resort
Another choice found in North Carolina, Wolf Ridge Ski Resort is found just less than three hours from Charlotte. It's found in the Cherokee National Forest just past the Pisgah National Forest and has plenty to offer.
The location in the Western North Carolina Mountains makes this a beautiful plea to enjoy. It's a year-round adventure spot, but during the winter, you can enjoy plenty of great skiing and snowboarding opportunities. They have slopes for those ranging from beginner to expert and plenty more than just skiing to enjoy.
Even though you may not think skiing is something you can enjoy near Charlotte, there are plenty of options. These are just a few of the best spots for skiing within four hours of the city and there are so many other options you can choose for your weekend trip or even your mini-vacation.