Take a Mountain Day Trip from Charlotte Year-Round
Posted by Benjamin Ehinger on Monday, February 18, 2019 at 10:00 AM
By Benjamin Ehinger / February 18, 2019
Comment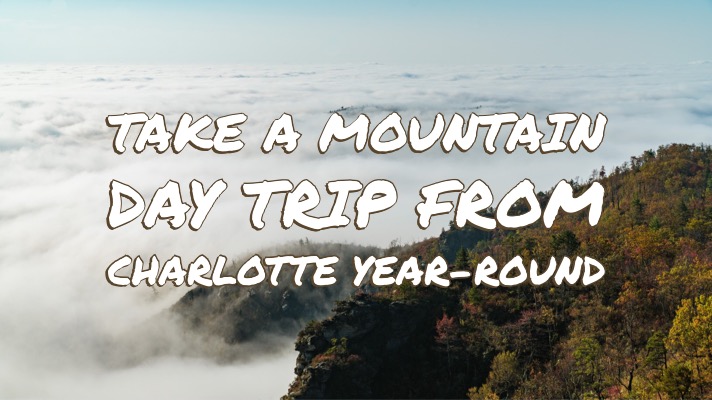 Do you love the mountains? Are you thinking about relocating to Charlotte or do you already live in the Queen City? You can take a mountain day trip from Charlotte any time of the year. Here's a look at a few of the best options.
Hendersonville
The right time of the year for a day trip from Charlotte to Hendersonville is during the NC Apple Festival. This event offers plenty of fun and it's one of the best in the area. Hendersonville is known as the apple capital of North Carolina and even if you don't come during festival time, there are plenty of places for apple picking.
You can also enjoy the Downtown Hendersonville area and the fall season will provide plenty of hayrides, pumpkins and so much more. This small mountain town is less than two hours from Charlotte and has plenty to offer for a great mountain day trip.
Asheville
Of course, you cannot go wrong with a day trip to Asheville. The only issue you might find is that you may want to stay for a week instead of just the day. If you live in Charlotte, however, you can visit Asheville often as it's just two hours from the Queen City.
When you arrive in Asheville, you will want to enjoy plenty of scenic views. You will also want to eat at one of the fine restaurants here and you may even want to relax at the Grove Park Inn spa. The area is filled with great hiking and incredible art galleries. It's also known for the Biltmore Estate. There's so much to do here you'll likely want to come back over and over again.
Linville
A wonderful little mountain town, Linville offers the incredible Linville Gorge. This is one of only two wilderness gorges in the entire country. It's found right inside the Pisgah National Forest and offers tons of hiking options, along with incredible mountain views.
You can easily enjoy Linville on your mountain day trip from Charlotte. It's just two and a half hours from the city and offers some of the very best fall leaves you will find in the state.
Blowing Rock and Boone
Found about two and a half hours from Charlotte, both Blowing Rock and Boone provide great mountain day trip options. You can enjoy hiking Grandfather Mountain and the many views of the Blue Ridge Mountains here.
Boone is a unique little college town, while Blowing Rock is rather luxurious. They are both a bit different, but you can enjoy each town on the same trip and get some great views of beautiful mountains in the process.
Mount Airy
A very popular choice for your mountain day trip from Charlotte, Mount Airy was featured in The Andy Griffith Show. They hold the Mayberry Days Festival every year in September, which is a great time to come. In addition, it's a very impressive little town with some incredible views.
Mount Airy offers great hiking, plenty of diners to enjoy a meal, and a quaint downtown area. It's about one and a half hours from Charlotte making is an easy mountain day trip for residents.
If you want to enjoy the mountains of North Carolina, a mountain day trip from Charlotte is a great choice. Whether you just relocated to Charlotte or you've lived here all your life, taking a day trip to see the mountains is one of the perks of living in the Queen City.