Top 10 New Charlotte Restaurants for 2019
Posted by Benjamin Ehinger on Friday, February 15, 2019 at 10:00 AM
By Benjamin Ehinger / February 15, 2019
Comment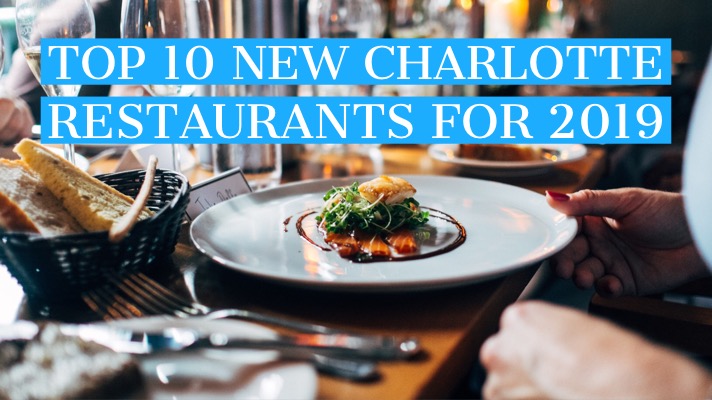 Charlotte Magazine spends plenty of time each year creating buzz around new restaurants, new chefs, and fun new food trends. They actual visit many of the restaurants and they only rank locally-owned choices. With that in mind, here's a look at the top 10 new Charlotte restaurants for 2019, in no particular order.
YUME
The menu is filled with unique options at YUME, but the flower-shaped Sakura sushi roll may be the dish they are most known for. They also offer a Sora box sushi, which is square-shaped and they provide unique ramen dishes, too. Whether you're vegan, vegetarian, or a meat-eater, you'll find something great on the menu to enjoy.
Along with the great food at YUME, diners also enjoy more than just standard domestic beers on the drink menu. They offer a Japanese lager and plenty of great cocktails to try. The restaurant is found at 1508 Mint Street in Suite A.
The Waterman
A new oyster bar found in the South End neighborhood, The Waterman offers lobster rolls, oysters four ways, fried fish sandwiches, and more. The appetizers are excellent and the dinners are even better. They also have a rooftop terrace perfect for the sunset.
If you're looking for a great view of Uptown Charlotte, head to the rooftop for a cocktail. The Waterman is found at 2729 South Boulevard.
Zeppelin
While Zeppelin is best-known for the incredible cocktails, this isn't a place to overlook the food menu. They offer some unique options, such as the Notorious P.I.G. and the fried green tomato capers. The Southern menu provides some unique spins on classics and some dishes you've probably never heard of.
Dessert at Zeppelin is worth a try, too, with a Krispy Kreme and brioche bread pudding and a few other unique options. Zeppelin is located at 235 Tremont Avenue.
Toucan Louie's Cafe and Roastery
This is the spot for your daily coffee, but it's more than just a place for coffee. Toucan Louie's roasts its own coffee beans, but they also offer sandwiches with North Carolina-raised meats. It looks much like a 1960s diner from the outside but has plenty to offer from today's food scene on the inside.
Toucan Louie's also offers craft beer and plenty of great food options on the menu. This new Charlotte restaurant is located at 2753 Rozelles Ferry Road.
Siggy's Good Food
Found in the Belmont neighborhood of Charlotte, Siggy's is the place for those looking to enjoy an organic meal out. They serve organic sandwiches, salads, juices, and smoothies. They don't use any meat stock, butter or cream and they provide plenty of options for vegans here.
The owner started the first Siggy's in Brooklyn over 20 years ago and now she has this new Charlotte restaurant. It's located at 1001 Belmont Avenue.
Jyoti's World Cuisine
You'll find a huge menu here with more than 100 dishes covering all types of cuisine from Italians to Greek to Ethiopian to Indian, and more. They offer all types of vegan-friendly options and anything on the menu can be made for lunch. Diners enjoy vegetable curry, dosa, bonda and so much more here.
Jyoti's World Cuisine is located at 7128-A Albemarle Road.
La Belle Helene
A new Charlotte restaurant for 2019 serving French cuisine, La Belle Helene offers a favorite in Uptown. The space is beautiful with bulls-eye chandeliers and a cozy feel. The restaurant offers plenty of great dishes on the Parisian menu and you'll see the rotisserie chickens when you first walk in. Of course, the cocktails are also pretty amazing here, too.
La Belle Helene is located at 300 South Tryon Street in Suite 100.
Brewers at 4001 Yancey
A new brewery in LoSo offering plenty more than just a few unique beers, Brewers at 4001 Yancey provides plenty of great dishes on the menu. Enjoy fried pork rinds, the Victory pretzel, amazing pizzas and more here. The beer is great, but the food is just as good and it's certainly a spot to try with great fried chicken, amazing salads and so much more.
Brewers at 4001 Yancey is located at 4001-A Yancey Road.
The Stanley
Located in Elizabeth, The Stanley is a spot with an ever-rotating menu. The dining room includes gold pendant lamps, berry-colored booths, and a very cozy feel. It's a place for a seasonal dish and something different every single time you dine. The restaurant is located at 1961 East 7th Street.
The Queen & Glass
It may feel like a speakeasy with loud music, dim lights, and not much signage, but The Queen & Glass should not be skipped. This Dilworth lounge offers great food and plenty of good cocktails. They include a seasonal cocktail list and plenty of seasonal dishes, as well.
The Queen & Glass is located at 1315 East Boulevard.
Many new Charlotte restaurants are a great choice, but these ten top the list. They are some of the best of the best when it comes to new chefs, interesting dishes, and all-around great dining experience.