Top 15 Charlotte Neighborhoods For 2019
Posted by Benjamin Ehinger on Thursday, January 24, 2019 at 10:00 AM
By Benjamin Ehinger / January 24, 2019
Comment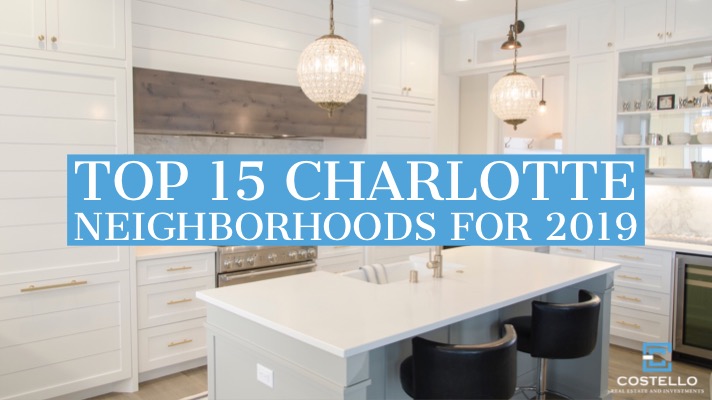 Charlotte is a very popular place for those looking to relocate to a new city. In fact, about 109 people moved to Charlotte every day throughout 2017 and that number has stayed rather consistent throughout 2018.
Now, with 2019 here, it's important to understand which Charlotte neighborhoods are the best choices. Whether you're relocating from another city or state, or you're just looking to relocate within Charlotte, the top neighborhoods may have changed since you last looked them up. Here's a quick look at the top 15 Charlotte neighborhoods to consider when shopping for your next home.
Plaza-Midwood
Found on the top of just about every neighborhood list for Charlotte, Plaza-Midwood is a vibrant spot with plenty to offer. It's not far from Uptown, making it a very popular location. In addition, the neighborhood is filled with art galleries, restaurants and it's home to the Charlotte Country Club.
Dilworth
Known as the first streetcar suburb of Charlotte, Dilworth has been very popular for those relocating to the Charlotte area. It's filled with history and plenty of things to do. The location also makes it easy to enjoy most of what Charlotte has to offer.
Uptown
Also known as Center City and Downtown Charlotte, Uptown offers the top employers and plenty of commercial buildings throughout. It's also the home of the sports teams in Charlotte including the Panthers (NFL) and Hornets (NBA).
Those choosing Uptown will also enjoy plenty of restaurants, entertainment options, and shopping throughout. It's a popular spot and many come from other neighborhoods to play in the Uptown area.
SouthPark
One of the larger neighborhoods on the list, SouthPark offers plenty for residents to enjoy. It's home to the very large SouthPark Mall, along with one of the largest business districts in the city.
NoDa
Also known as The Arts District, NoDa or North Davidson offers plenty for residents to enjoy. It's filled with unique housing options, restaurants, music venues, and art galleries. Those looking for a hip neighborhood will likely enjoy living in NoDa.
Ballantyne
Another very hot neighborhood in Charlotte, Ballantyne is an upscale choice found close to the South Carolina border. It's a great spot for golfers to live and those looking to enjoy outdoor recreation, including a wide range of our luxury homes.
Midtown
A centrally located option offering plenty for residents to enjoy, Midtown is often referred to as the best-kept secret in Charlotte. It's growing fast and the location gives residents easy access to Uptown, Dilworth and other popular neighborhoods.
Myers Park
One of the historic districts of Charlotte, Myers Park offers an affluent choice with plenty of beautiful homes. It's known as one of the most prestigious places to live in the city and offers residents a location close to Dilworth, SouthPark, and Eastover.
Elizabeth
Named for the small women's college called Elizabeth College; the neighborhood of Elizabeth offers a unique place to call home. It's a smaller neighborhood and it's also a historic district. Many older buildings have been turned into shops, restaurants, and offices throughout Elizabeth.
University City
The area surrounding the University of North Carolina is known as University City. It's a very popular spot with plenty to offer including the Concord Mills Mall. The neighborhood is home to the University Research Park and the PNC Music Pavilion, as well.
Chantilly
Found between Plaza-Midwood and Elizabeth, Chantilly offers a great neighborhood with art galleries, restaurants, and a nice public park. It's a smaller choice but has plenty to offer.
Eastover
A historic suburb of Charlotte offering plenty to enjoy, Eastover is home to The Mint Museum of Art. It's also known for more luxurious homes with many ranging from $500K to more than $3 million. There are some condos here at lower prices, but it's known as a more affluent area.
South End
Known as the heartbeat of Charlotte, South End offers plenty of history, art, and commerce for residents to enjoy. It's filled with great restaurants and shopping options, along with excellent housing options. Many of the old mills and warehouses were renovated to include high-end residential real estate.
Barclay Downs
A neighborhood not only ranked high in Charlotte but also in the state, Barclay Downs offers a prestigious place to call home. It's very close to SouthPark, Piedmont Row, and The Colony giving restaurants access to plenty of great shopping, dining, and entertainment.
Wilmore
A suburb of Charlotte that has been transformed over the past ten years, Wilmore offers a great location with plenty of renovated homes. It's close to the South End restaurants and plenty of shopping is found nearby, too.
If you're looking to buy a home in Charlotte this year, make sure to consider the top neighborhoods listed above. Each has something unique to offer. Finding the right neighborhood makes a huge difference when choosing a new city to call home.