Top 5 Budget-Friendly Upgrades Before Selling
Posted by Benjamin Ehinger on Thursday, August 2, 2018 at 10:00 AM
By Benjamin Ehinger / August 2, 2018
Comment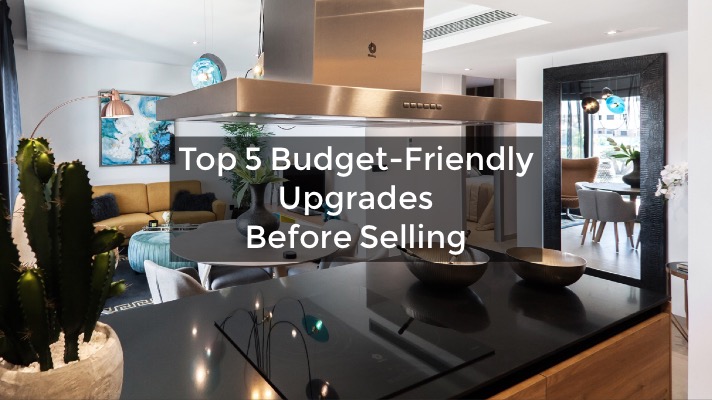 When it's time to sell your Charlotte home, a few easy and budget-friendly upgrades may be the answer. You want to sell your house for the highest possible price and as fast as possible. However, it may not be ready to be listed just the way it is today.
Even with the market favoring sellers, you still have to take specific steps to make selling your Charlotte home easier. Here are some of the best budget-friendly upgrades to consider before selling.
Paint
One of the easiest and most budget-friendly ways to lighten up a room and make your home look nice is a fresh coat of paint. While you may love the colors you have now, showing your home when it's listed for sale is best done with neutral colors. Choose a gray tone, if you don't want to use the common white or beige colors. Gray can help to make a room appear bigger.
Replace the Electrical Outlet and Light Switch Covers
Whether your outlet and switch covers are in great shape or they've seen better days, this simple little upgrade makes a difference. If your children's rooms have custom covers, switch them out for something neutral.
Depending on the color palette you've chosen for the paint, you can add a touch of class with hand brushed bronze or brushed nickel covers. You don't have to choose from the cheap plastic covers everybody uses.
This simple little upgrade can be done by the homeowner for about $3 to $5 per cover. You don't need many tools; just a simple screwdriver will do the trick.
Remove the Popcorn Ceiling
Decades ago, popcorn ceiling was all the rage. However, in today's world, it often looks dirty and it's not as easy to control cobwebs on a popcorn ceiling compared to a flat ceiling. Scraping the ceiling can be done for about $1 to $2 per square foot making it a budget-friendly upgrade for your home.
You may be able to pull this one off on your own, depending on the age of the ceiling, how often it has been painted and how high the ceiling is. Of course, if you're not very handy, this may be a task you hire someone to complete.
If you do decide to tackle this on your own, you can use an industrial sprayer to wet the ceiling and an 8-inch scraper. One trick others have used is adding a bit of fabric softener to the water to help make it easy to scrape off.
Replace the Cabinet Hardware
It's amazing how the cabinet hardware in your kitchen can make such a difference. Replacing the door pulls and handles with something new can go a long way to changing the look of your kitchen. This upgrade can be done for a very low price, as well.
Just keep the hardware simple and make sure it complements the design you already have in place for your kitchen. If you're also switching out the outlet and switch covers, make sure the door handles match.
Upgrade the Interior Doors
Most homeowners will find upgrading the interior doors to be a pretty easy project. It's not expensive and an update to these doors can make a huge difference. Choosing a door with a better core may help to add privacy to some rooms as it will help to keep noise out.
Doors run a few hundred dollars for a really high-quality choice or you can get a mid-level door for a little over $100. Not only will the doors provide more privacy, but they can also be painted to fit in with the overall design of the home.
These are just five of the budget-friendly upgrades you can use to spruce up your home before you list it for sale. Your Charlotte real estate agent will be able to make other recommendations based on the current market and what they've seen when it comes to getting your home sold for top dollar and quickly.
Make sure you speak with your agent before making any upgrades, as they will be able to tell you if the upgrade is worth the trouble.