Top 5 Picks for Foodies in Charlotte
Posted by Benjamin Ehinger on Thursday, June 21, 2018 at 10:00 AM
By Benjamin Ehinger / June 21, 2018
Comment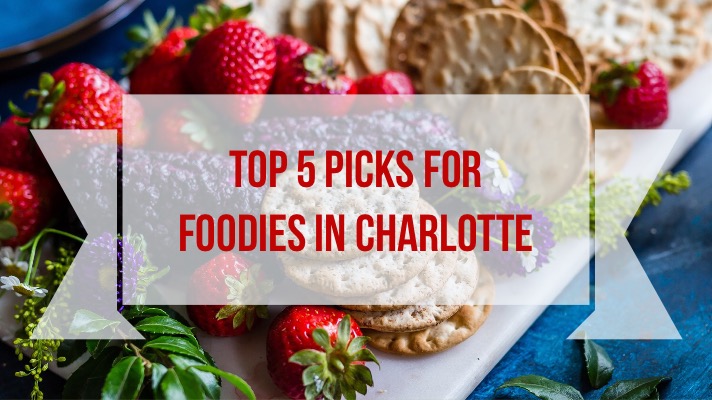 Foodies fall in love with Charlotte fast. It's a great place for those looking for new food to try, a bevy of cuisines to enjoy and plenty of surprises. With so many great restaurants, food trucks and other spots for food, it's not difficult to find something unique.
As a foodie, if you want to dine like royalty, the Queen City is the place for you. Here's a look at five of the top choices in Charlotte for foodies to enjoy.
5Church
A hotspot featuring Jamie Lynch as the Chef, 5Church offers upscale American cuisine with an innovative twist. Enjoy amazing decor inside the restaurant and try the 60-second NY Strip. This steak is flash seared only on one side, seasoned and comes out crusty on the bottom. It's rare on top and something every foodie should try at least once. In addition, the Pan Roasted Deckle Steak and Lamb Burger are great choices for foodies.
5Church also offers private dining, if you have a group. The restaurant is found at 127 North Tryon Street, Suite 8, at the corner of Church Street and 5th Street. They are open from 5pm to close every day of the week for dinner, from 11am to 3pm, Monday through Friday for lunch, from 11am to 4pm on Saturday for Brunch and from 10am to 4pm on Sunday for Brunch.
Angeline's
While this is an Italian restaurant, it's a bit more upscale than you might be used to. You will enjoy a true family feast here with plenty of incredible choices on the menu. Enjoy the branzino, which can be served as an appetizer or entree, or try the oxtail pasta.
Known as a great gathering place in Charlotte, Angeline's offers even more for foodies to enjoy. The pasta is handmade, the pizzas are wood-fired and the menu offers dishes for just about any dietary preference.
Angeline's is open for breakfast from 7am to 10pm, Monday through Friday, from 8am to 2:30pm on Saturday and Sunday for brunch, from 11:30am to 2pm, Monday through Friday for Lunch, from 5pm until 10pm, Sunday through Wednesday for Dinner and from 5pm to 11pm, Thursday through Saturday for dinner. They are also open for late-night pizza from 11pm to 12am, Thursday through Saturday.
Merchant & Trade
This is truly a swanky place to dine. With the perfect rooftop bar for after-work drinks or a date night, you can't go wrong with Merchant & Trade. Enjoy views of BB&T Ballpark while you dine or drink on the rooftop. If you're looking for unique cocktails, this is the place for you. They also offer lobster corn dogs, grilled cheese dippers, and many upscale options.
The cocktail program at Merchant & Trade is one of the best in the city. With plenty of classics using North Carolina spirits and house-made mixers, you will enjoy some of the finest drinks in the city when you dine here. In addition, they offer several craft beers on tap.
Merchant & Trade is found at 303 South Church Street. They are open from 4:30[m to 12am, Monday through Thursday and from 4:30pm to 2am on Friday and Saturday.
The King's Kitchen
The place for multi-course eating, The King's Kitchen offers an incredible menu filled with great choices. You can start with fried chicken or catfish, and then choose a few sides to enjoy with your meal. The King's Kitchen is a nonprofit and all the proceeds go to support a full-service food bank in the area. The food bank also provides on-the-job training for the needy.
The King's Kitchen is open for lunch from 11am to 2:30pm, Monday through Friday. They also open for dinner from 5pm to 9pm, Monday through Thursday and from 5pm to 10pm on Friday and Saturday. The restaurant is found at 129 West Trade Street.
Haberdish
Found in the NoDa neighborhood, Haberdish offers a pre-Prohibition-style restaurant in a building that used to be a general store. The decor includes reclaimed wood and fabrics from local North Carolina companies. Haberdish is known for the chicken, waffles, and biscuits. However, the hushpuppies and deviled eggs are quite amazing, as well. With many locally-sourced ingredients used on the menu, Haberdish is a very popular place for foodies. They offer incredible cocktails with apothecary choices and much more.
The restaurant is open from 9am to 2pm, Tuesday through Friday for Brunch, from 5pm to 11pm, Tuesday through Thursday for dinner, from 5pm to 1am on Friday for Dinner, from 11am to 1am on Saturday and from 11am to 11pm on Sunday. You can find Haberdish at 3106 North Davidson Street.
When you're looking for a unique menu item and you want to dine like royalty in Charlotte, these are the five top choices for foodies.