Top 5 Tips for Relocating to Charlotte, NC
Posted by Benjamin Ehinger on Thursday, June 14, 2018 at 8:15 AM
By Benjamin Ehinger / June 14, 2018
Comment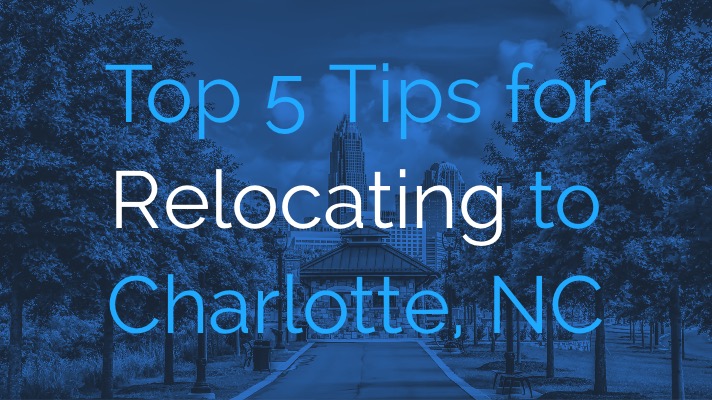 Relocating to Charlotte offers a ton of possibility. However, moving isn't fun and most of us don't enjoy the process of packing, moving and unpacking. It's a hassle and we really just want to enjoy our new destination.
Roughly 60 people move to the Charlotte, NC area daily. With that being said, The need for housing is at the forefront and development is booming. If you are relocating to the Charlotte, NC Area or even to the Carolina's, We would love to help!
Whether you're moving because you landed a new job, you have family in the area or you just love the city, there are some ways you can make relocating to Charlotte much easier. Here are five excellent tips to help you get to the city and enjoy it right from the beginning.
Hire a Moving Company
If you want to relieve a ton of stress when relocating to Charlotte, start by hiring a moving company. When you hire a company to handle your packing, loading, transporting and unpacking, you have far less to worry about.
With professional movers helping you move, you can relax a bit and plan a few ways to enjoy the city. A big part of feeling like you're at home when the home is new, is getting out and seeing the area. A professional moving company will help to ensure you have more time to get out and see Charlotte when you arrive.
Become Hyper Organized
When moving from one city to another, the more organized you are, the smoother the move will go. When you become hyper-organized, you will know what needs to be done and when. Start by purchasing a notebook specifically for the move. This will hold notes from talking to your moving company, utility companies, Charlotte real estate agents and more.
Along with your notebook, you want to have a checklist of everything you are moving and where it goes. Labeling the boxes properly with more than just the room they go in will help, as well. Color coding your labeling will make it even easier.
Make sure you keep track of the schedule for the movers, the utility companies and everybody else involved. Start as soon as you know you're moving and become as organized as possible.
Eliminate the Junk
Moving a pack rat is much more difficult than moving someone that has only what they truly want to take with them. You're moving into a new home and will likely prefer to have new stuff. You don't have to move all your furniture and you don't have to move anything you may not want once you arrive in Charlotte.
Before relocating to Charlotte, go through everything you own and decide what should stay and what should go. Some of your things can likely be sold, but if it's not something you want to bother selling, donate it to a local thrift store. Not only will eliminating anything you don't want help with your move, but it will likely make your move a bit cheaper, especially if more than one truck was going to be necessary.
Hire a Local Real Estate Agent
Before you relocate to Charlotte, you need a place to call home. A local real estate agent will ensure you get the home you want in the right neighborhood for you. Remember, if you haven't lived in the city, you probably don't know the neighborhoods all that well.
When you choose a local expert to help you find the right home for you, they will be able to match the neighborhood to your needs. Your agent will understand where to find the perfect house or condo for you and they will know what you prefer in a neighborhood. Whether you want great schools for your children, a walkable neighborhood in Charlotte or the perfect suburb that feels like a small town, the right Charlotte real estate agent will find it for you.
See the City
There's so much to enjoy in Charlotte and you're probably pretty excited to get started. Whether you have a large entertainment budget or it's a little bit smaller due to the move, there's plenty to do and see. You'll want to get out and see the city very soon after you arrive or even before you arrive.
Consider taking a tour or attending an event. When you take a tour of the city, you'll learn about the history, where certain key buildings and attractions are located and plenty more. Events will help you to become a part of the community. There's always something going on in Charlotte and once you've arrived, you should get out and see the city.
Along with getting to know Charlotte, make sure you get acquainted with your neighborhood. Get out and walk or drive through the area. Spending a few hours getting to know your neighborhood can help you feel more at home. You'll start to get a feel for where things are and how the neighborhood is set up.
There are several ways to make your relocation to Charlotte less stressful. The city is amazing and there's plenty to enjoy here. If you love eating at unique restaurants, attending fun events, going out for a night on the town or simply relaxing with nature, you'll find it in Charlotte.
When you're considering relocating to Charlotte, start by getting organized and hiring the right local real estate agent for your home search. Then, compare movers and plan to hire the right one for you. Once you arrive, make sure you get out and discover the city and your neighborhood.
If you follow these five tips and you listen to your real estate agent, you'll take some of the stress out of relocating to Charlotte!
- Updated 6-11-19