Top 5 Towns Near Charlotte with a Real Main Street
Posted by Nicholas Holman on Tuesday, December 1, 2020 at 1:00 PM
By Nicholas Holman / December 1, 2020
Comment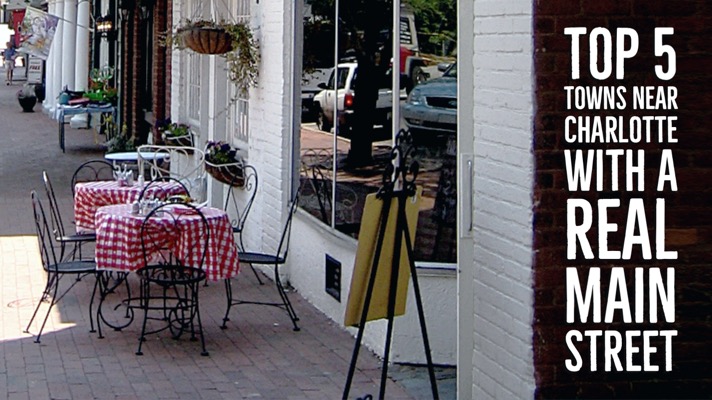 Charlotte is filled with amazing neighborhoods and places to call home. From NoDa to Myers Park, you can choose from neighborhoods throughout the city that fit your style of living. However, the Greater Charlotte Area also offers great towns with real Main Streets.


If you prefer the feel of a small town over an urban neighborhood, you're in luck. You can live close enough to enjoy big-city amenities, while keeping the small-town feel, gives you the best of both worlds.


When you start shopping for a home in one of the Charlotte suburbs, you might be surprised at what you find: wide sidewalks, ice cream shops, coffee cafes, fine dining restaurants and plenty of shopping will greet you in these downtown havens. Here are five of the very best towns near Charlotte with a real Main Street.
MATTHEWS, NC
One of the best suburbs of Charlotte and certainly one of the top downtown areas, Matthews has so much to offer. It's filled with great places to shop, dining and plenty of entertainment.

Central to the Matthew's experience is Renfrow's Hardware, a mom and pop operation a 120-year history at the town's center. They specialize in American-made products, local honey, seasonal produce and a large selection of unusual and common hardware products.

Next door is the Matthew's Community Farmers Market, serving up goods from local farmers and artisans every Saturday. Restaurants with outdoor patios and retail shops also line the cozy main street.

Stumptown Park, which is known for its excellent events all year long, packs out with festivals, movies on the lawn and weekly Food Truck Fridays
If you want one of the very best downtown areas and Main Streets in the Charlotte area, your next home could be in Matthews. It's a vibrant and homey town with plenty to offer for all residents.
MOORESVILLE, NC
Another great town with an excellent Main Street, Mooresville offers so much for homebuyers to get excited about. The town slogan is, "It's Happening Downtown!" because it truly is happening downtown. Mooresville, originally a train depot, has been transformed into a Main Street reminiscent of a Norman Rockwell painting, with an old-timey vibe, brick facades, great restaurants, pubs, cafes, unique shops and so much more. Shop while you walk and find everything from Wine & Spirits to musical instruments, antique rugs, cosmetics, and boutique pet accessories.

Mooresville has created a downtown area that's a destination. It's filled with great events all year long including farmer's markets and holiday events. If you're looking for a quaint, yet lively town, Mooresville should be very high on your list.
DAVIDSON, NC
If you don't consider Matthews or Mooresville to have the best main streets of any suburbs of Charlotte, it's probably because you have a close attachment to Davidson. It's a fast-growing area with the perfect southern Main Street. The restaurants are so delicious and successful that downtown Davidson has been dubbed "restaurant row." Excellent choices include family-owned Kindred, which is rated as one of the best restaurants in North Carolina.

Arts festivals in the Spring and Fall round out Davidson as an eclectic and vibrant Downtown destination.
The extremely walkable historic campus of Davidson College is also found near the downtown area. It's also not uncommon for Davidson to become very busy during the holiday season. The 12 Days of Christmas in Davidson Festival includes a tree lighting ceremony and events sprinkled throughout the season.


BELMONT, NC

A western suburb of Charlotte, Belmont will take you back in time, as the town dates back to its settlement in the 1750s. Many of the homes in the area are remodeled Craftsman style millhouses. Belmont is experiencing a revitalization without losing its Old Milltown character. With a general store, sweet shop, soda shop and popcorn store (with over 75 flavors!), Belmont is a perfect place for families to stroll on a Saturday afternoon.

The Belmont Abbey College is a few miles from the downtown area and students often flock to downtown for the walking, restaurant, and pub experience. A Summer Concert Series and seasonal festivals make Belmont and its downtown a beautiful place to live.
FORT MILL, SC


Fort Mill is found just past the state line from Charlotte. It's the definition of a boom town, but its rapid development hasn't taken away from the quaint downtown feeling. Many downtown buildings date back to the late 1800s when Fort Mill was a textile and mill town. Go downtown to have some great barbeque at the Improper Pig and fill out the evening with a fresh brew from Amor Artis Brewing. With many downtown buildings dating back to the late 1800s when it was a textile and mill town, you will experience a vibrant downtown with an old town feel.
While new businesses are opening up all the time, Fort Mill is still a bargain choice for home buyers willing to grow with their town. It's more affordable than most Charlotte suburbs and is a great location to live, play and work.


Finding the right place to call home is never an easy task, but if you're ready to relocate to the greater Charlotte area, these five towns with real, active Main Streets should be at the top of your list for great places to live and grow.