Top 5 Towns Near Charlotte with a Real Main Street
Posted by Benjamin Ehinger on Saturday, August 25, 2018 at 10:00 AM
By Benjamin Ehinger / August 25, 2018
Comment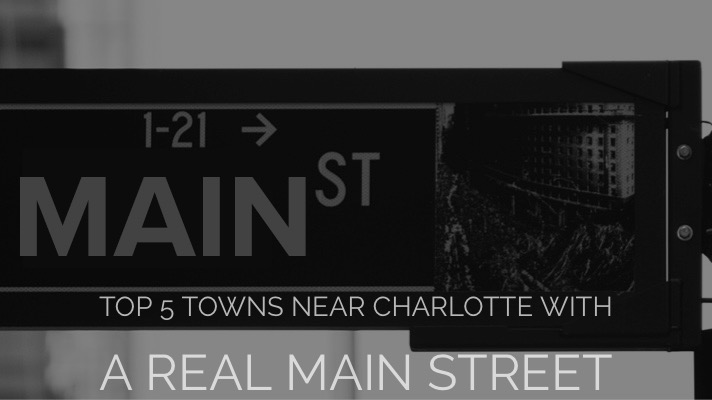 Charlotte is filled with amazing neighborhoods and places to call home. From Uptown to the South End, you can choose from several amazing neighborhoods throughout the city. However, the Greater Charlotte Area also offers plenty of great towns with real Main Streets.
If you prefer the feel of a small town over an urban neighborhood, you're in luck. You can have your cake and eat it, too, when you choose one of the towns near Charlotte. Living close enough to enjoy big city amenities, while keeping the small town feel like a part of your home gives you the best of both worlds.
When you start shopping for a home in one of the Charlotte suburbs, you might be surprised at what you find. Wide sidewalks, ice cream shops, coffee cafes, fine dining restaurants and plenty of shopping will likely greet you in these downtown havens. Here are five the very best towns near Charlotte with a real Main Street.
Matthews, NC
Maybe the best suburb of Charlotte and certainly one of the top downtown areas, Matthews has so much to offer. It's filled with great places to shop, dining and plenty of entertainment. The Main Street is found right next to Stumptown Park, which is known for excellent events all year long. You can enjoy festivals and movies on the lawn as this park, along with the Food Truck Fridays event held every week.
If you want one of the very best downtown areas and Main Streets in the Charlotte area, your next home needs to be in Matthews. It's a vibrant town to call home with plenty to offer for all types of residents.
Mooresville, NC
Another great town with an excellent Main Street, Mooresville offers so much for home buyers to get excited about. The town slogan is, "It's Happening Downtown!" Mooresville used to be just a train depot but has been transformed into the Main Street we all know from Norman Rockwell's work. It's filled with an old-timey vibe, brick buildings, great restaurants, pubs, cafes, unique shops and so much more.
Mooresville has created a downtown area that's a destination many want to enjoy. It's filled with great events all year long including farmer's markets, food truck events and plenty of holiday events. If you're looking for a quaint, yet lively town, Mooresville should be very high on your list.
Davidson, NC
If you don't consider Matthews to be the best suburb of Charlotte it's probably because you have a close attachment to Davidson. It's a great suburb and a fast-growing area offering the perfect southern Main Street. The downtown area is filled with amazing restaurants, clothing boutiques, antique stores and so much more. The restaurants are so great they have been dubbed as "restaurant row" and include Kindred, which is known as one of the best restaurants in North Carolina.
The historic campus of Davidson College is also found near the downtown area. In addition, the sidewalks are paved with bricks and this might be the cleanest downtown you will ever see. It's not uncommon for the town to become very busy during events, such as May Day, the Christmas in Davidson Festival and other events held throughout the year.
Belmont, NC
A western suburb of Charlotte, Belmont will take you back in time. The Main Street was connected to the main commercial district in 2013 through the Main Street Program. It continues to get better and better as it grows, as well. Belmont offers plenty of shopping, dining, and entertainment, which attracts several visitors to the area every single year.
This downtown area is a bit more historic than some of the others as it was settled in the 1750s. Some of the houses for sale in Belmont actually date back several years. The Belmont Abbey College is found a few miles from the downtown area and students often flock to this area of the town. Many events draw visitors every year, as well, including the Christmas Village, Summer Concert Series, and the Belmont Boo Fest.
Fort Mill, SC
While it may not be found in North Carolina, Fort Mill is found just over the state line from Charlotte. It's the definition of a boom town, but the rapid development hasn't taken away from the quaint downtown. In fact, the Main Street area has been improved quite a bit and Fort Mill is still the center of the city.
The history here is quite amazing with some downtown buildings dating back to the late 1800s. There are large mill buildings, which used to be used for textiles and plenty of other historic landmarks throughout the town.
Fort Mill has also experienced a major redevelopment surge in the downtown area. New businesses are opening up, such as a brewery and plenty of others. This is the bargain choice for home buyers willing to grow with their town. It's more affordable than most Charlotte suburbs and offers a great location to live, play and work.
Finding the right place to call home is never an easy task. If you know you want to relocate to Charlotte, but you're not sure where you want to live, these five towns with real Main Streets may fit well on your list.
Sure, you can choose one of the urban neighborhoods if that's your thing, but if you prefer a quaint town with plenty of charm, these five towns have what you're looking for. In addition, the real estate in these towns tends to be a bit more affordable than some of the Charlotte neighborhoods.