Top 7 Real Estate Myths Debunked
Posted by Benjamin Ehinger on Saturday, June 16, 2018 at 10:00 AM
By Benjamin Ehinger / June 16, 2018
Comment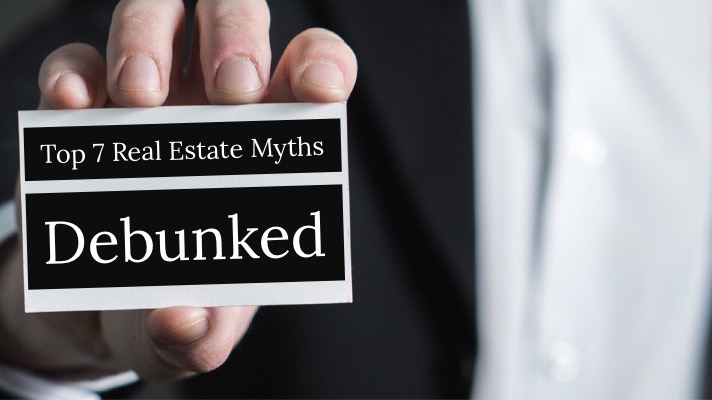 When it's time to buy or sell a home, you'll likely hear plenty of myths about the process. Friends and family almost always have an opinion and could even scare you as they decide to tell you things that simply aren't true. It's best to start by hiring the right real estate agent and listening to them, not those with very little experience in the industry.
Buying or selling a home is a big deal. It's likely going to be the largest financial transaction of your life. You need to be informed. Here are seven of the top real estate myths you should be aware of.
Selling your Home as For Sale By Owner Saves You Money
While some sellers may see some success when selling their home on their own, most won't. It's important to know your own skillset before you take on this massive task. You must be able to list your home online, market the home, negotiate the deal and handle any challenges that come along, such as financing and the home inspection.
While it's very possible you could take on this job, it could also be so time-consuming you wish you would have hired an agent. For sale by owner, properties may save you from paying a commission to a real estate agent, but that agent will protect your interest throughout the process, help you price the home properly and likely get you more for the home than if you sell it on your own. In addition, you won't have to give up several hours every week trying to get your home sold.
You Have to Renovate the Bathroom and Kitchen Before Selling the Home
Many sellers think the kitchen and the bathroom must be renovated before they sell the home. However, this isn't the always the case. Sometimes it makes perfect sense and will help get the home sold for a higher price. Other times, it's not necessary.
Remember, not all buyers are going to share your taste. If you renovate the kitchen and bathrooms, you may attract some buyers, but you may exclude some due to the choices you made for these rooms. Many buyers would rather renovate these areas themselves and make them exactly what they want.
Buyers Get Better Deals without an Agent
This real estate myth is simply false. When a home is listed by a real estate agent the entire sales commission has been worked into the price. This includes the commission for the buyer's agent and the seller's agent. If you go into a deal on a property listed by an agent without your own agent, you don't save any money. In addition, the seller usually pays the entire commission.
As the buyer, it's important to hire a real estate agent to represent you. They will help ensure you're protected and get the right home for you. Unless you have a strong knowledge of the real estate industry and the laws surrounding a home sale, hire an agent to help you.
The Market will Only Go Up
The real estate market doesn't just go up. It's very cyclical. Right now, it happens to be a very good market with prices up in the Charlotte Metro area. However, this doesn't mean you will buy a home and the property value will just keep climbing. Home prices have fallen many times over the years and it could happen again.
A Higher Listing Price Means You'll Get the Price You Want
Sellers often think they need to list a home higher than what they want to leave room for negotiations. This isn't actually true and too high of a price could leave you with a lower price when the home sells.
When you price your home too high, buyers may not even look at your home. This reduces the possibility of receiving multiple offers and could cause you to accept a lower price. It could also leave you with a home sitting on the market for months. After you reduce the price, it could make buyers think something is wrong with the home.
You'll Get Your Entire Renovation Cost Back When you Sell
This is a myth that comes from the many shows that make it seem like you can renovate your home and get all the money back when you sell. However, not all remodeling projects pay you back 100%. Some do, but most will be much lower. The average amount received back for a renovation project is about 64% of the cost.
You Don't Need to Prepare Your Home to Sell
It's a seller's market and many sellers think that means they can cut corners. However, the competition is still fierce and the home up the road may be well prepared to sell. You want to stage the home, have professional photographs taken and follow the advice of your real estate agent. This is especially true for high-end homes.
Buying and selling a home in Charlotte is a big transaction. Make sure you become informed and understand the myths that are floating around out there. Always hire an experienced real estate agent to ensure you have good advice to follow and the necessary protection throughout the process.