Top Charlotte Neighborhoods with Bungalow Homes
Posted by Benjamin Ehinger on Tuesday, November 20, 2018 at 10:00 AM
By Benjamin Ehinger / November 20, 2018
Comment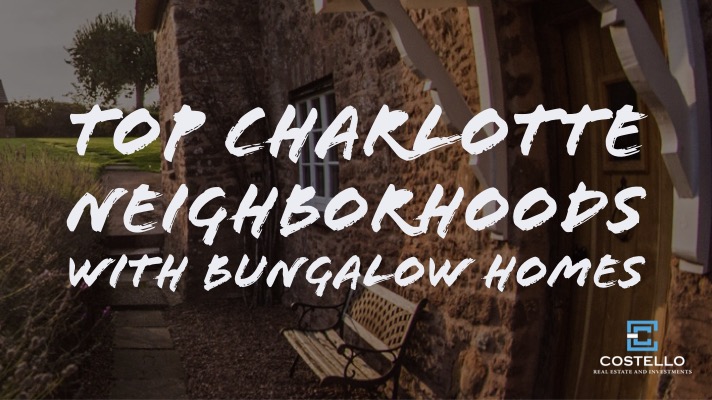 Do you love a good bungalow home? Charlotte has plenty of them and they are found in some of the most charming neighborhoods throughout the Queen City. If you're moving to Charlotte or just looking to move into a different Charlotte home, a bungalow home may be perfect for you.
The bungalow home offers a true southern home with the perfect front porch, great attention to detail and a popular style. The homes from the early 20th century are very popular, but Charlotte is also home to many newer bungalow homes, as well.
If you're searching for a bungalow home in Charlotte, here are the top neighborhoods to consider.
Dilworth
One of the best areas for bungalow-style homes is Dilworth. This neighborhood is also one of the most popular in the entire city. Home buyers will find plenty of great bungalows here with excellent front porches and plenty of charm. The neighborhood dates back to 1900 and was one of the first street-car suburbs of Charlotte. Many of the homes in Dilworth are even found on the National Registry of Historic Places.
NoDa
Names for the fact that it's off North Davidson Street, the NoDa neighborhood offers plenty of wonderful bungalow options. It's filled with historic bungalows with one or one and a half stories and a front porch. Many of the most common bungalow styles are found throughout the NoDa neighborhood.
This neighborhood is known as a very hip area with plenty of local art, excellent restaurants, and boutique shopping options. It's very popular and home to many beautiful bungalow homes to choose from.
Chantilly
With plenty of bungalows with front porches, hardwood floors, transom windows and tall ceilings in Chantilly, you're sure to find the right one for you. It's a popular neighborhood found between Plaza Midwood and Elizabeth. The bungalow homes here are ab it unique with popular styles all throughout the neighborhood.
Midwood
As one of the original bungalow neighborhoods of Charlotte, you won't want to overlook Midwood. This neighborhood offers plenty of excellent shopping and dining throughout, along with a great walkable fee with beautiful sidewalks all throughout.
You'll find some historic bungalows throughout Charlotte with many found in what is known as the first ring neighborhoods. Midwood is one of those neighborhoods and offers plenty of bungalow-style homes dating back many years.
Elizabeth
Nearly every bungalow home you will find in Elizabeth is historic. This neighborhood has been the place to live for several years and it was the first neighborhood in Charlotte to get a movie theater.
Keep in mind; if you choose a historic neighborhood, such as Elizabeth, you will likely need to get approval for any exterior renovations to the home.
Wilmore
A charming neighborhood with plenty to offer, Wilmore is home to plenty of bungalow homes from the 1920s and 1930s. Many have high ceilings and leaded glass windows with vertical mullions in Wilmore. This neighborhood offers a convenient place to live in the South End of Charlotte.
There are several great places to shop for a bungalow home throughout Charlotte. These just happen to be some of the very best neighborhoods you can search and all offer great bungalow-style homes in Charlotte.