Top Parks Found Throughout Charlotte Center City
Posted by Benjamin Ehinger on Saturday, September 29, 2018 at 10:00 AM
By Benjamin Ehinger / September 29, 2018
Comment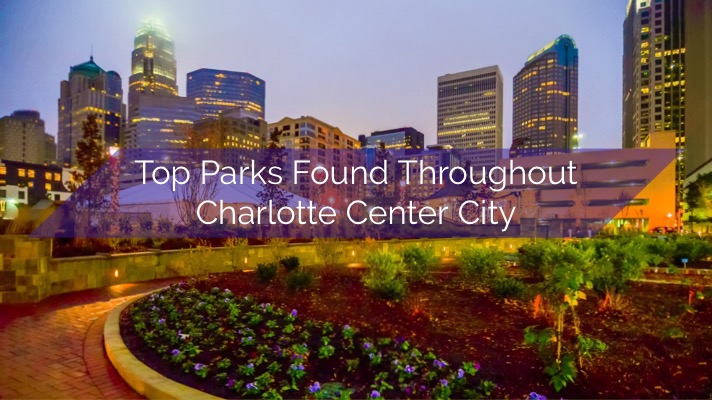 Charlotte Center City has plenty of parks to choose from. When you decide to call this area of the city home, you'll gain access to some of the best parks, along with smaller, neighborhood parks. Here's a look at the parks found throughout Center City.
Fourth Ward Park
Offering a great park found in the historic Fourth Ward neighborhood, Fourth Ward Park is surrounded by old Victorian homes and luxury condominiums. It covers about 3 acres of space with walking trails and decorative fountains. The park also includes a playground.
Little Sugar Creek Greenway
Once it's fully completed, the Little Sugar Creek Greenway will feature more than 19 miles of trails, land connectors, sculptures, and fountains. It's found to the north of Uptown and will run to the South Carolina state line. The greenway provides a place for joggers, walkers, cyclists, and others to enjoy plenty of beauty as it runs through many different areas of Center City and Charlotte.
Pearle Street Park
A six-acre park purchased back in 1943 for $2,500 by the city, Pearle Street Park has been around since 1943. Today, it covers a total of 8.3 acres of space with a multipurpose field, full-court basketball court, and walking trails. It also includes a monument, which marks the park as the first Negro playground and the first African-American park in Mecklenburg County.
Thompson Park 
Found just outside Uptown close to CPCC and the Little Sugar Creek Greenway, Thomson Park provides 33 acres of space. It includes the Historic St. Mary's Chapel and the Vietnam Veteran's Memorial. It's also home to a gazebo and provides some open green space.
Settler's Cemetery
Technically not a park, but it's the home to the oldest known grave in the area; Settler's Cemetery is very historic. It closed in 1867 leaving it as just a place to visit the graves. It's filled with great historic significance with the graves of many founding families found here.
Pinewood/Elmwood Cemetery
Another cemetery with plenty of significance the Pinewood/Elmwood Cemetery offers a site that was part of the civil rights controversy in the 1960s. It was the site of the rally from Fred Alexander to bring down the fence between Pinewood and Elmwood.
Marshall Park
Providing plenty of shaded areas and grassy lawns, Marshall Park offers a small amphitheater for community events. It covers 5.5 acres of space with a small lake, walking paths, a large fountain, a Martin Luther King memorial statue, a Holocaust memorial monument and amazing vies of the Charlotte skyline.
Ninth Street Park
A newer park recently opened due to the growth of the area, Ninth Street Park is a smaller choice covering just one-quarter acre. It includes a swing set, benches, two play structures, and a gazebo.
Independence Park
A 19-acre park with plenty to enjoy, Independence Park is one of the largest found in Charlotte Center City. It includes a baseball field with a batting cage, two basketball courts, two tennis courts, table tennis, a volleyball court and plenty of open space. Residents can enjoy the many shelters throughout, walking trails, a demonstration garden and a playground at Independence Park.
Baxter Street Park
Located between Dilworth and Uptown, Baxter Street Park is adjacent to the Little Sugar Creek Greenway. It's a two-acre park with a community garden and walking trails.
Frazier Park
Covering nearly 12 acres, Frazier Park offers a great choice near the Third Ward neighborhood. It features sports fields, a community garden, playgrounds, greenway trails, and the Our Children's Memorial Walkway.
Arequipa Park
This is a smaller park found in the downtown area. It marks the entrance to the library and includes a decorative fountain.
First Ward Linear Park
Found in the First Ward neighborhood, this park includes plenty of beautiful green space.
Polk Park
Found at The Square, Polk Park offers a great park with tables, mature trees, and the signature fountain. It's filled with lights for the holidays.
The Green
Another park found in Uptown, The Green is found near the Three Wells Fargo Center. It's a three-tier park with sculptures, beautiful landscape and a literary theme. You will find restaurants and shopping options all around the park.
These parks are all found in the Center City area of Charlotte. They all have something to offer and some are larger than others.