Understanding Mixed-Use Developments in Charlotte
Posted by Benjamin Ehinger on Tuesday, October 9, 2018 at 10:00 AM
By Benjamin Ehinger / October 9, 2018
Comment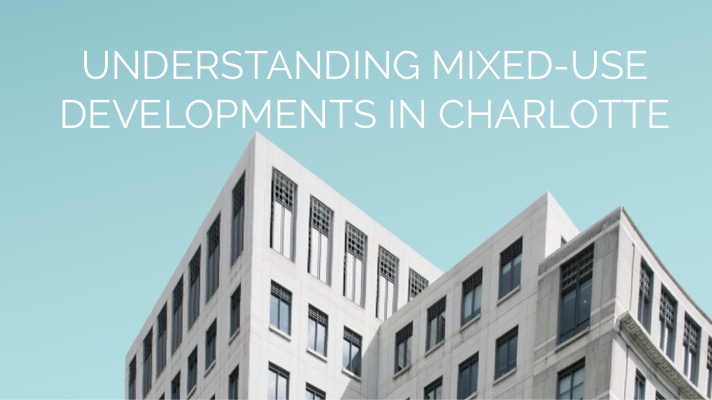 Charlotte is filled with mixed-use developments and it seems like new ones pop up regularly. There's a reason for this and it's important to understand what mixed-use developments or MUDs are.
Whether you're shopping for a new place to live, a vacation home or you're trying to sell from a mixed-use development, understanding what these are will help you out. Here's a look at what MUDs are and why they are so popular in Charlotte.
Defining MUDs
Mixed-use developments are urban developments that combine social, residential, commercial and in some instances industrial into one. They are very pedestrian-friendly and offer a bit of a community within the community. Typically, these developments feature plenty of things residents can walk to without much issue including grocery stores, restaurants, shopping options and more.
While these are developments featuring different types of space, they can vary quite a bit. Some may offer ground floor retails, while others offer a ton of amenities. There really isn't one way to lump them all together and make them the same.
Mixed-use developments come with a ton of benefits, especially for growing cities. They can help create a stronger community while encouraging more walking and biking. They also create shorter commutes for workers and provide a way for homeowners to enjoy their neighborhood without the same amount of maintenance as a single-family home.
Why So Many MUDs in Charlotte?
MUDs are very popular in growing cities as they are great for those looking to live in a new city. Charlotte is a flourishing city and the urban growth is very important. MUDs allow for cities to add housing options by building up instead of out. They allow homeowners or renters to live close to work and close to downtown, as well.
The Charlotte MUDs are very unique and offer a great place to call home. They come in all shapes and sizes. Those looking to move to Charlotte will find plenty of great mixed-used developments with some offering very affordable prices, while others may offer more luxurious housing options.
Top Mixed-Use Development in Charlotte
Also known as Live, Work, Play neighborhoods, MUDs are found all throughout Charlotte. Some of the most popular include:
Metropolitan Midtown - A sophisticated place to live with an urban feel, Metropolitan Midtown combines shopping, dining, and residential space all in one. It even includes a private resort-style club for residents with a fitness center, rooftop terrace pool and so much more.
Birkdale Village - An award-winning community found in Huntersville, Birkdale Village offers a town center with shopping and dining, along with a water park, community events and so much more.
Ayrsley Town Center - Found close to the airport and Uptown Charlotte, Ayrsley Town enter is a master-planned community with plenty to love. It combines retail, residential, green space and more all into one community.
Harrisburg Town Center - The Harrisburg Town Center is a very popular spot with a combination of shopping, dining, residential space, and Southern charm. It has a great Main Street and offers plenty for residents to do and enjoy nearby.
Baxter Village - Found 20 miles south of Charlotte, Baxter Village is a unique MUD with front porch living. Several types of homes are found here with affordable prices, along with parks, walking trails and so much more.
Afton Village - Afton Village is another great MUD with plenty to offer. It has a large park, plenty of shopping and several dining options throughout.
Blakeney Greens - Another good MUD is Blakeney Greens, which offers several single-family homes with amenities and more.
While many more MUDs are found throughout Charlotte and many of the condominium developments fit this description, those listed here are some of the most popular. Waverly is another very popular choice close to shopping and dining. In addition, many new MUDs are coming to the Dilworth area and other popular neighborhoods in Charlotte.