Upcoming Event: Taste of Charlotte
Posted by Benjamin Ehinger on Monday, May 21, 2018 at 2:18 PM
By Benjamin Ehinger / May 21, 2018
Comment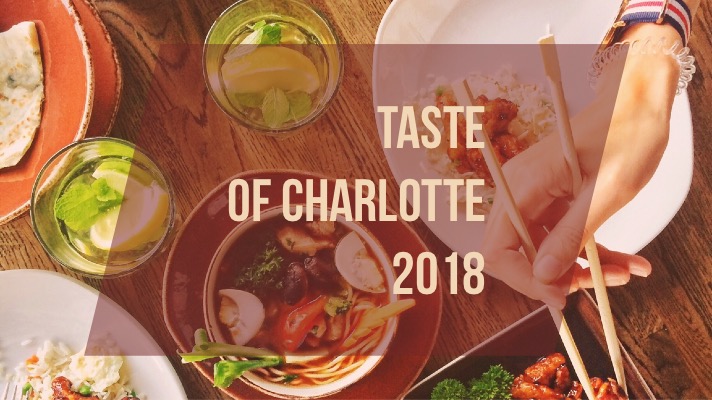 The Taste of Charlotte will be one of the premier events of the summer. This year, it will be presented by Food Lion and held from June 8th to 10th.
This three-day festival will include more than 100 samples from local restaurants, plenty of live music and entertainment, cooking demonstrations, great shopping options, children's activities, street performers and more. It's a free event open to the public and a great way to discover new, exciting restaurants all throughout the city.
The Restaurants
With more than 100 samples available, there will be plenty to choose from. Restaurants committed to participating in the Taste of Charlotte 2018 include:
Sunflour Baking Company
City Barbeque
204 North Kitchen & Cocktails
Queen City
Holler & Dash Biscuit House
Fidelli
American Burger Company
Carolina Ale House
Brixx Wood Fired Pizza
Famous Chubz Chiliburgers
Libations Kitchen & Bar
Newk's Eatery
Caffe Siena
Mister B's Crab Pot
Lindy's Homemade Italian Ice
And Many More!
All of the restaurants will be entered into the Best of the Taste Competition. On Friday, judges will spend time sampling around 100 menu items and will be choosing the winners in each category.
Entertainment
UBER Eats will be presenting a number of great acts on the Main Stage including:
Randy Franklin & The Sardines
Cycle Bar
Woodie & the String Pullers
Kids In America - A Totally 80's Tribute
7 Days Band
Urban Cardio Dance Company
Caroline Keller Band
New Local
Party of 6
Sezessionville Road
And More!
Along with the main stage, live entertainment will be found on the community stage with plenty of music and dance performances.
The Challenge Butter Demo Kitchen
During the entire event, cooking demonstrations will be happening at the Challenge Butter Demo Kitchen. Every hour, on the hour, participating restaurants will provide demonstrations from top area chefs.
The Marketplace
The Taste of Charlotte isn't just about food and entertainment, it's also about shopping. The Marketplace will provide an open-air option filled with local boutiques and artisan crafts. Items, such as jewelry, clothing, spices, gifts, accessories and art will be found throughout the Marketplace. Children can also enjoy face painting in the Marketplace.
Beer and Wine
While the restaurants will likely take the spotlight, there will be plenty of good beer and wine on hand for adults to enjoy. The Tavern at the Taste is the place to go for your beer with all types of options, such as:
Corona Light
Modelo Especial
Negra Modelo
Corona Premier
There will be plenty of dancing, drinking and much more as the Tavern at the Taste also features the Autobell Stage. This stage will include three performances on Friday, four on Saturday and two on Sunday including music from:
Jake Haldenvang
TwentyThreeOverFour
Tropical Flavor Band
Bearded Buddhas
Callie
Russell n' Woods Duo
And More!
The Wine Cellar
If you're in the mood for wine, Ravage Wines has you covered with the Wine Cellar. They will be providing a number of wines including:
Ravage Wines Cabernet Sauvignon
Ravage Wines Dark Red Blend
Gnarly Head Pinot Grigio
Gnarly Head Chardonnay
Gnarly Head Sauvignon
Bota Box Peach and Sangria Wine Slushies
There will also be entertainment at the wine cellar from singer-songwriters all weekend long.
The Race to the Taste 5K
For the fourth year in a row, the Race to the Taste 5k will be held on Saturday at 9am during the Taste of Charlotte. This 5K will start and finish at the festival with an after party in the Tavern at the Taste with live music and plenty of fun. The race will help to raise funds for the Checkers Charitable Foundation.
Participants will receive:
A premium race shirt
A swag bag
A ticket to a Charlotte Checkers Hockey Game
A Corona Premier Beer after the run
A Taste of Charlotte Super Coin
There will also be a Cupcake Run/Walk for those not looking to run a full 5K. Participants in the Cupcake Run/Walk will receive a t-shirt and cupcakes.
The cost for the race is $33 for the 5K, $15 for the Cupcake Run/Walk or $43 for both.
Kid's Activities
The kids will have plenty of things to do with inflatables, such as the Kraken Pirate Ship Slide and the Tiger Belly Bounce on hand. Along with inflatables, there will be a Rock Climbing Wall, Roller Coaster Obstacle Course, Firehouse Funhouse and more!
Event Information
The Taste of Charlotte will be held along Tryon Street from 5th to Stonewall Street. It will cover a total of six blocks and provide plenty of great food and fun for all ages.
There are several ways to get to the festival including:
Biking with the ofo BikeShare program (use the special promo code for a free ride)
Take the Lynx Light Rail train
Drive
Take an Uber or Lyft
No matter how you get to the event, you're sure to have plenty of fun when you arrive.
The Taste of Charlotte will be held from June 8th to June 10th. It will be open from 11am to 11pm on Friday and Saturday and from 11am to 6pm on Sunday. While this is certainly a family-friendly event, it's not a pet-friendly event.
Admission to the Taste of Charlotte is free. Restaurant samples, kid's activities and beverages require the purchase of festival coins.
Coin prices are $10 for a small cup of 7 counts and $20 for a large cup of 15 coins. Wristbands can also be purchased for kid's activities to allow kids to play all day.
If you're looking for a great event to kick off the summer the Taste of Charlotte is the right choice. Come out and enjoy plenty of food, fun and entertainment. For more information about the event, visit the official event website here.