What Should You Do After Closing?
Posted by Benjamin Ehinger on Saturday, August 4, 2018 at 10:00 AM
By Benjamin Ehinger / August 4, 2018
Comment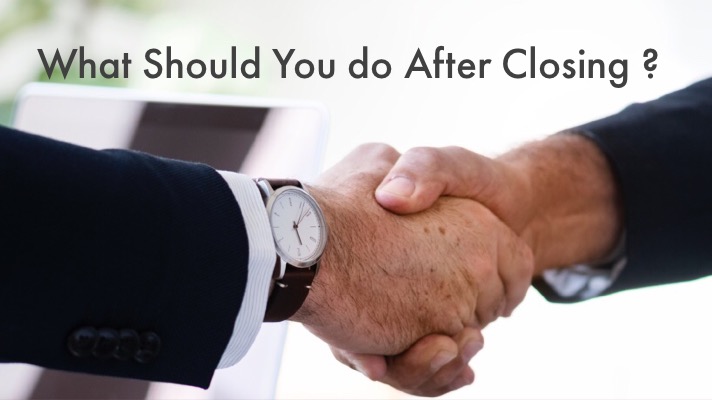 You've gone through the home search process, settled on the perfect house and the seller accepted your offer. Closing day is coming and it's an exciting time. Are you prepared and do you know what to do after closing?
While the home buying process can be stressful, exciting and a whirlwind of emotion, when it all comes to an end and you close on your new home; you may not know what to do. Here are some of the things you need to deal with after you close.
Prepare for Moving Day
Moving isn't always fun, even if you love the idea of moving to a new city or home. It's stressful and filled with exhausting tasks. Whether you hire a moving company to help or you plan to handle it yourself, you have a big job ahead of you.
The job gets even bigger if you're moving with pets, children or both. You will need to take some time to make sure your moving day is well planned and you're ready to go. Use checklists to help and label all boxes with the room they belong to and what's inside. If you're not sure how to handle a specific item, hire a professional or get online and get some advice.
Make sure you plan for food on the day of moving and keep everybody hydrated. Give the kids a few tasks to handle to keep them busy and make sure the pets are comfortable throughout the move.
Get the Power Turned On
The last thing you need is to get stuck in a home with no power. After closing, it's necessary to have the utilities switched into your name and it's best to do this before moving day. Moving into your new home in the dark won't be fun, so make sure you schedule the power, gas, water, internet and cable services ahead of time.
File Your Change of Address Form
You can do this right online at USPS.com and it's pretty easy. Just go through the change of address process to ensure your mail will arrive at your new home when you move in. You can do this ahead of time and you can go ahead and handle the change with your credit cards, banks, insurance, driver's license and any other companies you work with.
Have the Carpets Cleaned
You will likely feel better knowing your new home's carpets were professionally cleaned. You can choose to have this done before moving in or after you've unpacked, depending on your preference. Either way, it's best to have this done so that you don't have to worry about walking around in someone else's germs.
One of the best ways to make your new home feel like home to you is to have a full, deep cleaning done. This includes having the carpets cleaned, but don't be afraid to hire a professional company to come in and scour the home from top to bottom.
Change the Locks
Many new homeowners in Charlotte don't even think to change the locks on their house. This should be one of the first things you do as the old owner could have given a spare key to anybody. In fact, if you don't change the locks, you could end up with a neighbor coming into your home thinking the old neighbors haven't moved yet.
Don't take the change of someone you don't know having a key to your home. Have the locks changed as soon as you move in and make sure you have the only keys to the house.
Get all the Major Appliances Serviced
While the appliances may look new, you really don't know what you're getting into. Unless they are brand new and you have the manuals, having an appliance tech come out is a great idea. They can service the appliances and let you know if anything is wrong with them. In addition, they can show you how to work them so that you understand the ins and outs of your new appliances. Most Charlotte appliances companies will charge a fee to come out and do a full appliance inspection and walk through.
Ensure your New Home is Safe
Having a local security company come out will help to ensure you have the peace of mind you desire. It's important to feel safe in your new home. A professional can ensure any existing security system works well and they can make sure you have the proper smoke and carbon monoxide detectors. Don't forget to buy a fire extinguisher for the home, as well.
Have the HVAC Serviced
Maybe the home is in great shape, but it was on the market for several months. It could have sat empty for quite some time and it's best to have the HVAC system serviced when you move in. A simple tune-up can go a long way to ensuring your HVAC system will function properly until next year's tune-up.
Know the HOA Rules
If you're a part of a Homeowners Association, you will want to know the rules. You want to make sure you know what to expect when it comes to painting your home, landscaping and everything else. You can ask your neighbors, as well, as they will likely be able to help.
When you close on a home in Charlotte, the process of moving in and calling the neighborhood home takes some time. You will need to do some things right after you close to ensure moving in goes smoothly and your new home is ready for you.