Where are the Charlotte Pumpkin Patches, Corn Mazes, and Hayrides Found?
Posted by Benjamin Ehinger on Saturday, October 27, 2018 at 10:00 AM
By Benjamin Ehinger / October 27, 2018
Comment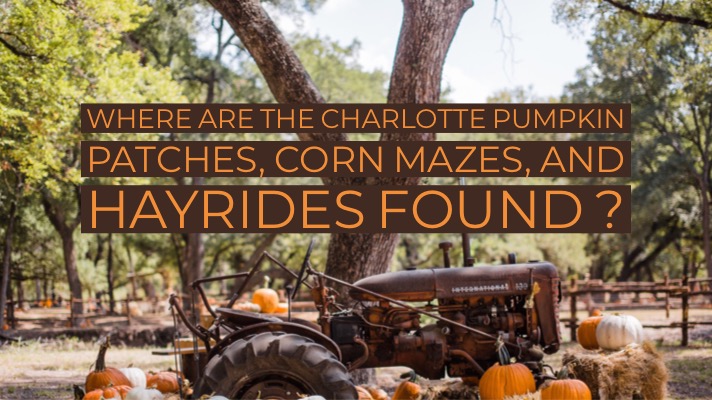 Maybe you have little kids and you don't want to go to the haunted houses for Halloween. When you want something less scary than some of the spooky attractions, you may be looking for a pumpkin patch, corn maze, or hayride. Charlotte has plenty of all three.
While many of the Halloween attractions in the Charlotte area are rather scary, this list is filled with only the Not-So-Scary options suitable for all ages. Here's a look at the best pumpkin patches, corn mazes, and hayrides near Charlotte.
Hodges Family Farm Pumpkin Patch
Offering plenty of pumpkins, hayrides, and animals, this is a fun sot for the entire family. The pumpkins will start around $5 and go up from there. Hayrides are held on the weekends for $5 per person and those age 3 an under do get in free. Admission to the farm itself is free.
Hodges Family Farm Pumpkin Patch is located at 3900 Rocky River Road in Charlotte East and will be open every day through October 31st.
Riverbend Farm
Another good choice for the entire family, Riverbend Farm offers a farm-themed playground, wagon rides, animals, educational displays and a wagon ride through the pumpkin patch. Pumpkins are sold for 40 cents per pound and admission to the farm is $5.50 for those ages 2 and older. You can also enjoy the Air Cannon on the weekends for $1 for two shots.
Riverbend Farm is found at 12150 McManus Road in Midland and will be open every day through the end of October.
Hall Family Farm
Offering free admission and a playground to enjoy, Hall Family Farm is perfect for the entire family. They offer a corn maze for $8 per person and a kids' corn maze for just $1 per child. They also offer hayrides for $3.25 per person.
Hall Family Farm is located at 10713 Providence Road West in Charlotte and opens every day through October 31st.
Get Lost Corn Maze
IF you're looking for one of the best corn mazes in the area, Get Lost Corn Maze is the place for you. The corn maze is $9 per person with children age 3 and under get in for free. You can also get a group rate of $7.50 per person for groups of 20 or more. They also offer a Jumpy Pillow for $2 and a Zorb Ball for $5.
Get Lost Corn Maze is found at 20935 NC 73 Highway in Albermarle and they are open every Saturday and Sunday through November 4th.
Wise Acre Organic Farm
Offering u-pick pumpkins, wagon rides, and a barrel train, this is one of the best farms in the area. The pumpkins are 69 cents per pound and wagon rides are just $3. You can board the Barrel Train and ride for just $2. Children 3 and under get a free ride with a sibling or adult.
Wise Acres Organic Farm is found at 4701 Hartis Road in Indian Trail. They are open Thursday through Sunday until November 4th.
THE GLOW: A Jack O' Lantern Experience
This attraction has made it onto two of our lists because it's just that cool. THE GLOW is a pumpkin patch filled with 5,000 hand-carved, illuminated pumpkins. It's absolutely amazing to stroll through and enjoy.
THE GLOW is found at the Charlotte Motor Speedway's Carolina Rebellion Campground at 7301 Burton Smith Boulevard in Concord. They are open Thursday through Sunday until October 28th. The cost is $22.99 for adults and $16.99 for children with discounts on Thursdays and Sundays starting at 9:30pm.
Red Wolf Farm
Another great farm found near Charlotte, Red Wolf Farm offers hayrides, a giant super-slide, an obstacle course, corn play tubs, a carnival maze, peddle tractors and more. You can enjoy the Artisan Village and Blacksmith Demonstrations, along with the nature trail and even the picnic barn filled with food trucks. They even have pony rides and face painting.
Admission is $9 and includes most of the activities and one pony ride. Red Wolf Farm is found at 1900 HW Farm Road in Maiden and they are open on Saturdays and Sundays through October 28th.
A few other great places for pumpkin patches, corn mazes and hayrides include:
Historic Rosedale Plantation - 3427 North Tryon Street
Lewis Farm - 330 Lewis Road in Gastonia
Regal Corn Maze - 347 Bell Farm Road in Statesville
The Hunter Farm - 13624 Providence Road in Weddington
The Amazing Maize Maze at Rural Hill - 4431 Neck Road in Huntersville
If you're looking for something fun for the entire family, any of these spots will provide the perfect choice. You can get out and enjoy the beautiful fall weather and the Halloween season without it having to be about getting scared. Choose any of these attractions and you're sure to enjoy plenty of outdoor fun with your children in Charlotte.