Where to Find Excellent Spraygrounds in Charlotte
Posted by Benjamin Ehinger on Saturday, July 7, 2018 at 10:00 AM
By Benjamin Ehinger / July 7, 2018
Comment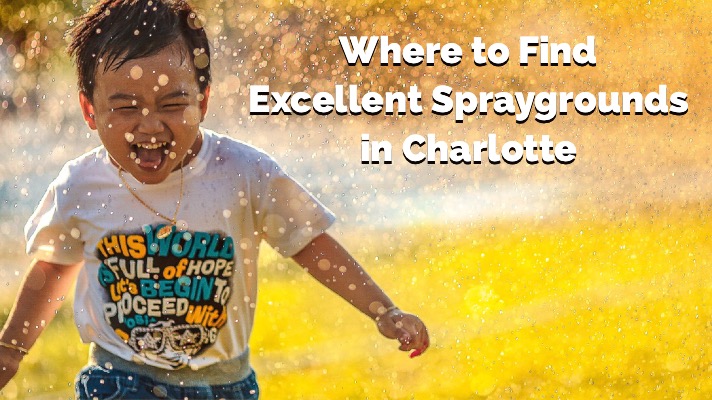 The summer is hot and there's no denying it. However, it's also a great time to get outside, get wet and enjoy the heat. In Charlotte, the city comes alive in the summer and there are plenty of ways to stay cool.
Spraygrounds are a great way to keep your children cool. They offer a playground with a spray fountain and plenty of fun for everybody to enjoy. Here are some of the best spraygrounds in Charlotte offering more than just a spray nozzle or two on a concrete slab.
First Ward Park
Found at 301 East 7th Street in the First Ward neighborhood, this park offers foundations and sprinklers you can enjoy. It's found just across the string from ImginOn and the 7th Street Public Market is nearby, too. Parking is very easy to find with plenty of paid street parking or parking at the nearby decks.
Cordelia Park
Located at 2100 North Davidson Street, this sprayground offers plenty of fun. You can park in the huge parking lot up the hill and enjoy the spraygrounds for free. There's an adjacent swimming pool, too, and admission is just $1.
Romare Bearden Park
One of the best places for spraygrounds in Charlotte, Romare Bearden Park is located at 300 South Church Street. Enjoy a misting cool zone, splash waterfalls and amazing city views all at the same time. You can park at the metered spots around the park or any of the parking decks in Uptown.
Little Sugar Creek Greenway
Another great choice you may not even know exists, Little Sugar Creek Greenway offers a location at 4th and Kings at Elizabeth Park. You can park at the free lots nearby and enjoy plenty of water fun. Just be warned, the water won't come on until you walk by.
Veteran's Park
Offering a large covered area with plenty of sprayers and fountains, Veteran's Park is found at 2136 Central Avenue. You can park in the large free parking lot here.
Latta Park
Another good choice with a playground complete with fountains, Latta Park is found at 601 East Park Avenue. You can park free on the street and enjoy this great sprayground in Charlotte.
Birkdale Spray Ground
Found right in the heart of the Birkdale Village Shops, this sprayground offers plenty of fun for children. It's located in Huntersville at 16805 Birkdale Commons and offers plenty of parking at the shops. There are benches for adults to sit on as the children enjoy all kinds of water fun.
Crooked Creek Park
Found at 590 Oakwood Lane in Indian Trail, this is a great place for the entire family. You can enjoy a unique playground with bike trails, dog parks, bocce ball courts and the spraygrounds. The splash pad is one of the best and it's very new. Enjoy plenty of free fun here and parking is found nearby, as well.
Dan Nicholas Park
The spraygrounds at Dan Nicholas Park offer plenty of fun with great water features. This park is found at 6800 Bringle Ferry Road.
There are several other great spraygrounds all throughout Charlotte. If you're looking for a way to keep the kids cool or even if you want to join in, choose one of these spraygrounds for plenty of fun this summer.