Where to go in Charlotte for Great Ice Cream
Posted by Benjamin Ehinger on Friday, June 8, 2018 at 12:08 PM
By Benjamin Ehinger / June 8, 2018
Comment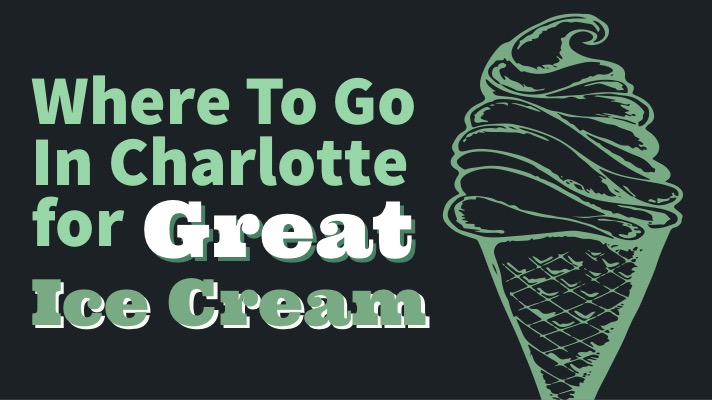 Summer is nearly here and the temperatures are starting to heat up. It's time to prepare for the heat and one great way to prepare is to try the very best spots for ice cream in Charlotte.
There are several great spots to get a cone or a bowl all throughout the Charlotte area. However, when you want the very best ice cream, you need to know where to go.
Whether you're taking that special someone out on a date or you want to surprise the kids, there's a great spot for ice cream not far away. Here are a few of the top places for ice cream in Charlotte.
Mr. K's Soft Ice Cream
Since 1967, Mr. K's has been known as the spot for soft serve in Charlotte. The soft serve cones are very popular, but they do offer some more adventurous options, as well. You can top your ice cream with Oreos, pecans, Butterfingers and many other options. They also offer a great banana milkshake and plenty of other options, as well.
Mr. K's is open from 11am to 9am, Monday through Friday. They are also open from 11am to 4pm on Saturday but closed on Sundays. You'll find Mr. K's Soft Ice Cream at 2107 South Boulevard in Charlotte.
Pike's Old Fashioned Soda Shop
Those living near the South End area of Charlotte will get to enjoy Pike's Soda Shop often. It's a bit like a diner or ice cream shop out of the 1950s and provides a unique vibe. You can try all types of options, such as the Black Cow or a root beer float here. The shop was also part of the movie Shallow Hal, which makes it a bit more iconic.
Along with Ice Cream, Pike's offers a full lunch and dinner menu, brunch and catering. They may be known for the banana splits and sundaes, but they also serve up good salads, burgers, and other sandwiches.
Pike's Soda Shop is open from 11am to 9pm, Monday through Thursday with hours going until 10pm on Friday and Saturday. They are also open on Sundays from 8am to 2pm for brunch. You can find Pike's at 1930 Camden Road in Charlotte.
Va da Vie Gelato
While it's not technically ice cream, Gelato is still quite delicious. Va da Vie offers one of the best spots if you love gelato. It's found in the Park Road Shopping Center and they use only locally sourced milk to create their gelato. Most of the ingredients they use are local, except for those imported from Italy.
They have a number of unique flavors to choose from and something new all the time. Along with gelato, they do offer sorbet in fruit flavor. If you want fresh gelato or sorbet, this is the place for you.
Va da Vie is open from 11:30am to 8pm every day of the week, except Monday. They are located at 4203 Park Road in Charlotte.
When the heat becomes unbearable or you just crave something creamy and sweet, head to one of these Charlotte spots for a treat.