Which Charlotte Neighborhoods are the Most Bike-Friendly?
Posted by Aaron Bradshaw on Thursday, August 9, 2018 at 10:00 AM
By Aaron Bradshaw / August 9, 2018
Comment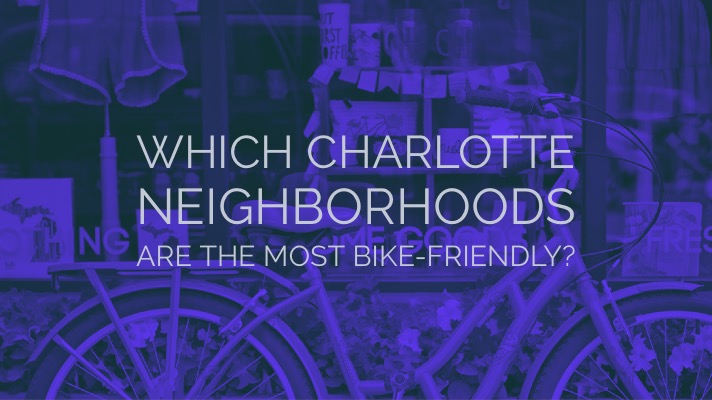 Charlotte is filled with bike-friendly neighborhoods. While the city itself isn't the most bike-friendly on the planet, it's working on becoming more bike-friendly. With a new bike-sharing system, several new trails and many neighborhoods becoming far more bike-friendly, it's getting better and better every year.
If you love the idea of traveling to work on your bike or you just love to ride, you need to know which Charlotte neighborhoods are the most bike-friendly. Here's a look at a few of the top choices for those looking to enjoy their bike regularly.
Davidson
It's actually a city, but a suburb of Charlotte. While you won't be commuting to Uptown by bike from Davidson, if you work in Davidson, you will probably be able to ride to work. This is one of the most bike-friendly neighborhoods in the Charlotte area and offers a very attractive downtown with plenty of bike lanes throughout. Bike riders also enjoy the Davidson Greenway, which covers a total of six miles and runs through downtown.
South End
While South Boulevard isn't the place for bicyclists, the Charlotte Rail Trail makes the South End a very bike-friendly neighborhood in Charlotte. It's a trail that is still growing and goes along the light rail tracks. You're even allowed to take your bike onto the LYNX light rail if you want to get to Uptown or even to South Charlotte.
Plaza Midwood
Maybe the most bike-friendly neighborhood in all of Charlotte, Plaza Midwood is trendy, cool and super inviting for foodies. It's a great place to live if you love your bike and you want to be able to ride it everywhere. The wide streets and a large amount of bike lanes make this a great spot to call home. There's even a Bike Benefits program you can use to save a little cash.
Dilworth/Myers Park
If Plaza Midwood isn't the most bike-friendly neighborhood in Charlotte, it's only because Dilworth and Myers Park tie for the top spot. These two neighborhoods are often coupled together when talking about biking in Charlotte. They both include slower moving cars, wide streets and plenty of friendly areas for biking. The most popular section of the Little Sugar Creek Greenway runs through the area and it's also home to Freedom Park. You can actually commute to Uptown from here and enjoy plenty of Charlotte from this location.
Along with these very popular bike-friendly neighborhoods in Charlotte, the city is home to several micro-neighborhoods offering bike-friendly features. Belmont, Commonwealth, Sevierville, and Cherry are all good choices, as well.