Which Concerts are Coming to Charlotte This Fall?
Posted by Benjamin Ehinger on Thursday, August 30, 2018 at 10:00 AM
By Benjamin Ehinger / August 30, 2018
Comment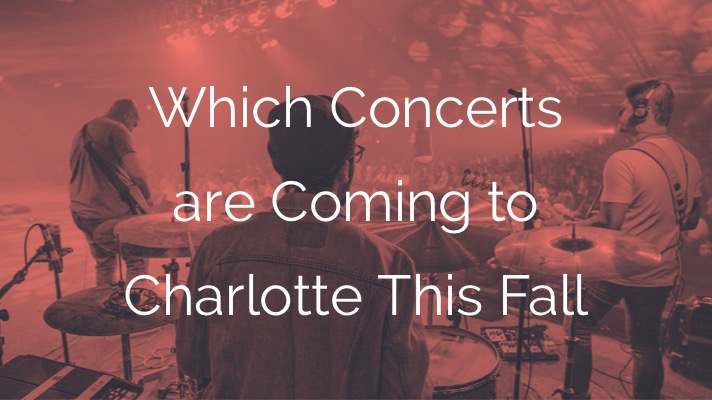 While the summer concerts are winding down and they are a ton of fun, it doesn't stop with the end of summer. Charlotte has several great concerts coming to the area throughout the fall, too. If you haven't got your fix of live music yet, here are a few of the top fall concerts you can enjoy this year.
Miguel - September 6th
Miguel will be performing at the Charlotte Metro Credit Union Amphitheatre on September 6th. This R&B musician is nationally acclaimed and has become one of the top choices in the new wave of R&B talent.
Alan Jackson - September 15th
Another headlining name coming to Charlotte, Alan Jackson will be live on stage at the Spectrum Center. He was once one of the biggest names in country music and known as one of the best songwriters, as well. Jackson was inducted into the Country Music Hall of Fame in 2017 and will be performing for all in attendance on September 15th.
Portugal. The man and Chicano Batman - September 18th
The Charlotte Metro Credit Union Amphitheater will host this incredible musician. Portugal won a Grammy award from the single "Feel it Still" and will perform with The Man, which is a psychedelic indie rock act and Chicano Batman, a SoCal Latino fun quartet. This is a show you won't want to miss.
Father John Misty - September 26th
The Fillmore will host Father John Misty on September 26th in Charlotte. This is one of the biggest and most unique options coming to Charlotte. Father John Misty once toured under his given name of Josh Tillman and was also a drummer with the Fleet Foxes. Since 2012, he has been known as Father John Mistry and has been creating incredible music for all to enjoy. His latest release, "God's Favorite Customer" has already become super popular.
Christ Stapleton - October 11th
PNC Music Pavilion will be hosting Chris Stapleton in October. Stapleton is known for his country music, which will hit you right in the soul. It's an ode to the older days of country music before it became so pop-focused.
CHVRCHES - October 16th
They used to be known as Shark Week, but today, they are called CHVRCHES. The band provides a pop-rock type of music with recent releases, such as "Love is Dead". This trio offers a bit of a more pop-friendly type of sound today than they did in the past and it will be quite the show in Charlotte.
Bob Dylan - November 9th
Have you ever wanted the chance to see Bob Dylan live? Well, he's coming to the Ovens Auditorium in November and will be on stage ready to perform. There's not much you can say about Dylan that hasn't already been said. He has nearly 40 studio albums and he's known for some of the best music ever created. He was even given a Nobel Prize in literature in 2016.
Straight No Chaser - November 24th
Another great concert held at the Ovens Auditorium, Straight No Chaser will provide plenty of fun for all in attendance. They started as an all-male acapella group in Indiana in the 1990s. From there, they went on to achieve viral fame on YouTube when they performed "The 12 Days of Christmas" which led to a record deal. It's a high-energy show with plenty of familiar songs, laughs, and melodies.
Charlotte has plenty of great musicians coming to the city this fall. With many on the schedule and ready to perform, it's time to get your tickets before they sell out.