Which Parks in Charlotte are Best for Kids?
Posted by Benjamin Ehinger on Saturday, September 15, 2018 at 10:00 AM
By Benjamin Ehinger / September 15, 2018
Comment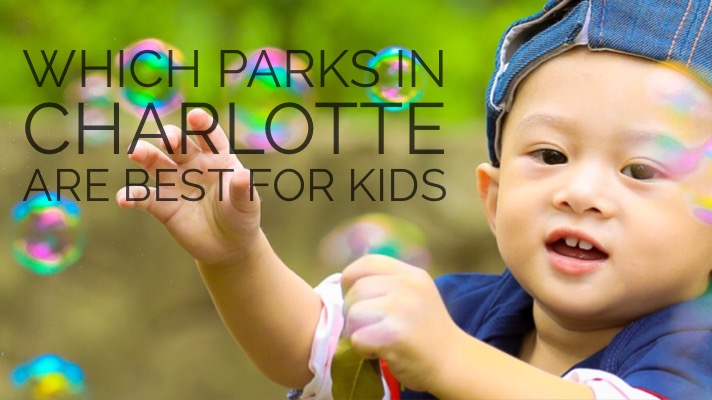 Charlotte is home to more than 21,000 acres of parkland with over 210 parks throughout. There's a ton of green space within the city and the surrounding area.
If you're considering relocating to Charlotte or if you've already moved to Charlotte, finding a great park for your kids isn't hard. There are several excellent parks all throughout the city, the suburbs and the surrounding area. Not all are as kid-friendly as others, however. Here's a quick look at some of the most kid-friendly and family-friendly parks you will find throughout Charlotte.
Chantilly Neighborhood Park
A great park for those living in nearby neighborhoods including Elizabeth, Plaza Midwood, and Chantilly, the Chantilly Neighborhood Park has plenty to offer. It's near some of the best historic neighborhoods in the city and offers one of the best-kept secrets in the park system.
Enjoy two massive playgrounds with shade pine trees nearby. There are also great walking trails here with plenty of green space to explore. If you need to sit down often, you will find plenty of great benches throughout the park, as well.
Freedom Park
One of the best family-friendly parks in all of Charlotte, Freedom Park is known as the "Central Park" of the city. It's usually filled with children and offers several different playgrounds including the "Panther Zone", which will let the kids enjoy some unique fun.
There are plenty of other things found here, too, including tennis courts and several sports fields. Enjoy the massive lake and go for a stroll throughout the park. Freedom Park is one of the most complete parks in Charlotte.
Latta Park
Found in the Dilworth neighborhood, this is one of the best kid-friendly parks in the area. It comes with a splash pad for the summer, two playgrounds for kids to enjoy, basketball courts and more. The park is one of the most beautiful urban options in the city.
Reedy Creek Park
Another great park found in Charlotte, Reedy Creek Park covers more than 100 acres of space. There are several playgrounds and they are rather unique. The park also hosts many educational programs for children to learn about nature and even adults to learn, too.
Reedy Creek Park is known as one of the best for children in Charlotte. It's filled with fun things to do, such as the tree houses and the unique playgrounds. There are also exhibits, walking trails and so much more found at the park.
Crooked Creek Park
Found in the Indian Trail area, Crooked Creek Park is home to Miracle Field. It's also home to a fallen-tree structure, a massive treehouse play structure and so much more. It was specially designed for children with special needs and offers a space just for them.
The park is also home to a number of great bike trails. In addition, you can enjoy ziplining at Crooked Creek Park.
William R. Davie Park
With more than 100 acres of open space, the William R. Davie Park offers plenty for all to enjoy. There are four playgrounds and each caters to a different age group. While the playgrounds probably offer plenty to keep children busy for hours, the park offers so much more to enjoy.
There are horseshoe pits, a pond and even a dog park to enjoy. You'll find plenty of shade throughout the park and it has a good number of bathrooms, too. This is certainly a good park for children and one parent will like, too.
Cordelia Park
Found in the NoDa area of Charlotte, this is a hidden gem for children and adults Cordelia Park offers an outdoor swimming pool with a water slide and a splash pad. You can easily stay cool in the summer here.
In addition, they offer basketball courts, walking trails and great playgrounds. You can even stroll through the community garden and enjoy a view of the Charlotte skyline. In the winter, if there's enough snow, this park has the best sledding hills, too.
Park Road Park
Another great place to take the kids, this 72-acre park offers plenty to enjoy. There are 12 lighted tennis courts, 8 basketball courts, two horseshoe pits and so much more. You'll find picnic shelters and sports fields here, as well.
What makes Park Road Park so special is the Newton Memorial Playground. This playground is a tribute to the teachers and students lost in the shooting at Sandy Hook school in Newton, CT.
After moving to Charlotte, you'll want to settle in. Finding a great park for your children to enjoy should be a top priority. These parks all offer excellent choices in Charlotte for children.