Why An Indie Firm May Be Better For Your Real Estate Career
Posted by Jonathan Bunn on Wednesday, August 8, 2018 at 1:36 PM
By Jonathan Bunn / August 8, 2018
Comment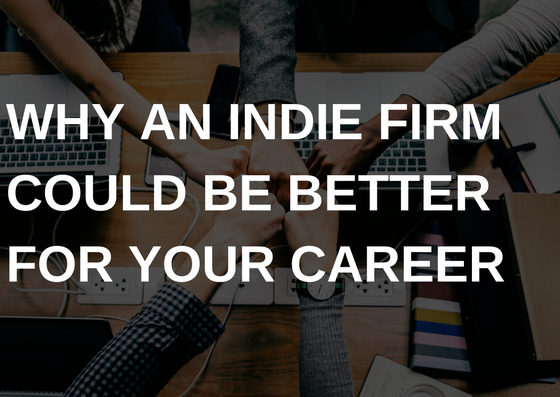 What!
You're going to work for who? Never heard of them.
Sounds really risky.
There is no way they can offer what we do.
We aren't perfect but we are better than the other firms.
Aren't you afraid your clients won't like working with a small brand?
These thoughts filled my mind when my Broker-In-Charge, mentor, and friend that was a rock star agent left for an indie brokerage that no one had heard of at that time.
What about you?
Have you ever really considered a world outside of a big box firm? If not, I can understand. That was my story for most of my career.
You see, I began my career at a big box brokerage in Northern VA at the age of 23 sitting behind an office computer trying to help renters on Craigslist find homes. I didn't interview other firms. Why would I? I liked being apart of the big box brand. It felt great telling people I worked there.
However, I was new, not producing, and overlooked.
Just before I died the new agent death I was lucky enough to connect with an indie firm, that had just partnered with a big box brand. This indie firm was new to the big box world so they still operated like a smaller shop. Culture is king for me so I was all in.
I hung around the office just to be around the team. We were innovative, ridiculously collaborative, we had face-to-face training and not only what I call informational sessions. We worked our butts off and only hired the right people who fit the culture.
The big box had blessed us with their exclusive tools and resources, which I never used because they always felt sub-par and I didn't love the idea of a big box owning my client's data. I went from being the rental master to a top producer in the Mid Atlantic region.
As time passed they grew, which was great, but unfortunately so did the big box corporate influence with their requirements. Building my own brand took a back seat to the companies image, relocation companies were robbing us blind, the franchise fees were annoying, and there seemed to be little discretion as to joined us.
After nine years I was uninspired, felt boxed in, but couldn't imagine ever leaving what had been my tribe up until that point.

My business had decreased, and to my surprise, I was open to something different, new, and exciting. With my mentor leaving I decided to check out the small indie firm she had joined. I was told they were a flash in the pan and wouldn't make it. I was terrified of leaving the bix box brand until a repeat client informed me that he had no idea who I worked for anyway.
It felt wrong and unloyal but I decided to visit the indie firm's tiny office. They didn't have an all-star roster... yet. What they did have was passion, work ethic, and a love for doing life together. I hadn't seen indie at this level. Have you ever heard it said that everyone is happy until they discover something better?
It was one of the toughest decisions I had made in years but I took the plunge. It felt so risky but I knew I could always go back.
Having to take full ownership of my success instead of hiding behind a big box brand propelled me.
Over the next few months my business exploded!
I loved my job again, who I was doing it with, had better tools, and more freedom.
I loved that we were free to chart our own course. We invited great people to be apart of what we were doing because we loved it! We could easily make changes and evolve. We invested in innovative technology instead of being married to a one-size-fits-all franchise technology that will never keep up with the innovators on the open market.
In 2016 I took another leap of faith and moved back to NC at the peak of my career. I tried hanging my hat at a couple of big box firms for a moment but something different and bigger was in my heart.
I had a vision to build a growing independent firm where agents at every level are being developed, coached, inspired, and doing life together. A firm where agents aren't overlooked as they grow and feel more like business partners than employees.
After meeting with John Costello, who's Charlotte indie office grew from 15-100 agents in 2017, I had to partner with him!. He was living my vision and agents loved being there! For months a few of us met at my dining room table until we opened up shop in North Hills at the beginning of 2018.

Can an indie firm really be better than a big box brand?
It depends. Assuming both are good, would you rather eat a local hub or a chain restaurant?
I believe indie firms can be better. Is it the right fit for everyone? No way. Is there value in a system? Absolutely. I can see the value in every model.
Indie firms have the freedom to build a firm around the agent instead of the agent around the firm. There is less red tape, pre-determined guidelines, and can evolve faster. Who does that not sound good to?
Maybe you worked at a mom-and-pop shop that didn't have the resources or training that a larger firm offered. That is not what I am referring to by saying indie. The indie firm I worked at in VA is one of the fastest growing firms in the nation and they are not lacking when it comes to resources and training but they do lack the one-size-fits-all approach to agent development.
My short Costello pitch (just 10 more seconds:)
I have the heart of an agent. I have succeeding in real estate. Everything we do is with an agent's success in mind. We are committed to making Costello the best place for agents to work, be developed, and build relationships that will last. We invest in the best technology, we develop agents face-to-face and not only from a manual, we elevate an organic agent-centered-culture... and we wear jeans to the office because we believe our best work comes from authenticity.
Collaboration and the ability to freely innovate are the reasons I am still in real estate. Our freedom allows us to pay our agents like owners in a way the big box shops simply can't. You seriously will be shocked when I show you.
If you are interested in learning more CLICK TO CONNECT.
By the way... I withheld the names of the brokerages I worked with on purpose. I have great respect for the guys I worked with for 9 years and the amazing companies they have built. I am big fans of them as individuals and love their indie hearts.