9 Reasons You Need a Real Estate Agent
Posted by Aaron Bradshaw on Tuesday, December 8, 2020 at 2:45 PM
By Aaron Bradshaw / December 8, 2020
8 Comments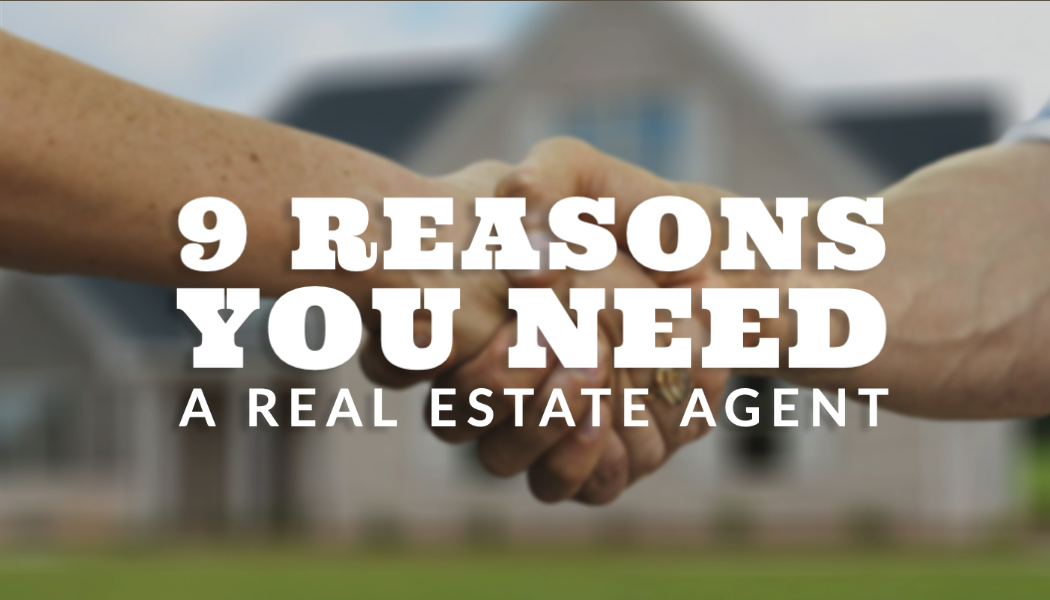 Whether you're buying or selling a home in Charlotte, or the Charlotte Metro area a Realtor® is a must. There are so many good reasons to go into this massive financial transaction with an expert by your side, and while you may be able to do it yourself, this type of transaction should never be treated as a DIY project.
Ask yourself: Are you well-versed in real estate law? Do you understand any recent changes to the laws impacting real estate? Are you familiar with homeowner's associations in the area? Do you know the Charlotte Communities like the back of your hand?
Unless you answered YES to all of these questions, you NEED a Realtor®. Here are several great reasons why you should always hire a Realtor® when buying or selling a home.


IT'S A HUGE FINANCIAL TRANSACTION
For most people, buying or selling a home is one of the largest financial transactions of their life. Hiring an expert to ensure the "t's" are crossed and the "i's" are dotted is just smart. Without an expert by your side, a small mistake could end up costing you thousands of dollars.
REALTOR'S ® ARE EXPERT NEGOTIATORS
We all like to think we are great negotiators, but you probably don't negotiate for a living. Realtor's ® negotiate real estate deals every single week and they know exactly what to expect. They also know a bad deal when they see it.

Selling and buying real estate comes with plenty of challenges. One of the main challenges is making sure you can get the right deal. Negotiating is vital to a good real estate deal and you need an expert: Someone who is informed about current market values and trends.
A skilled Realtor® will not only negotiate the price, but also the terms of the deal. There are several things that go into a real estate deal and the negotiations are not just about price. Repairs, closing costs, fees and more, factor into the final amount that doesn't always match the sticker price. Make sure you have the right Realtor® on your side to ensure you get a deal you're happy with.
BEST RESOURCE FOR HOME LISTINGS
Sure, you can hop online and search for a home that's on the market pretty easily. However, not every home that's up for sale is found online. Some sellers don't want their property to be listed online because of privacy concerns. When the listing isn't found online, if you don't have a good real estate agent, you won't know about it.
Agents have better access to the actual list of properties for sale in comparison to what you will find online. With their eyes always open for new and exciting properties, your Realtor® will alert you to that perfect home that matches your needs as soon as they hit the market and get you in for a viewing before it's too late.
BEST MARKETERS FOR YOUR HOME
When you're selling a home, you need an expert marketer. Just putting a sign in the yard, a classified ad in the paper and posting your home to Facebook isn't going to get it sold. It's an agent's business to know homes and know what sells them.

Professional high definition images of your property, immersive virtual home tour videos, VR tour options (such as Matterport), and virtual showings/open houses are all exclusive services that can be provided by your agent.
With an agent handling the sale, you'll be able to list the home on the MLS (Multiple Listing Service), which means it will spread all across the online world. In addition, real estate agents already have a list of buyers they can market directly to through a newsletter, phone call or post on social media.
Selling your home can be very stressful and marketing it on your own is a huge undertaking. Your agent will help out by holding open houses, listing your home on their website, putting the home all over social media and in many other ways. With the expert marketing advice of your Realtor® , you can get the home sold faster.
REAL ESTATE AGENTS GET HOMES SOLD
Have you ever passed a home that's for sale by the owner and realized the sign has been in the yard for months? It's hard to sell a home on your own without the resources an agent provides. The National Association of Realtors® has shown that 82% of homes sold across the country are due to the contacts of the agent including family, friends, previous clients, and personal contacts.
A GUIDE THROUGH THE PROCESS
Your Charlotte area real estate agent is more than just someone trying to find you a great home or sell your current home. They will be there to guide you through the paperwork and help to ensure everything is done correctly. Updates are made to contracts, disclosures and laws all the time and real estate agents have to attend continuing education classes every year. These classes ensure they are ready to help you navigate the home buying or home selling process.
THEY PROVIDE USEFUL TIPS
Before you list your home for sale, a Realtor® can look at the home and give you tips to make it more appealing. They will know exactly what should be repaired or updated, how to stage the home and how to take the very best listing pictures. With so many buyers looking online first, it's important to have the most stunning pictures possible, digital curb appeal.
ORGANIZE THE ENTIRE PROCESS
As you're selling your home, you'd be in charge of the open house and all showings if you take it on by yourself. Hiring a Realtor® means these become the duties of the Realtor®. They handle any open houses and showings for you, which means you don't have to worry.
BETTER MATCH YOU WITH THE RIGHT PROPERTY
When you're a buyer and you know what you need and want, an agent can step in and match you to the best properties on the market for you. They can also see things you may not see, such as issues or potential. Your Realtor® will easily be able to narrow the list down to the right properties for you to look at so that you don't have to waste any time.
As a buyer or a seller, you need to hire a real estate agent. Without the right agent on your side, you may struggle to find the best property to buy or to get your home sold. However, when you hire a good Realtor®, you'll have someone there to make sure the process goes smoothly.