Your Guide to Fall Festivals in Charlotte
Posted by Benjamin Ehinger on Tuesday, September 4, 2018 at 9:20 AM
By Benjamin Ehinger / September 4, 2018
Comment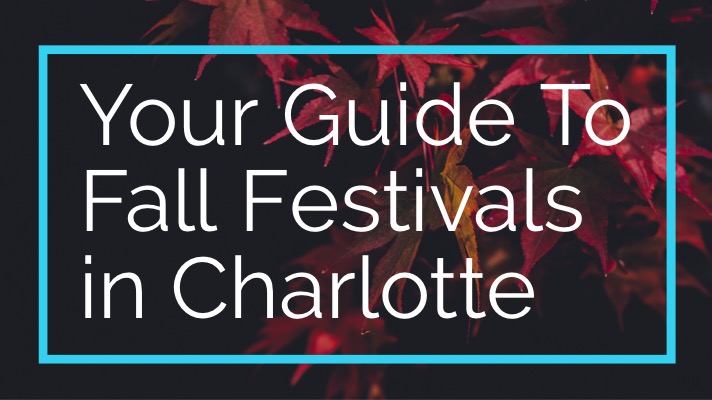 Fall is a great time of year in Charlotte. The leaves are changing, the hot sticky weather is gone and there may even be a little bit of a chill in the air. It's the time of year to light a fire in the firepit, head out camping or hit one of the many great fall festivals throughout the city.
No more swimming pools and lakes, but instead, it's time to change with the season to great music, deep-fried junk food and so much more. Here's a look at the fall festivals you can enjoy throughout Charlotte for 2018.
Charlotte AutoFair - September 6th to 9th
Held at the Charlotte Motor Speedway, this is the perfect place to go if you love cars. The Charlotte AutoFair includes some of the best antique cars you will find. Whether you're looking to buy, sell or just look, this is the place for you. You can also enjoy the flea market with plenty of automotive memorabilia and difficult-to-find auto parks.
Find out more about the Charlotte AutoFair here.
Cabarrus County Fair - September 7th to 15th
The fall is the season for the country fairs and the Cabarrus County Fair is one of the best. It includes a huge Ferris wheel, plenty of junk food deep-fried to make it even junkier and livestock competitions. It's also home to some unique things, such as the Frisbee dog acts, pig races and the chainsaw carving artists.
Find out more about the Cabarrus County Fair here.
Lincoln County Apple Festival - September 15th
Held in Downtown Lincolnton, this festival is a great choice. It may not be as big as the North Carolina Apple Festival, but it still brings plenty of fun. Enjoy an apple farmers market, apple pie eating contest, apple pie contest, and even an apple queen pageant.
Find out more about the Lincoln County Apple Festival here.
The Great Pumpkin Fest - September 15th to October 28th
The Great Pumpkin Fest will be held every Saturday and Sunday with plenty of fun at Carowinds. This event will include a family-friendly event perfect for the entire family with trick-or-treating, a hay bale maze and costume contest.
Find out more about The Great Pumpkin Fest here.
Charlotte Oktoberfest - September 29th
When you want to enjoy incredible beer, great food, and live music, the Charlotte Oktoberfest is for you. It will be held at Bojangles' Coliseum and provides the largest beer festival in Charlotte. Find out more about the event here.
Carolina BalloonFest - October 19th to 21st
A huge balloon festival held at the Statesville Regional Airport, this year will mark the 45th annual Carolina BalloonFest. The festival allows you to see the hot air balloons up-close-and-personal. You can enjoy plenty of fun and actually take a ride, too.
Find out more about the Carolina BalloonFest here.
Other great fall festivals throughout Charlotte include:
Festival in the Park - September 21st to 23rd
Flow Fest - September 22nd
'Tawba Walk Arts & Music Festival - September 22nd
Downtown Davidson Fall Art Festival - September 22nd.
Charlotte Film Festival - September 26th to 30th
ArtWalk and JazzFest of Matthews - September 29th
Carolina Renaissance Festival - September 29th to November 18th
Family Fall Festival - October 6th
Hola Charlotte Festival - October 6th
Charlotte School Fair - October 13th
There are several great fall festivals coming to Charlotte very soon. Mark your calendar, buy your tickets and get ready for the fun!